Katayoun Chamany
Associate Professor of Biology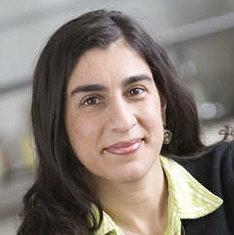 Download vCard
---
---
Born in Iran, raised in Iowa, and trained as a geneticist and cell biologist, Katayoun finds the study of biological processes fascinating. For over a decade she has been conducting research to better understand why some students share her love for biology, while others recoil from the subject. Part of her work suggests that biology courses must be contextualized and made relevant, especially for those students who don't initially see biology as important to their everyday experiences. To promote this education reform, she has developed seminars, workshops and educational materials that reflect an interactive and case-based method of teaching and learning. She firmly believes that biology is accessible and relevant to everyone, and that a basic understanding of biology it important for contributive members of society. In Spring 2009, Katayoun will launch a public seminar and film series titled Stem Cells in the City, designed to engage the public in conversations around the ethics, politics, and biology of stem cell research. In summer 2009, she will offer faculty development courses on "Biology at the Margins" and "Biology for Under-Represented Minorities (HEOP)" (http://www.sunysb.edu/ceie/chautauqua/descriptions.shtml)Katayoun Chamany discusses teaching and learning at Lang in a project made possible with a grant from Bringing Theory to Practice.
---
Recent Publications:
Chamany K., et al. 2008. "Making Biology Learning Relevant to Students: Integrating People, History, and Context into (College) Biology Teaching. Life Sciences Education. (7):267-278. http://www.lifescied.org/cgi/reprint/7/3/267.pdf "Science and Social Justice: Making the Cases for Case Studies." Journal of College Science Teaching: 54-59. October 2006. Case: http://www.sciencecases.org/mdr_tb/mdr_tb.asp "Introduction III. Health." In Politics and Science: How their interplay results in public policy. Social Research. 73(3): 781-784. October 2006. Chamany K. 2004-2009. Cell Biology for Life: Online Book and Curriculum. Three modules include: Stem Cells (basic cell biology) Botulinum Toxin (specialized cells and communication), and HPV and Cancer (viral genetics and oncogenesis). http://www.garlandscience.com/textbooks/cbl/index.html Chamany K. 2001. "Ninos Desaparecidos: A Case Study About Genetics and Human Rights." Journal of College Science Teaching. 31 (1):61-65. Case: http://ublib.buffalo.edu/libraries/projects/cases/ubcase.htm#genetics
Research Interests:
Curriculum development and student learning outcomes assessment; the role of motivation and interest in student learning of biology; stem cell research; the ethics of oocyte donation; public perception and understanding of new biotechnologies and reproductive technologies (ART, PGD, Genetic testing); standard of care and informed consent; HPV and its associated diagnostics, treatments, and vaccines; indigenous knowledge and resources as they related to benefit sharing; health as a human right.
---