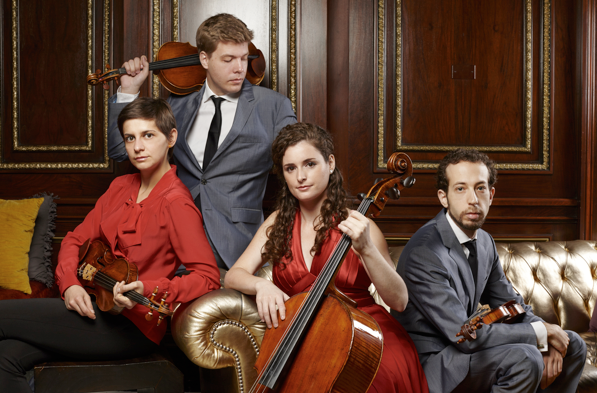 The Ariel String Quartet
The New School's Mannes School of Music announces the Schneider Concerts 2017-18 Season - six Sunday afternoon chamber music concerts featuring five outstanding emerging string quartets and an impressive young saxophone quartet joined by clarinetist Anthony McGill. Each concert presents well-loved works of the quartet repertoire, along with contemporary pieces including works by Toshio Hosokowa, David Kechley, Murray Schafer, Mohammed Fairuz, Menachem Weisenberg, Thomas Adès, and a world-premiere of David Biedenbender's Cerulian.

The Schneider Concerts' mission to offer first-rate music at accessible admission fees means that these exceptional programs are available for less than the cost of a movie. Subscriptions are $80/6-concerts and $56/4-concerts for these Sunday at 2PM concerts presented in The New School's intimate Tishman Auditorium, located at 66 W. 12th Street in Greenwich Village. Single tickets are available $18 general admission and $16 for seniors. Call (212) 229-5873 or visit newschool.edu/mannes/schneider-concerts for more information.

In 1957, when the series was founded, excellent and mixed programs offering the wealth of great chamber music were a rarity, let alone financially and physically accessible concerts. Lincoln Center had just been built, and the Chamber Music Society of Lincoln Center was still more than a decade away. Founding artistic director Alexander Schneider saw this need and brought outstanding, affordable concerts to The New School. After his death in 1993 the series was renamed The Schneider Concerts in his honor. Artistic leadership is now under the auspices of a committee of noted musicians: John Dalley, Pamela Frank, Jennifer Koh, Jaime Laredo, Cho-Liang Lin, Anthony McGill, Kurt Muroki, Tara Helen O'Connor, Arnold Steinhardt, and Michael Tree.

Hailed in the New York Times as "one of the best deals in town for lovers of classical music," for six decades, The New School's Schneider Concerts series has presented outstanding young artists and ensembles at non-exclusionary ticket prices. The series' remarkable history that includes the New York debuts of pianist Peter Serkin and the Guarneri, Cleveland, Vermeer, and Johannes String Quartets and TASHI. Artists such as Yefim Bronfman, Richard Goode, Jaime Laredo, Yo-Yo Ma, and Murray Perahia were introduced to New York audiences early in their careers. More recently, the series has presented the New York debuts of the Dover, Calidore, Calder and Verona string quartets.
Today, audiences need outstanding, accessible, affordable, and adventurous concerts as much as they did in 1957 when this series was founded.
ARGUS STRING QUARTET
Sunday, October 1, 2017, 2:00 p.m.
Clara Kim and Jason Isoksson, violin
Dana Kelley, viola; Joanna Whang, cello
Newly appointed Juilliard Graduate Quartet-in-Residence, hailed for "supreme melodic control and total authority" by the Calgary Herald
Franz Joseph Haydn String Quartet in C Major, Op. 74, No. 1 (1793)
Kerrith Livengood This is My Scary Robot Voice (2016)
Leoš Janácek String Quartet No. 2 (Intimate Letters) (1928)
ROLSTON STRING QUARTET
Sunday, November 12, 2017, 2:00 p.m.
Luri Lee and Jeffrey Dyrda, violin
Hezekiah Leung, viola; Jonathan Lo, cello
First Prize winner 2016 Banff International String Quartet Competition; Südwest Presse (Germany) "Highly sensitive, delicately transparent"

Wolfgang Amadeus Mozart String Quartet No. 14 in G Major, K. 387 (Spring) (1785)
Murray Schafer String Quartet No. 2 (Waves) (1976)
Pyotr Ilyich Tchaikovsky String Quartet No. 1 in D Major, Op. 11 (1871)
OMER STRING QUARTET
Sunday, December 3, 2017, 2:00 p.m.
Mason Yu and Erica Tursi, violin
Jinsun Hong, viola; Alex Cox, cello
Grand Prize and Gold Medalist of the 2013 Fischoff National Chamber Music Competition; praised by the San Diego Times Union for its sense of "Discovery and adventure ... considerable finesse"
Béla Bartók String Quartet No. 3 (1927)
Pierre Jalbert Icefield Sonnets (2004)
Ludwig van Beethoven String Quartet in E Minor, Op. 59, No. 2 (1807)
DONALD SINTA SAXOPHONE QUARTET with ANTHONY McGILL, CLARINET
Sunday, January 7, 2018, 2:00 p.m.
Dan Graser, soprano saxophone; Zach Stern, alto saxophone
Joe Gerard, tenor saxophone; Danny Hawthorne-Foss, baritone saxophone
"Astonishing virtuosity, subtly beautiful phrasing" — Palm Beach Daily News

David Kechley Rush (2002)
Dmitri Shostakovich/arr. Graser String Quartet No. 8 in C Minor, Op. 110 (1960)
David Biedenbender Cerulean (2017) — World Premiere
Carl Maria von Weber/arr. Graser Clarinet Quintet in B-flat Major, Op. 34 (1815) — with A. McGill, Clarinet
ARIEL STRING QUARTET
Sunday, February 4, 2018, 2:00 p.m.
Alexandra Kazovsky and Gershon Gerchikov, violin
Jan Grüning, viola; Amit Even-Tov, cello
Menachem Weisenberg Between the Sacred and the Profane (1998)
Mohammed Fairuz Prophecies (2017)
Ludwig van Beethoven String Quartet in A Minor, Op. 132 (1825)
VERA STRING QUARTET
Sunday, April 22, 2018, 2:00 p.m.
Pedro Rodríguez Rodríguez and Patricia Quintero García, violin
Inés Picado Molares, viola; Justin Goldsmith, cello
Grand Prize 2017, Plowman Competition

Franz Joseph Haydn String Quartet in G Minor, Op. 74, No. 3 (Rider) (1793)
Thomas Adès Four Quarters, Op. 28 (2010)
Benjamin Britten String Quartet No. 2 in C Major (1945)
The 2017-18 Schneider Concerts Season is supported by the Alexander Schneider Foundation and with public funds from the New York City Department of Cultural Affairs, in partnership with the City Council. All concerts run for 90 minutes, with a brief intermission.

Subscriptions and single tickets on sale now
$80 for a six-concert subscription
$56 for a four-concert subscription
$18 single ticket general admission
$16 single ticket seniors 65+ and people with disabilities
$ 5.00 standby, students 30 and younger with school ID
For programming details and to purchase tickets, visit www.newschool.edu/concerts
For high resolution images of the artists and ensembles, please contact Rohana Elias-Reyes at (212) 229-5873 or eliasrer@newschool.edu.