The new school's newly-formed college of performing arts Announces winter-spring programming highlights from mannes school of music, the school of jazz, and the school of drama
Season Follows the Recent Opening of the College's New Performing Arts Hub Downtown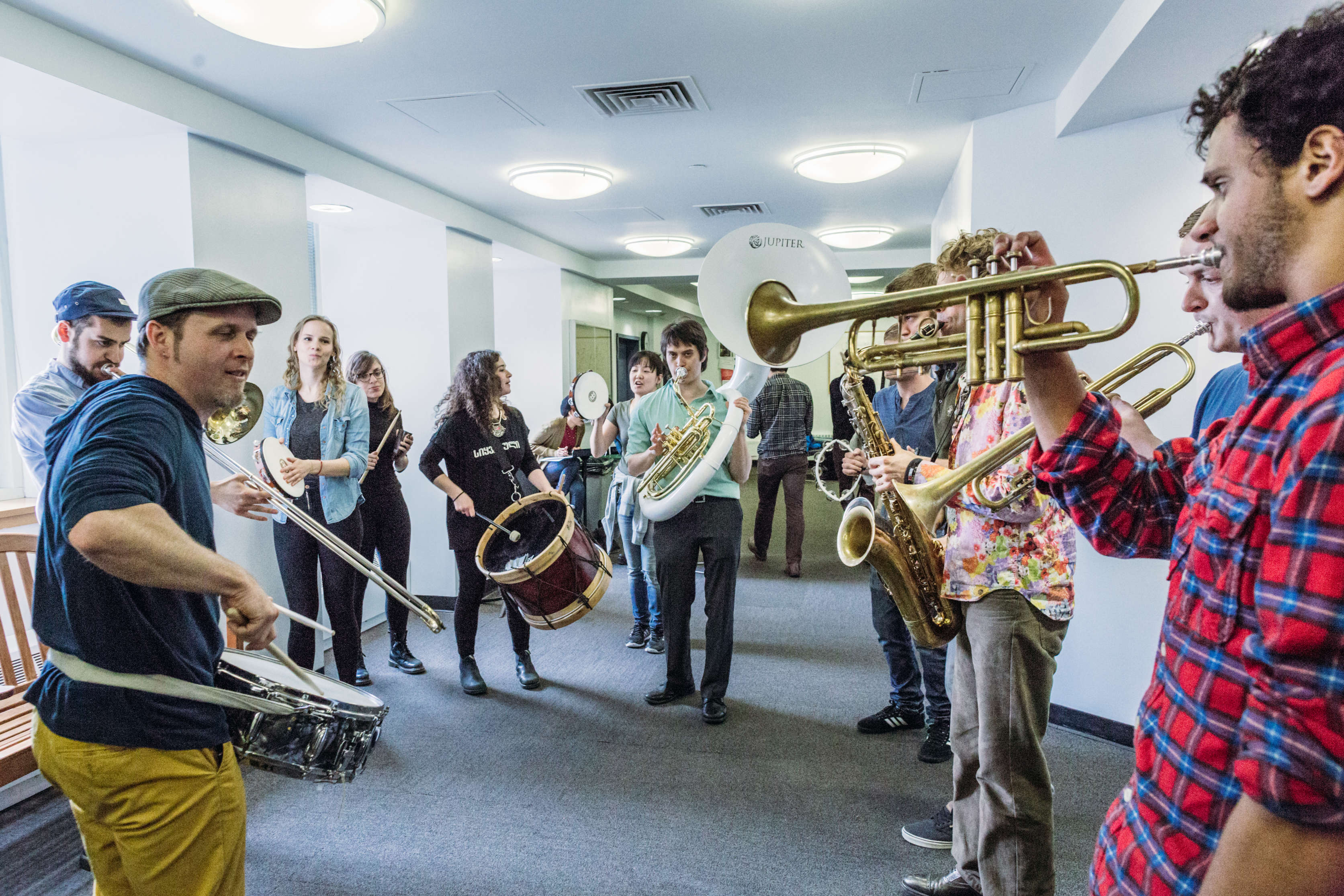 Scott Kettner teaches the "Carnival Caravan Ensemble" at the College of Performing Arts.
The New School's newly formed College of Performing Arts, led by "firebrand" (New York Times) Executive Dean Richard Kessler, is pleased to announce winter-spring public programming highlights for the College's three schools: Mannes School of Music, The School of Jazz and The School of Drama. Performances will take place at the College's new performing arts hub—designed by Deborah Berke Partners at Arnhold Hall (55 West 13th Street)—as well as at The New School's Tishman Auditorium at University Center (63 Fifth Avenue), The Theater at the School of Drama (151 Bank Street) and venues throughout the city. Please see below for a schedule of events for each school.
Musicians from Mannes School of Music, which celebrates its 100th anniversary this year, will perform in a wide range of events both on campus and off. The Mannes Orchestra, conducted by David Hayes, and numerous other Mannes students, past and present, will perform in a concert version of Mannes Prep alumnus Ricky Ian Gordon and Leonard Foglia's chamber opera A Coffin in Egypt, featuring renowned mezzo-soprano Frederica von Stade, an alumna of the conservatory, and other Mannes singers. The event will take place February 18 in The Appel Room as part of Lincoln Center's American Songbook series. Hayes will also lead the Orchestra in performances of Arvo Part's Symphony No.3 and Bruckner's Symphony No. 9 in D Minor, April 8 at Alice Tully Hall. As part of a new educational partnership between Martha Graham Dance Company and the College of Performing Arts, the Orchestra will perform in the Company's 90th anniversary New York season, April 14-18 at New York City Center. The Orchestra will join the acclaimed Mannes Opera Young Artists, led by Artistic Director Joseph Colaneri, for a fully staged production of Mark Adamo's Little Women, May 6 & 7 at the Gerald W. Lynch Theater at John Jay College.
Mannes American Composers Ensemble (MACE), founded by Mannes faculty composer Lowell Liebermann and directed in 2015-16 by Alan Pierson, will perform May 11 in the College of Performing Arts' new Ernst C. Stiefel Concert Hall at Arnhold Hall.
The College's popular new series (Un)Silent Film Night returns to Tishman Auditorium for a third edition on May 13, this time with Mannes and School of Jazz students performing a new score, by School of Jazz student composer Nathan Kamal, to Alfred Hitchcock's The Birds. (Un)Silent Film Night demonstrates the potential that students and faculty are able to realize now that Mannes, The School of Jazz and The School of Drama have been brought together in the new College of Performing Arts.
Exemplifying the College's commitment to collaboration across artistic disciplines, its students and faculty begin working this month with their counterparts at Parsons School of Design on a new production of Robert Ashley's opera Dust that the schools will co-present in the fall. The schools are working together on all aspects of the production, departing from the convention of design, rehearsal, direction and production taking place in isolation. This experimental approach mirrors the work itself. Director, conductor, dates and location will be announced soon.
Richard Kessler, Dean of Mannes and Executive Dean of the College of Performing Arts, said, "Building upon 100 years of excellence at Mannes, and decades of excellence at the schools of Jazz and Drama, the new College of Performing Arts at The New School creates unparalleled opportunities for students to practice high-level, innovative performance, composition, direction, improvisation and design—and for the public to experience their work. Perhaps the greatest opportunity we're creating for young artists and their audiences is the experience of collaboration, both among students in different disciplines and between students and world-class artists outside the College: Frederica von Stade, Martha Graham Dance Company and Randy Weston, to name a few."
The School of Jazz continues a series of events featuring—and paying tribute to—their first-ever (2015-16) artist-in-
residence, the legendary pianist and composer Randy Weston. On February 18 at Tishman Auditorium, The Piano Is a Drum will feature Weston, master percussionist Neil Clarke and several Senegalese percussionists in a conversation and performance paying homage to iconic African drum master Doudou N'Diaye Rose, who passed away in August 2015. Continuing to pursue the theme of piano's relationship to the drums, The School of Jazz will host a panel discussion moderated by jazz drummer Lewis Nash, including a performance by the evening's multi-cultural lineup of participants, March 31 at Tishman Auditorium. The Weston residency will conclude with a concert by the pianist himself, April 28 at Tishman Auditorium.
In the spring, The School of Drama will present its New Voices 2016 Playwrights Festival, which highlights the work of graduating MFA playwrights, directors and actors. Kristin Heckler will direct Zach Weed's I Broke a Plate March 16-19, Stevie Walker-Webb will direct Lorne Svarc's Chained Woman April 6-9, and Margaret Hee will direct Reese Thompson's Cracker April 20-23. Previous New Voices plays that have gone on to receive professional productions include Extinction, by Gabe McKinley, and A Kid Like Jake, by Daniel Pearle, which won the 2013 Laurents/Hatcher Award. There will also be new productions of classics: a second-year MFA staging of Julius Caesar, directed by Casey Biggs, February 18-20; a BFA production of Jean Genet's The Balcony, directed by Carl Cofield, March 3-5; and a BFA production of A Winter's Tale, directed by Melissa Crespo, May 5-7. All performances will take place at The Theater at the School of Drama.
The College of Performing Arts is a progressive artistic center housed within The New School, in one of the world's greatest performing arts cities, New York City. The college offers undergraduate and graduate degree programs for aspiring musicians, composers, actors, directors, writers, and performers of all kinds through three renowned schools: Mannes School of Music, the School of Jazz, and the School of Drama. Students have the valuable opportunity to pursue interdisciplinary studies throughout a comprehensive university, The New School. The College of Performing Arts nurtures individual artists in order to cultivate fearless risk takers who value real-world relevance, pursue excellence, and embrace collaboration. Celebrated faculty mentors guide students to take their place as artistic leasers who can make a positive difference in the world today.
Founded in 1916, Mannes School of Music at The New School seeks to develop citizen artists who engage with the world around them in and through music, in traditional, new, and emergent forms of practice. Our eminent faculty of artists, scholars, and educators of international stature, including active professionals from all areas of the music world foster close, constructive relationships with students and are committed to advancing the creative role of music throughout all aspects of our rapidly changing society. Notable faculty include Jeremy Denk, multi-award winning and MacArthur Fellow pianist; Dave Douglas, multi-award winning and MacArthur Fellow trumpeter; Cynthia Phelps, principal violist of The New York Philharmonic; David Chan, Concertmaster of The Metropolitian Opera; Joan La Barbara, vocalist and pioneer in contemporary vocal music; William Burden, renowned operatic tenor; David T Little, composer; Missy Mazzoli, composer; Paul Moravec, composer; and many more.
The School of Jazz at The New School, founded in 1986, is one of the most influential institutions of its kind. The quality and uniqueness of the school lie in its artist-as-mentor approach to learning, its progressive curriculum, small ensemble-based performance, a stellar faculty composed of artist-practitioners, and access to unique musical opportunities throughout New York City. Notable faculty include Reggie Workman, bassist, bandleader, composer; Ben Allison, bassist, bandleader, composer; Cecil Bridgewater, trumpet; Robert Hurwitz, President, Nonesuch Records; Yosvany Terry, saxophonist, percussionist, bandleader, composer; and Jimmy Owens, trumpet. Among the many remarkable artists who have given master classes or lecture presentations are Cassandra Wilson, Randy Weston, Geri Allen, George Lewis, Marc Ribot, Fred Wesley, Pat Metheny, Joshua Redman, Pauline Oliveros, Don Byron, Ben Sidran, Tommy LiPuma and George Wein.
The School of Drama at The New School is a shared graduate and undergraduate learning environment in the historic Westbeth Artists complex in Greenwich Village. Its BFA students have access to top design, music, liberal arts, and social science courses offered throughout the university. At the MFA level, the School is a generative center of practice and production for a select ensemble of forward-thinking emerging professionals. The School of Drama's award-winning faculty of master teachers and working professionals provides students with a high level of artistic training, project-based learning, consistent performance opportunities, and skills that can be applied to a variety of 21st-century career choices. The faculty includes Kathleen Chalfant, actress; Tea Alagic, director; Daniel Aukin, director; Jon Robin Baitz, playwright; and Lucy Thurber, playwright. The School's Artists in Residence have included Mark Ruffalo, actor; Sir David Hare, playwright, director and screenwriter; Joe Mantello, director; and John Turturro.