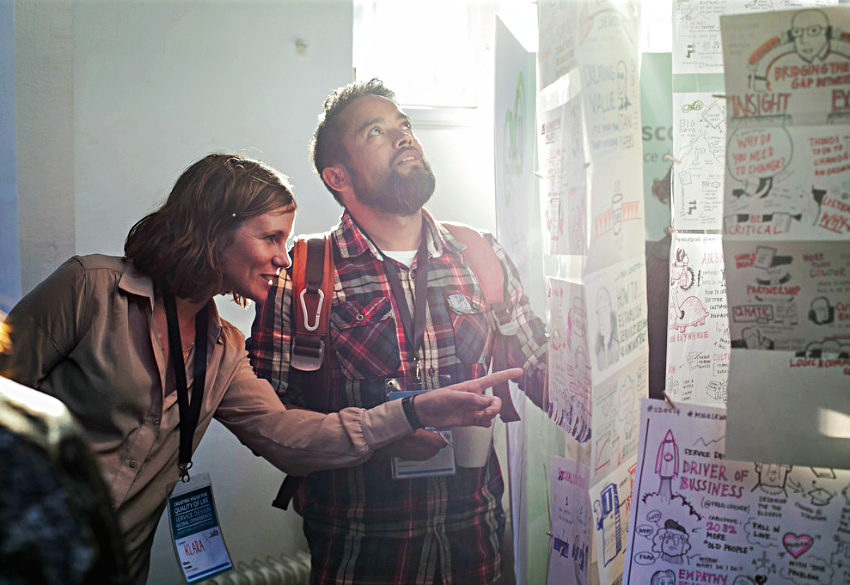 Participants at the 7th Service Design Network Global Conference in 2014.
New York, NY (September 17, 2015) – Parsons School of Design at The New School and the Service Design Network present the 8th Service Design Network Global Conference, a forum for sharing the latest thinking, trends and innovations in the emerging field of service design.
The conference takes place Friday and Saturday, Oct. 2 and 3 (including a Members and Student Day on Thursday, Oct. 1) at The New School's University Center, 63 Fifth Avenue, and other locations in Manhattan.
Sponsored by Citi Community Development, Wipro, Designit and Hellon, the conference—the largest and most influential event of its kind—features more than 40 speakers, case study sessions and workshops focusing on a range of industries, from insurance, retail and telecommunications, to finance, health care and hospitality. In addition, attendees can participate in a design challenge sponsored by Desigit and Wipro.
Service design is an emerging field of design that deals with the activity of planning and organizing people, infrastructure, communication and material components of a service to innovate and improve its quality and the interaction between service provider and customers. Examples of service design include improved patient care experiences in hospitals, more accessible and effective programs for expanding financial inclusion, and streamlined airline check-ins.
This is the first year the conference is being hosted at Parsons, a preeminent art and design school that is leading the way in service design education through degree programs such as the MFA in Transdisciplinary Design and BFA in Integrated Design.
"Parsons' leadership in design and innovation and its commitment to critical social and productive issues on both local and international scales makes it the ideal host for this conference," said Lara Penin, associate professor of Transdisciplinary Design at Parsons. "New York City is the premier hub for service design in the country and Parsons is the premier hub for service design education in New York City."
Currently, Parsons Design for Social Innovation and Sustainability (DESIS) Lab is collaborating with the New York City Department of Consumer Affairs Office of Financial Empowerment (OFE), the Center for Economic Opportunity and Citi Community Development on Designing for Financial Empowerment, an initiative exploring how service design can be used to address the complex challenges facing low-income New Yorkers and empower them to achieve secure financial futures.
"Service design offers a powerful approach for taking on complex challenges—from expanding financial inclusion, to meeting the evolving needs of customers around the world—by putting people at the center of the process from the beginning," said Bob Annibale, Global Director of Citi Community Development and Inclusive Finance. "Citi is proud to continue its support of the field by participating in this year's Global Conference."
Through the 8th Service Design Network Global Conference, organizers aim to empower change through the design of better services, focusing on customers, employees, and citizens from around the world.
"This conference will give insight in the most advanced service design practice, and it is the place to meet the innovators of service systems," said Birgit Mager, president of the Service Design Network.