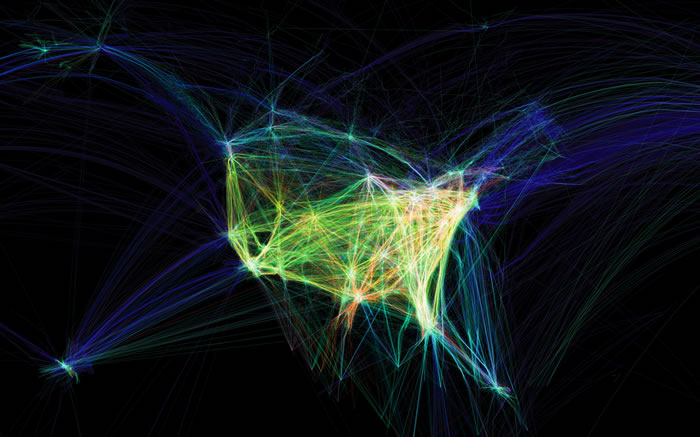 Aaron Koblin, Flight Patterns (2009). Image courtesy of the artist.
New York (Dec. 2, 2014) – For launch in fall 2015, Parsons The New School for Design announces its new Master of Science in Data Visualization, a multidisciplinary program that enables students to explore and develop skills across the dynamic intersection of visual design, computer science, and statistical analysis.
Housed in Parsons' School of Art, Media, and Technology, MS Data Visualization's 30-credit curriculum can be completed in one to two years. The program uniquely combines theoretical and studio-based learning to provide students with the creative and quantitative tools required to analyze and depict data. Students are challenged to examine, consider, and present information, taking into consideration aesthetic appeal, critical reasoning, and a holistic understanding of context, audience, and objectives.
"In today's world, as the presentation of data has become increasingly important to shaping opinion, policy, and decision making in all sectors, data visualization is an essential tool," says Aaron Hill, the director of the program. "The rising demand for experts to turn vast amounts of data into insight and action gives graduates of this program a very competitive edge."
As Hill points out, the fields of data science and visualization are growing at a rapid pace; according to labor research conducted by MGI and McKinsey and Company's Business Technology Office, an estimated 1.5 million data interpretation–related jobs in the United States are currently waiting to be filled. Upon graduating with an MS in Data Visualization, students will have the diverse skill set needed to enter and succeed in these positions.
The program prepares students to thrive in the data visualization field, presenting a multi-disciplinary curriculum that combines studies in computer science, statistics, and design, and places an equal emphasis on lecture and studio work. Students will learn to work with and analyze complex data sets while creating compelling visual representations and interactive experiences. They will also learn to consider the ethical implications of using data to represent people and phenomena.
"This program sets itself apart in that it's truly interdisciplinary," Hill says. "Students can't leave the program without taking classes in design and the social sciences; they have to delve into many different fields. Neither will they be confined to the classroom, as they'll be given ample studio time to practice and hone their skills."
Students will benefit from the rigor of Parsons' design curriculum and the extensive resources of The New School, a design-inspired university dedicated to social engagement and offering courses in research methods, statistics, and ethical/critical perspectives that draw on the world-class social sciences and policy curricula of The New School for Social Research and the Milano School of International Affairs, Management and Urban Policy.            
The program's setting in New York City, a major technology hub and pioneer of open-source culture, gives students yet another advantage in their studies: access to industry events, leaders, and external partners through guest lectures and critiques.