schneider concert series presents berlin-based notos piano quartet
Repertoire includes U.S. premiere of Bryce Dessner's "Spirals," Brahms, and Schumann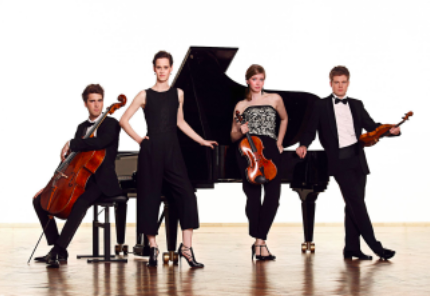 The Notos Piano Quartet
NEW YORK, October 4, 2023 – On October 22, 2023 at 2 p.m. the Schneider Concerts presents the Berlin-based Notos Piano Quartet in a program of Schumann, Brahms, and the U.S. premiere of Grammy winner Bryce Dessner's "Spirals," written for the Notos Piano Quartet. The performance will take place in The New School's Auditorium at 66 W. 12th Street. Visit newschool.edu/mannes/Schneider-concerts or call (212) 229-5873 for tickets and information. The 2023-24 Schneider Concerts season is supported by the Alexander Schneider Foundation and with public funds from the New York City Department of Cultural Affairs and the New York State Council for the Arts.

Sunday, October 22, 2023, 2:00 p.m.
Notos Piano Quartet
Robert Schumann: Piano Quartet in E-flat Major, Op. 47
Johannes Brahms: Piano Quartet No. 1 in G Minor, Op. 25
Bryce Dessner: Spirals (written for the Notos Quartet) – U.S. Premiere
Program approximately 1 hour and 45 minutes including intermission
$20 single ticket general admission
$17 single ticket seniors 65+ and people with disabilities
$ 5 standby, students 30 and younger with school ID
For details and to purchase tickets, visit www.newschool.edu/mannes/schneider-concerts
The Notos Quartet is one of the most celebrated, young, chamber ensembles to emerge in recent years - praised for its virtuoso brilliance, passion, sensitivity, and mature interpretive powers. The Berlin-based piano quartet first drew attention winning first prize in six major, international competitions. Since then it has established itself worldwide, performing at renowned European concert halls, such as the Philharmonie Berlin, Konzerthaus Berlin, Konzerthaus Vienna, Concertgebouw Amsterdam, Tonhalle Zürich, and BOZAR Brussels, as well as at important festivals, and abroad for concerts in Australia, South Africa, Great Britain, Russia, China, Japan, and Vietnam. They committed to new works, most recently commissioning composer Bryce Dessner for the work they will be premiering in this concert.
American composer Bryce Dessner is a vital and rare force in new music. He has won Grammy Awards as a classical composer and with the Indie rock band The National, of which he is founding member and is a high-profile presence in film score composition, with credits including a Grammy nomination for his work on Alejandro González Iñárritu's Bardo. He is regularly commissioned to write for the world's leading ensembles, from Orchestre de Paris to the Los Angeles Philharmonic and his works are performed by some of the world's most celebrated orchestras, including London's Philharmonia Orchestra, Orchestre de Paris, BBC Symphony Orchestra, HR Sinfonieorchester, Scottish Chamber Orchestra, San Francisco Symphony, Tonhalle Orchester Zurich, Leipzig Gewandhaus Orchester, Czech Philharmonic, and Oslo Philharmonic.
Hailed in The New York Times as "one of the best deals in town for lovers of classical music," for six decades,
The New School's Mannes School for Music's Schneider Concerts
series has presented outstanding young artists and ensembles at non-exclusionary ticket prices. The series' remarkable history includes the New York debuts of pianist Peter Serkin and the Dover, Calidore, Guarneri, Cleveland, and Vermeer String Quartets and TASHI. Artists such as Yefim Bronfman, Richard Goode, Jaime Laredo, Yo Yo Ma, and Murray Perahia were introduced to New York audiences early in their careers. The series was founded at The New School in 1957 as New School Concerts by violinist and conductor Alexander Schneider, who led the series until his death in 1993, at which time the series was renamed The Schneider Concerts in his honor. Artistic leadership is now under the auspices of a committee of eight noted musicians: John Dalley, Pamela Frank, Jaime Laredo, Cho-Liang Lin, Anthony McGill, Kurt Muroki, Tara O'Connor, and Arnold Steinhardt.
The College of Performing Arts at The New School was formed in 2015 and draws together the Mannes School of Music, the School of Jazz and Contemporary Music, and the School of Drama. With each school contributing its unique culture of creative excellence, the College of Performing Arts is a hub for cross-disciplinary collaboration, bold experimentation, innovative education, and world-class performances.

The 1,000 students at the College of Performing Arts are actors, performers, writers, improvisers, creative technologists, entrepreneurs, composers, arts managers, and multidisciplinary artists who believe in the transformative power of the arts for all people. Students and faculty collaborate with colleagues across The New School in a wide array of disciplines, from the visual arts and fashion design, to the social sciences, public policy, advocacy, and more.

The curriculum at the College of Performing Arts is dynamic, inclusive, and responsive to the changing arts and culture landscape. New degrees and coursework, like the new graduate degrees for Performer-Composers and Artist Entrepreneurs are designed to challenge highly skilled artists to experiment, innovate, and engage with the past, present, and future of their artforms. New York City's Greenwich Village provides the backdrop for the College of Performing Arts, which is housed at Arnhold Hall on West 13th Street and the historic Westbeth Artists Community on Bank Street.

Founded in 1919, The New School was established to advance academic freedom, tolerance, and experimentation. A century later, The New School remains at the forefront of innovation in higher education, inspiring more than 10,000 undergraduate and graduate students to challenge the status quo in design and the social sciences, liberal arts, management, the arts, and media. The university welcomes thousands of adult learners annually for continuing education courses and public programs that encourage open discourse and social engagement. Through our online learning portals, research institutes, and international partnerships, The New School maintains a global presence.

MARKETING AND COMMUNICATION
79 Fifth Avenue
New York, NY 10003
www.newschool.edu
PRESS RELEASE
Media Contacts:
Will Wilbur,
The New School

[email protected]
Follow @TheNewSchool