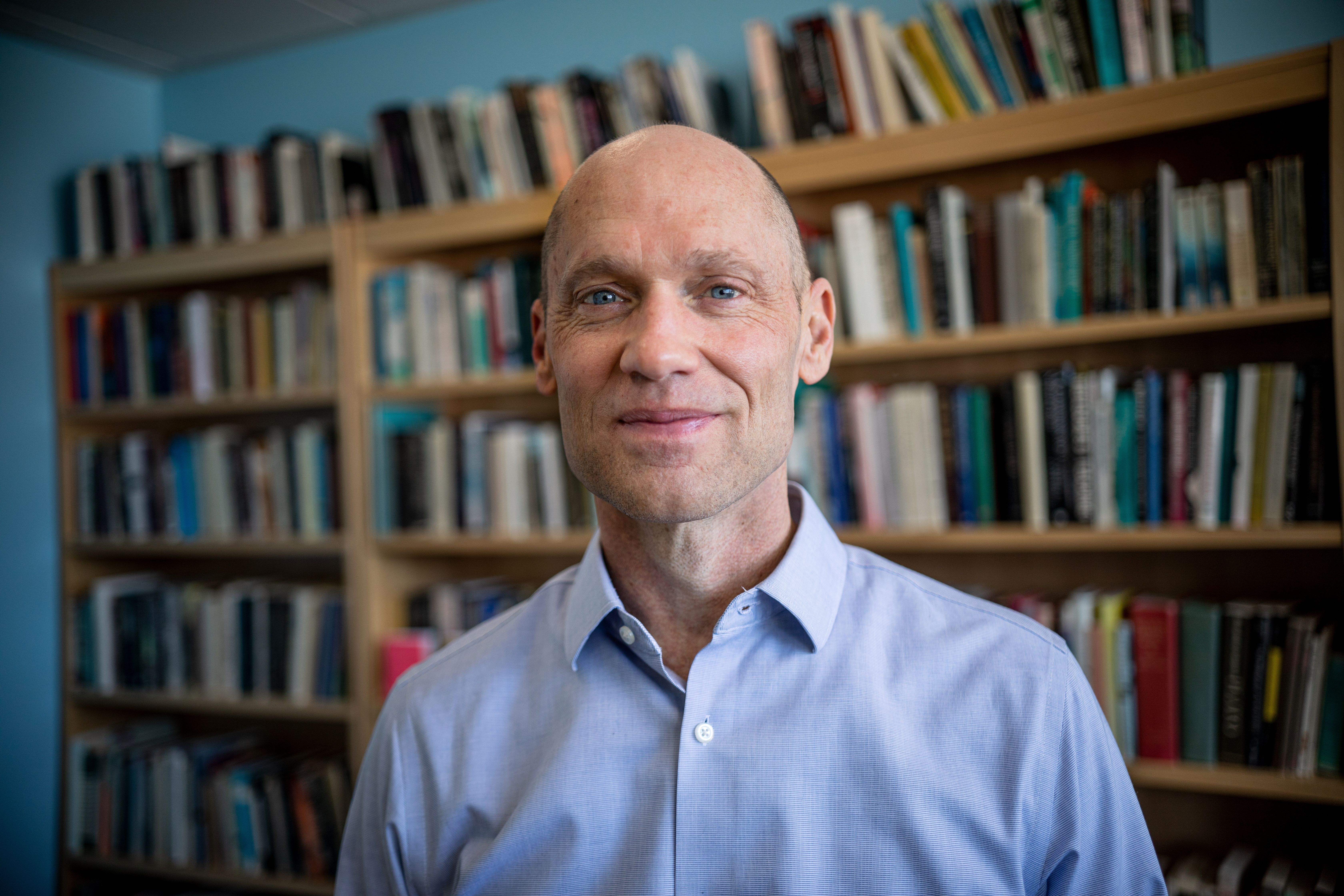 Eugene Lang College Dean Christoph Cox (photo credit: Koby Leff)
New York, June 29, 2022—The New School announced today that Christoph Cox, most recently Vice President for Academic Affairs and Dean of the Faculty at Hampshire College, has been appointed Dean of The New School's Eugene Lang College of Liberal Arts. Cox will formally join Lang College on August 1, 2022.
 
Cox's appointment follows a robust search for a strong leader to advance Lang College's focus on rigorous liberal arts study that cultivates intellectual curiosity, engages with contemporary issues, and prepares students to create critical change in the world. As Dean, Cox will serve as Lang's principal academic and strategic leader, furthering its diverse and engaged learning experiences that include dual degree programs with the university's four other colleges, and its focus on social justice issues to educate graduates who are responsive to societal shifts and prepared to succeed in today's rapidly evolving world. 
 
"As we continue to dedicate ourselves to a truly student-focused curriculum, we sought a leader with a clear and compelling vision for the humanities, scholarly exploration, excellence in trans-disciplinary education, and a strong commitment to building an inclusive teaching and learning environment," said Renée T. White, Provost and Executive Vice President for Academic Affairs at The New School. "Christoph brings those attributes and more. He has the track record, skills, and innovative approach to take Eugene Lang College to the next level of excellence, and I look forward to a collaborative partnership in the years to come."
 
Cox succeeds Jennifer Wilson, who concludes her tenure as Dean of Eugene Lang College on July 31, 2022. After a sabbatical, Dean Wilson will return to teaching and research in mathematics in Lang's Natural Sciences and Mathematics department.
 
"Christoph is an accomplished scholar, administrator, and dedicated teacher, and his love for Lang College was apparent throughout the selection process," said Wilson. "He brings a fresh point of view on the transformative potential of a liberal arts education, and his leadership will help push the College forward as it continues to innovate and evolve the learning opportunities, resources, and community that are essential for students to realize their potential as changemakers."
 
A philosopher, critic, and curator of visual and sonic art, Cox has more than 25 years of experience working in progressive liberal arts institutions dedicated to interdisciplinary, student-directed education. He comes to The New School from Hampshire College, located in Amherst, Massachusetts and part of the richly collaborative Five College Consortium. For the past 15 years, Cox has also taught and served on the Graduate Committee at the Center for Curatorial Studies at Bard College. Prior to joining Hampshire College, he was the William Rainey Harper Instructor in the Humanities and Philosophy at The University of Chicago, and a Visiting Assistant Professor of Philosophy at Hamilton College.
 
"I'm tremendously excited to be joining Eugene Lang College of Liberal Arts as Dean," said Cox. "I have such respect and admiration for Lang's faculty, its innovative and rigorous curriculum, and commitment to social justice. To my mind, Lang exemplifies what liberal arts education should be in the 21st century: interdisciplinary, experimental, progressive, and oriented toward tackling the compelling global issues of our time. I'm drawn to Lang's wonderfully creative and engaged students, and look forward to partnering with faculty and staff to develop the next generation of leaders ready to meet the needs and challenges of an ever-changing world."
 
Cox teaches and writes on contemporary European philosophy, cultural theory, and aesthetics. He is the author of "Sonic Flux: Sound, Art, and Metaphysics" (University of Chicago Press, 2018) and "Nietzsche: Naturalism and Interpretation" (University of California Press, 1999), and is a co-editor of "Realism Materialism Art" (Sternberg, 2015) and "Audio Culture: Readings in Modern Music" (Continuum, 2004/2017). The recipient of an Arts Writers Grant from Creative Capital/Warhol Foundation, Cox is editor-at-large at Cabinet magazine. His writing has appeared in journals and magazines such as October, Artforum, Journal of the History of Philosophy, The Wire, Journal of Visual Culture, Organised Sound, and The Review of Metaphysics. 
In addition to his work as a critic and theorist, Cox has curated numerous exhibitions across the United States, including the Contemporary Arts Museum Houston, The Kitchen, CONTEXT Art Miami, New Langton Arts, G Fine Art Gallery, and other venues. He has written catalog essays for exhibitions at the Whitney Museum of American Art, the Museum of Modern Art, Mass MoCA, the South London Gallery, Berlin's Akademie der Künste, the Museum of Contemporary Photography, the Oslo Kunstforening, and elsewhere.
 
Cox holds a PhD in the History of Consciousness from the University of California, Santa Cruz and a BA in Modern Culture and Media from Brown University.