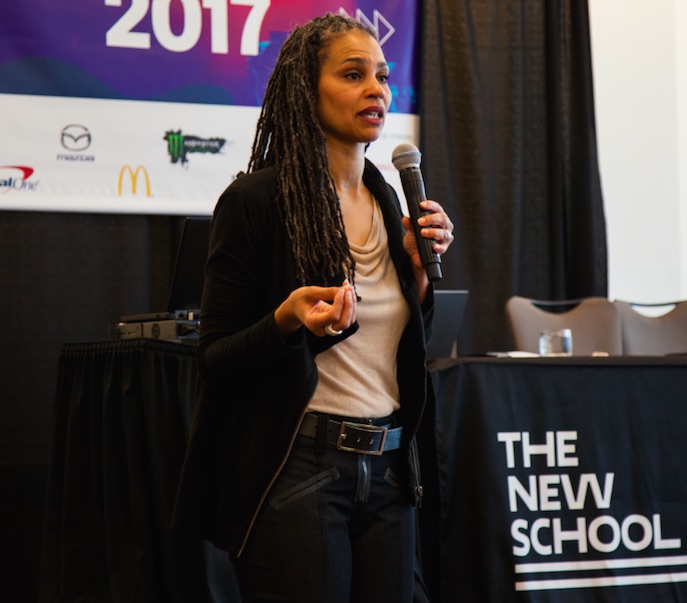 Maya Wiley, Senior Vice President for Social Justice at The New School, spoke at SXSW Interactive (Photo/Ryan Blum)

New York, December 14, 2017 — Maya Wiley, Senior Vice President of Social Justice at The New School in New York City and an advocate for broadband equality, is available for comment on the Federal Communication Commission's decision to dismantle net neutrality regulations and impose new rules barring state and local governments from protecting the rights of residents.


"The Federal Communications and Telecommunications Commission is setting the country on a path to information inequality," Wiley says. "Technology is changing the world and the internet has become a public utility. But the infrastructure was laid by big telecommunications firms who have benefited from federal policy decisions giving them monopoly power in exchange for serving customers fairly and equally. Yet even now, in the digital age, many Americans don't have equal access — or any access — to the internet because it has become too costly."


To read Wiley's full statement on the decision, visit The New School's website.


In a recent op-ed in Essence, Wiley also commented on the impact of the repeal of net neutrality on Black Americans, arguing that "civil rights organizing of today requires the tools technology provides."

"From #BlackLivesMatter to #OscarsSoWhite, Black women and girls have used Twitter and other social media to elevate pressing social issues to drive change," Wiley writes. "Thanks to the Trump administration, these democratic tools Black people are only recently gaining more equal access to, may be too expensive for many to use."


Finally, Wiley stressed the the threat of new FCC rules to the privacy of Black Americans.

"If law enforcement has probable cause to believe someone is dealing drugs, getting a warrant and collecting data that is one thing," she says. "A walk through anyone's private communications is another. And we know who will be targeted for that."


Wiley, former counsel to the Mayor of New York City and ex-chair of the New York City Civilian Complaint Review Board, previously led an effort to provide free high-speed wireless to the Queensbridge apartments, the largest public housing community in North America. Additionally, she shepherded the launch of LinkNYC, which transforms the City's old payphones into Wi-Fi kiosks to create the world's largest and fastest free public Wi-Fi network.

As a fellow at the Roosevelt Institute, she contributed to Wired: Connecting Equity to a Universal Broadband Strategy, a case study that examines the Queensbridge initiative to better understand the twin causes of digital inequity — a history of racial segregation and the monopolization of Internet companies — and how cities can be effective innovators in tackling them. The study comes at a time when federal-level policy is shifting radically towards greater deregulation of the telecommunications industry, which, according to the case study, threatens to widen the digital divide. While significant federal enforcement and investment is needed, the study makes the case that there are ways cities can disrupt highly concentrated telecommunications markets and increase digital equity absent federal support.