68th annual parsons benefit raises $1.86 million for scholarships at the new school
Andy Cohen Hosted the Event Which Honored Sarah Jessica Parker, Donna Karan, Arianna Huffington, and Beth Rudin DeWoody For Their Commitment to Social Good

Kay Unger Family Foundation Donates $7 Million to Making Center, a 35,000-Square-Foot Design Space Opening in the Fall

Donna Karan and Burak Cakmak Presented Student Designers of the Year Awards for Womenswear and Menswear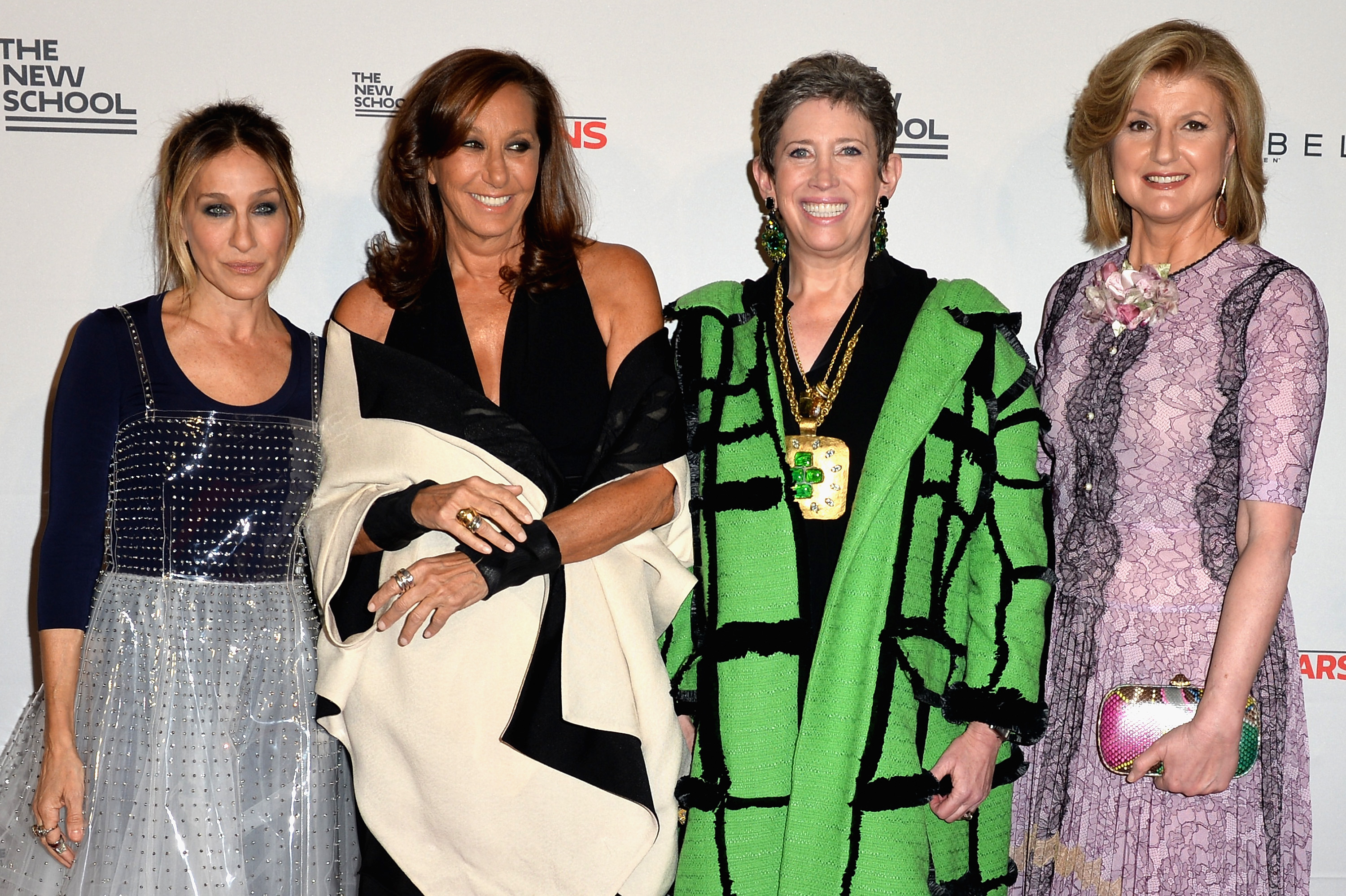 Parsons Benefit Honorees Sarah Jessica Parker, Donna Karan, Beth Rudin DeWoody, and Arianna Huffington (Photo Credit: Getty/Andrew Toth)
NEW YORK, May 26, 2016— Andy Cohen hosted the 2016 Parsons Benefit for Parsons School of Design, which honored actress Sarah Jessica Parker, fashion designer and Parsons graduate Donna Karan, Huffington Post founder and editor-in-chief Arianna Huffington, and art curator and New School graduate Beth Rudin DeWoody. The annual event was held at Pier Sixty in New York.

Now in its 68th year, the perennial event is a New York fashion calendar highlight and introduces the next generation of fashion design leaders, honors icons in the field, and raises funds for student scholarships. During the event, New School President David Van Zandt announced to the 700 guests in attendance that the benefit had raised $1.86 million.

Joel Towers, executive dean of Parsons School of Design, announced that acclaimed designer, philanthropist, Parsons graduate, and Parsons' Chair of the Board of Governors Kay Unger, through the Kay Unger Family Foundation, has donated $7million to Parsons, which will go directly to the university's new Making Center opening Fall 2016.

"We have so much to celebrate at Parsons this year, starting with the four women we honored for their work in social good and their accomplishments in art and performance," said Towers. "And, the generous spirit of Kay Unger, who tirelessly mentors our students and guides our school. Her gift to our new Making Center ensures the next generation of designers will marry making and imagination."

Following a runway show highlighting select collections by graduating students, Burak Cakmak, dean of the School of Fashion, announced the 2016 Designer of the Year awards. This year's recipients are:
Womenswear Designers of the Year Angela Luna and Jackson Wiederhoeft
Menswear Designer of the Year Ming Peng
For the first time, the evening's program included several live musical performances from students of The New School's College of Performing Arts, including Linda Briceño, a two-time Latin Grammy nominee and student at the School of Jazz.

Maybelline New York was The Presenting Sponsor of the annual Parsons Benefit and Fashion Show. The brand provided makeup for the BFA fashion show, which took place during the Parsons Benefit, and has established an endowed scholarship starting in Fall 2016. HBO was the Gold Sponsor of the evening.
Three awards from industry leaders were presented during the evening, including:
Tiffany Huang and Ya Jun Lin won the Kering Empowering Imagination Award
Angela Luna won the Eyes on Talents Innovation Award
Seoyoon Song won the VFiles Academy Prize.
Past honorees include Marc Jacobs and LVMH (2015), Jason Wu and Hugo Boss (2014), and Proenza Schouler and Hudson's Bay (2013).

Kay Unger and Mortimer Singer, co-chairs of the Parsons Benefit, announced that Neiman Marcus Group and its President and CEO Karen Katz will be the honorees for the 2017 Parsons Benefit.
Founded in 1919, The New School was born out of principles of academic freedom, tolerance, and experimentation. Committed to social engagement, The New School today remains in the vanguard of innovation in higher education, with more than 10,000 undergraduate and graduate students challenging the status quo in design and the social sciences, liberal arts, management, the arts, and media. The New School welcomes thousands of adult learners annually for continuing education courses and calendar of lectures, screenings, readings, and concerts. Through its online learning portals, research institutes, and international partnerships, The New School maintains a global presence. Learn more at newschool.edu.
The New School's Parsons School of Design is a global leader in design education, with programs that span the disciplines of design and the fine arts. With the launch of its fashion design program in 1906, Parsons is credited with the rise of Seventh Avenue, the epicenter of American fashion. Parsons offers a Bachelor of Fine Arts degree in Fashion Design, Associate degrees in Fashion Design and Fashion Marketing, and a Master of Fine Arts Program in Fashion Design and Society initiated through the support of Parsons alumna Donna Karan. Parsons has educated generations of leading American fashion designers, including Tom Ford, Marc Jacobs, Isaac Mizrahi, Tracy Reese, Narciso Rodriguez, Anna Sui, Prabal Gurung, Derek Lam, Proenza Schouler, Vena Cava, Alexander Wang and Jason Wu. For more information, visit www.newschool.edu/parsons.
The New School's College of Performing Arts is a progressive artistic center housed within The New School, in one of the world's greatest performing arts cities, New York City. The college offers undergraduate and graduate degree programs for aspiring musicians, composers, actors, directors, writers, and performers of all kinds through three renowned schools: Mannes School of Music, the School of Jazz, and the School of Drama. Students have the valuable opportunity to pursue interdisciplinary studies throughout a comprehensive university, The New School. The College of Performing Arts nurtures individual artists in order to cultivate fearless risk-takers who value real-world relevance, pursue excellence, and embrace collaboration. Celebrated faculty mentors guide students to take their place as artistic leasers who can make a positive difference in the world today. For more information, visit www.newschool.edu/performing-arts