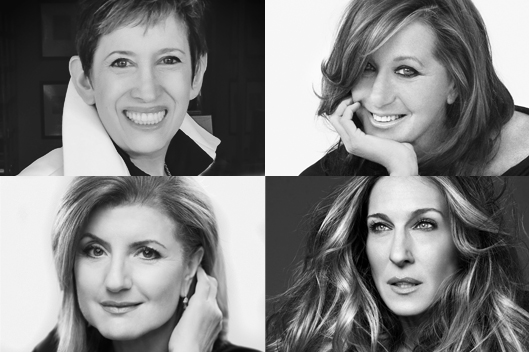 L-R: Honorees Beth Rudin DeWoody, Donna Karan, Sarah Jessica Parker, and Arianna Huffington
New York, March 23, 2016 – The New School announced the honorees for their 68th annual Parsons Benefit, which will be held at Pier Sixty on Monday, May 23rd.
This year's honorees include fashion icon and Parsons graduate Donna Karan; art curator, philanthropist, and New School for Social Research graduate Beth Rudin DeWoody; actress Sarah Jessica Parker; and entrepreneur Arianna Huffington. The extraordinary women are being recognized for their influence in fashion, art, performance, and media, as well as the work they have done to promote positive social change.
Andy Cohen, Peabody and Emmy Award-winning host, author and executive producer of Bravo's "Watch What Happens Live," will host the Gala.
"I am thrilled to be hosting the Parsons Benefit this year, where four extraordinary women will be honored for their significant contributions to the arts, fashion, entertainment and social good," said Cohen. "The Benefit also raises much needed scholarship money that supports the next generation of innovative designers, performers and creative thinkers. It's a great night when fashion, education and entertainment all come together to honor leaders and inspire students."
Parsons, one of the leading art and design schools in the world, hosts the Parsons Benefit each year to introduce the next generation of fashion design leaders and to raise key funds for student scholarships.
"We have so much to celebrate at Parsons this year, starting with the four women we are honoring for their work in social good and their accomplishments in art and performance," said Joel Towers, executive dean of Parsons School of Design at The New School. "We are also celebrating the beginning of a new tradition. After 68 years of Fashion Benefits, we are now partnering with our sister schools in the College of Performing Arts--bringing design and performance together. We think this combines two of the great strengths of New York City. And finally, we're celebrating the first year of leadership under our new Dean of the School of Fashion, Burak Cakmak, who has made this collaboration possible."
For the first time, the evening's program will include several live musical performances from students of The New School's College of Performing Arts, including Linda Briceño, a two-time Latin Grammy nominee and student at the School of Jazz.
"This year's Parsons Benefit showcases the unique cross-disciplinary learning opportunities at The New School by bringing together students from Performing Arts and Parsons to collaborate in new and meaningful ways," said Richard Kessler, executive dean of the College of Performing Arts. "The opportunity for our students to perform alongside the Parsons students, who will debut their designs during the runway show, underscores The New School's commitment to creative collaboration, and represents the best of what our distinctive schools have to offer."
The evening will conclude with a runway show featuring the work of graduating BFA Fashion Design students who are finalists in the "Designer of the Year Award."
Proceeds from the benefit support scholarships for students across the university who would be unable to attend without the generosity of donors who support education through the Benefit. Scholarships will enable students to pursue their studies in art, design, business, technology, and social innovation.
The Benefit Chairs for the event are Kay Unger, celebrated fashion designer, entrepreneur, philanthropist, and Chair of the Board of Governors at Parsons; Mortimer Singer, President and CEO of Marvin Traub Associates, a fashion advisory firm and a member of the Parsons Board of Governors; and Linda Rappaport, a partner at Shearman and Sterling LLP and Chair of the Board of Governors at Mannes School of Music. Josh Wood Productions will produce the benefit.
Past honorees have included Vera Wang, Francisco Costa, Diane Von Furstenberg and Marc Jacobs.
Honoree and Host Bios:
Donna Karan | Donna Karan is the founder and former designer of Donna Karan New York and DKNY. The labels grew to include beauty, hosiery and home collections, as well as the additions of DKNY Men, DKNY Jeans and DKNY Kids. She spearheaded Seventh on Sale benefits with the CFDA to raise funds for AIDS awareness and education, as well as co-chaired the New York "Kids of Kids" events for the Elizabeth Glazer Pediatric AIDS Foundation. She also co-founded and continues to co-chair "Super Saturday," an annual Hamptons event to benefit the Ovarian Cancer Research Fund. Ms. Karan established Urban Zen, the luxury brand and Foundation in 2007, as a marriage of commerce and philanthropy and a philosophy of living. Through the Urban Zen foundation, she collaborated with Parsons to create the Design, Organization, and Training Center (DOT) in Haiti, which helps bring vocational education to artisans. Ms. Karan is a graduate of Parsons, and has been a member of the Parsons Board of Governors since 2001.
Sarah Jessica Parker | Sarah Jessica Parker, who played Carrie Bradshaw on the HBO television series Sex and the City (1998-2004), has won four Golden Globe Awards, three Screen Actors Guild Awards, and two Emmy Awards. She has worked in the theater, on and off Broadway, since 1976 when she debuted on Broadway in The Innocents directed by Harold Pinter. In 2014, Parker launched her namesake label, SJP, which is carried by Bloomingdales, Nordstrom, Neiman Marcus online, and Zappos Couture, as well as various international retailers. Parker will return to HBO later this year in the new television series Divorce, in which she stars and serves as an executive producer. Parker currently serves as a Vice-Chairman of the Board of Directors for the New York City Ballet and is a UNICEF ambassador.
Beth Rudin DeWoody | Beth Rudin DeWoody, daughter of the late real estate developer Lewis Rudin, is President of The Rudin Family Foundations and Executive Vice President of Rudin Management Company. Ms. DeWoody is a graduate of the New School for Public Engagement, and is married to renowned photographer Firooz Zahedi. She has worked in various roles in film and has curated shows for several different art galleries between New York City, New Orleans, London, and Vermont. Ms. DeWoody's Board affiliations include the Whitney Museum of American Art, Creative Time, The New School, The New School's Parsons School of Design, Design Museum Holon Israel, Empowers Africa, Save A Child America Inc. and The Police Foundation. Ms. DeWoody also serves on the Advisory Boards at The Glass House in New Canaan and New Yorkers for Children, Inc. and the Board of Overseers at the Hammer Museum in Los Angeles.
Arianna Huffington | Originally from Greece, Arianna Huffington is the co-founder, president, and editor-in-chief of the Huffington Post Media Group, a Pulitzer Prize–winning site, and author of fifteen books. She has been named to Time Magazine's list of the world's 100 most influential people and the Forbes Most Powerful Women list. She serves on numerous boards, including The Center for Public Integrity and The Committee to Protect Journalists.
Andy Cohen | Andy Cohen is an Emmy Award­­­–winning host, producer, and author best known as the host and executive producer of "Watch What Happens Live," Bravo's late night interactive talk show. Cohen ran Original Programming and Development for the pop culture and arts cable channel TRIO before joining Bravo as Vice President, Original Programming and most recently serving as Bravo's Executive Vice President of Development and Talent. Cohen has now also become a New York Times best-selling author and recently launched "Radio Andy," a personally curated channel on SiriusXM focused on pop culture, celebrities, lifestyle, relationships, and the dish on all topics deep and shallow.