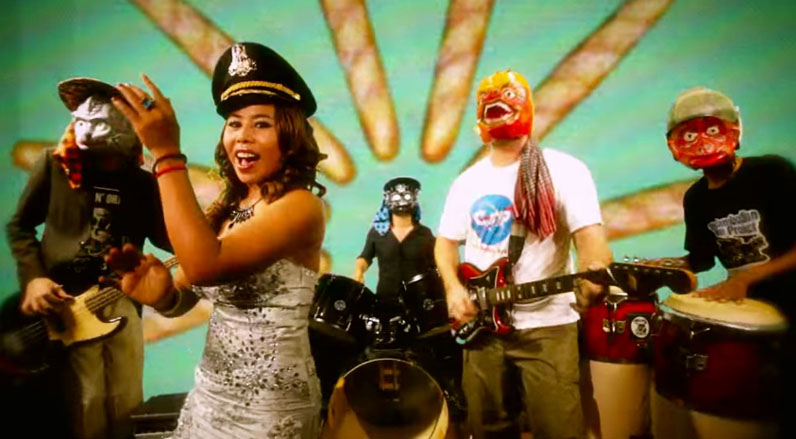 Futurographies, which is on view at the Sheila C. Johnson Design Center, re-imagines the shared histories of Cambodia, the USA, and France.
NEW YORK, November 5, 2015 — The Sheila C. Johnson Design Center (SJDC) at The New School's Parsons School of Design presents Futurographies: Cambodia-USA-France, an exhibition that re-imagines the shared histories of Cambodia, the United States and France.
While Cambodia, the United States and France share a violent past—colonial repression, war, bombing campaigns, genocide, migrations of refugees, deportations, and forced 'repatriations'—this multi-media exhibition explores another set of parallel histories in which alternate futures were (and are) written, proposed and even determined. Featuring visual art, photography, music, performance, sculpture, installation and text, it reveals the ways in which people imagine and generate futures in contexts most often represented as ones of crisis, disaster and victimhood.
For example, documents and video demonstrate the outcome of years of U.S. inflicted violence in Southeast Asia that imposes a future in which Cambodian refugees settle in the United States and France where they forge new identities and ways of belonging.
Thirty-five years later, Cambodian-Americans, forcibly "repatriated" by the U.S. to Cambodia, reflect on and demand a relationship to their "home" country—the U.S.— through hip hop and spoken word.
Curated by an interdisciplinary group of students from across The New School, the exhibition is the outcome of an experimental workshop that brought together ethnographic and curatorial methodologies, including 10 months of research in New York with brief fieldwork in Phnom Penh and Paris. It will travel to the Parsons Paris Gallery in April 2016 and is expected to go to Phnom Penh as well.
"We were repeatedly struck by people's drive to create and tell new—or previously unheard—stories; stories that signal the way people are dreaming new ways of thinking and being into existence," said the curators. "This creativity is (re)surfacing with full force today in artistic and political movements. In these fragile yet bold gestures, we find an infectious momentum and excitement, an energy that could offer us another window into the past even as it proposes a future."
"Futurographies is the culmination of a series of internationally focused exhibitions in the galleries this fall—from childhood material culture in Cuba to filmmaking from Syria— which reflect our commitment to connecting the work of the university to wider global issues," said Radhika Subramaniam, director and chief curator of the SJDC.
"Our challenge was to create an entirely new pedagogical experience, combining creative curatorial strategies and ethnographic research methodologies, and to do so while being attentive to three interlinked, yet individually complex, histories," said Jaskiran Dhillon and Miriam Ticktin who, with Subramaniam, are the New School faculty members who co-led the interdisciplinary workshop. "This was a real experience of encounter, research and reflection for all of us."
The exhibition features work by Binh Danh, Genealogy of Bassac Group/Pen Sereypagna, The Cambodian Space Project, Chath Piersath, Eng Rithchandaneth, Charles Fox, Stuart Isett, Klap Ya Handz/Sok "Cream" Visal, Komlang Khmer, Dave Kyu, Roland Neveu, Michelle Nugent, Pete Pin, Monica Sok, Studio Revolt/Anida Yoeu Ali and Masahiro Sugano, Peuo Tuy and Yim Maline.
The curators of the exhibition are Laura Belik (Parsons School of Design '16), Elise Gerspach (New School for Social Research '15), Andrea Gil (Eugene Lang College '15), Quizayra Gonzalez (Parsons School of Design '16) and Veija Kusama-Morris (Eugene Lang College '16) Faculty Directors: Jaskiran Dhillon, Radhika Subramaniam and Miriam Ticktin.
The exhibition and workshop was made possible with the generous support of the Provost's Office Innovations in Education Grant; MA Design Studies, a graduate program of the School of Art and Design History and Theory, Parsons; Parsons CrossSchool Funds; the Student Life and Outreach Committee, Lang; and the University