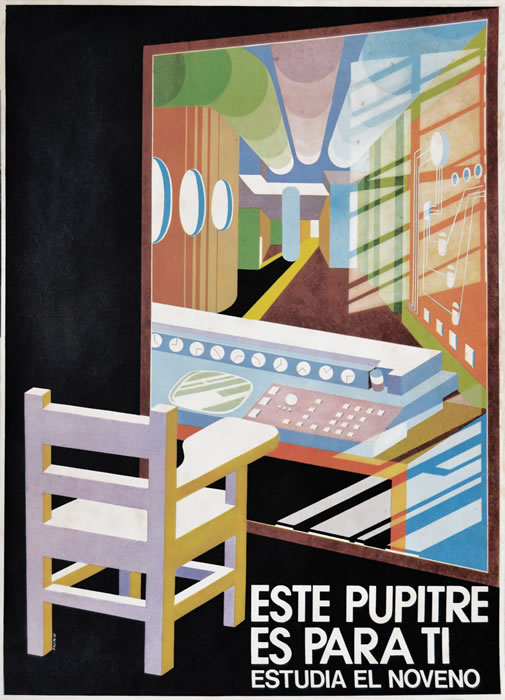 "This school desk is for you" poster produced by Department of Revolutionary Orientation, designed by Faustino Pérez, 1980s. (Pepe Menéndez collection)
NEW YORK, September 10, 2015—The Sheila C. Johnson Design Center (SJDC) at The New School's Parsons School of Design presents Pioneros: Building Cuba's Socialist Childhood, an exhibition exploring the material world of childhood in Cuba during 1960s, 70s and 80s.
Launching in the wake of the Obama Administration's easing of the 54-year-old American trade embargo against its island neighbor, the exhibition offers an intimate glimpse into an aspect of the Cuban experience that is fading from historical memory.
"As Cuba enters a new era of fast and sweeping change, fewer and fewer people will know how Cubans lived during the Soviet era, a time of prevailing scarcity," says Maria Cabrera Arús, a PhD candidate in sociology, co-curator of Pioneros an founder of Cuba Material. "It's important to keep a record of all this materiality for future generations, researchers, movie makers and writers."
Co-curated with art historian Meyken Barreto, manager of Y Gallery in New York City, the exhibition features more than 200 objects—toys, clothing, books, furniture, appliances, diplomas, certificates and schoolroom paraphernalia and other childhood ephemera—culled primarily from the collection of Cabrera Arús' grandparents, who, in an era of limited resources, "kept almost everything," the curator said.
The exhibition also includes old photographs, posters from the collection of designer Pepe Menéndez, clips of television shows, and recorded music curated by art historian Emilio García Montiel. A series of photographs produced by Cuban-born artist Geandy Pavón—former pionero and now, exile and political activist—anchors the collection during a period when the United States and Cuba, estranged for more than a half century, are starting to reconnect.
"With the easing of the trade embargo followed by this summer's restoration of diplomatic relations, severed since the 1960s, Cuba has re-entered the U.S. imaginary in a new way," said Radhika Subramaniam, director and chief curator of the SJDC.  "The exhibition's exploration of the formation of Cuban childhoods in these intervening decades is akin to the discovery of a long lost neighbor."
The objects featured in the exhibition have been gathered as part of Cuba Material, a project founded by Cabrera Arús in 2012. The genesis for the project came about through Cabrera Arús' dissertation, which explores Cuba's rapidly disappearing socialist material culture.
"These 'souvenirs' of the past document not only state practices but individual lives—they point at the role that individuals played in the construction of Cuba's revolutionary utopia," she says. "Pioneros is a tribute to all of them. It is also a way to honor my grandparents, the foremost hoarders in my family."
Additional support for this exhibition is provided by a grant from New Challenge, a fund for student social innovation at The New School; the Foreign Languages Department at The Schools of Public Engagement at The New School; and the Sociology Department at The New School for Social Research.
Upcoming Programs:
Panel: "Grown-Up Children from State Socialist Regimes" — Academics of different nationalities share their experiences of growing up in state socialist regimes. The discussion will place the recent history and material culture of Cuba in dialogue with both the Cuban exile and the Eastern European and Soviet world. Friday, Sept. 25, 6-8 p.m. Anna-Maria and Stephen Kellen Auditorium (Room N101), Sheila C. Johnson Design Center, 66 Fifth Ave.
Screening of the documentary films The Sugar Curtain and Good bye, Lolek —The first film, directed by Camila Guzmán Urzúa and the second film, directed by Asori Soto explories childhood in socialist Cuba. Monday, Sept. 28, 6-8 pm. Orientation Room/Bark Room (M101), Sheila C. Johnson Design Center, 2 West 13th St.
The curators will also conduct tours on several days during the run of the exhibition.  For details on dates and times, visit www.newschool.edu/sjdc.