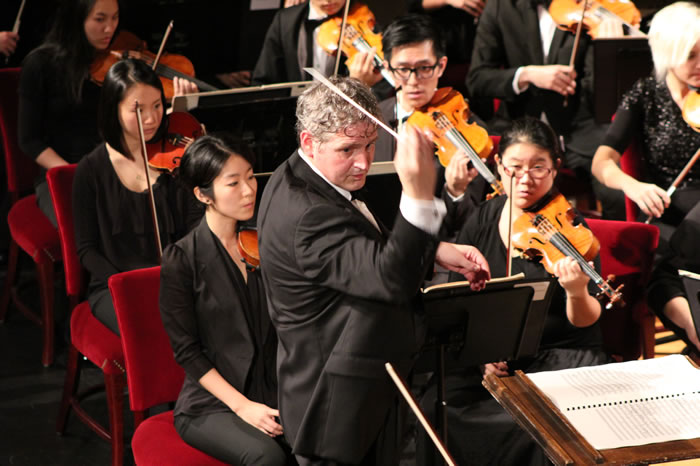 The Mannes Orchestra will perform at Lincoln Center's Alice Tully Hall on February 19. (Photo/Eli Mann)

New York (February 5, 2015) – Mannes College at The New School will use its February 19 concert at Lincoln Center's Alice Tully Hall (65th Street and Broadway) to announce the creation of the Julius Rudel Award for Conducting Studies at Mannes College, a program that places select Mannes conducting students in residence with the Buffalo Philharmonic (BPO).

Funded through a bequest from the estate of Julius Rudel, the late renowned opera and orchestra conductor and Mannes graduate, the program gives students the opportunity to serve as conductors and learn about the inner workings of a professional orchestra under the tutelage of BPO Music Director and Mannes College alumna Joanne Falletta.

"Throughout his long and legendary career, Julius Rudel never forgot what a great gift his Mannes education had been; there, as a teenage immigrant, he was afforded the chance to learn his craft that led to his becoming the maestro he was," said Anthony Rudel, son of Julius Rudel. "It was no surprise to us, his family, that he wanted to give back in death, as he had done throughout his life, to Mannes. What is particularly wonderful is that his gift will be used to help the careers of young, promising conductors, which is exactly what he wanted."

Richard Kessler, Executive Dean for the Performing Arts at The New School and Dean of Mannes College, expressed his excitement over the concert, as well as his gratitude to the Rudel Family for their "generous bequest."

"Both the Rudel Family and Mannes leadership are thrilled about using the funding to support the Buffalo-Mannes conducting residency, as Julius Rudel was music director of the Buffalo Philharmonic from 1979 to 1984," Kessler said. "This award will help to further the legacy of this outstanding maestro and legendary Mannes College graduate."

The performance at Alice Tully Hall will feature performances of Benjamin Britten's Les Illuminations with soprano Mizuho Takeshita (2014 Mannes Concerto Competition winner); Arvo Pärt's Cantus in Memoriam Benjamin Britten; and Aaron Jay Kernis's Whisper, Echo, A Cry; and Beethoven's Symphony No. 7.

The performance marks the New York premiere of Whisper, Echo, A Cry, a work commissioned and performed by the San Antonio Symphony in January. Kernis, a leading American composer who won the 1998 Pulitzer Prize for  music composition, is currently the composer-in-residence at Mannes.

Led by conductor David Hayes, the Mannes Orchestra will for its 2014-2015 season present a variety of performances, collaborations, and special projects at Carnegie Hall, Lincoln Center's Alice Tully Hall, Tishman Auditorium and the Mannes Concert Hall. The Orchestra will also appear with the Mannes-Parsons Opera at Hunter College's Kaye Playhouse for a production at John Jay College in May. For a full listing of concerts, please visit The Mannes Events Calendar.

David Hayes, a professor of Professional Practice at Mannes College The New School for Music, is a conductor with an unusually broad range of repertory, spanning the symphonic, oratorio/choral, and operatic genres. After making his debut at the Verbier Festival with the Curtis Orchestra, he went on to conduct the Springfield Symphony Orchestra at the Berkshire Choral Festival, the New York Philharmonic on the Curtis Symphony Orchestra's 1999 European Tour and The Philadelphia Orchestra, where he completed a decade-long tenure. Most recently, he was appointed music director of the New York Choral Society, which will partner with The Mannes Orchestra in April for a concert at Carnegie Hall of John Adams' 2003 Pulitzer Prize-winning work On the Transmigration of Souls, a musical commemoration for the victims of the 9/11 attacks.

Mannes Orchestra at Alice Tully Hall, Thursday, February 19 at 7:30 pm.

David Hayes, Conductor

BenjaminBritten: Les Illuminations with soprano Mizuho Takeshita (2014 Mannes Concerto Competition winner)

Arvo Pärt: Cantus in Memoriam Benjamin Britten

Jay Kernis: Whisper, Echo, A Cry (New York Premier)

Beethoven: Symphony No. 7

Admission is free but reservations are required. Pick up free tickets at the Alice Tully Box Office, or call 212-671-4050

.