Lidewij Edelkoort, renowned futurist, joins the new school as dean of hybrid design studies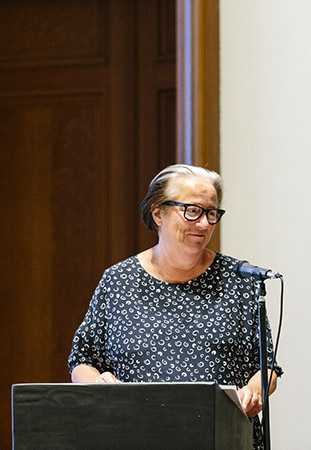 Lidewij Edelkoort speaks at the Parsons Paris commencement ceremony in May, 2015. Photo by Puxan BC.
NEW YORK, June 18, 2015— The New School announced today the appointment of Lidewij Edelkoort, internationally recognized design forecaster, strategist and educator, as Dean of Hybrid Design Studies, a role that will be based at Parsons School of Design in New York and at Parsons Paris, as well as create opportunities across The New School's curriculum. Edelkoort will begin this role in September 2015.

"The New School and Parsons School of Design are thrilled to welcome Lidewij Edelkoort to our university," said Tim Marshall, provost of The New School. "Her intuitive thinking and ability to identify emerging social-cultural patterns and directions will help us develop curriculum for the creative economies of the future."

Edelkoort will be involved in developing hybrid design and liberal arts programs, creating joint projects and curriculum for freshman, strengthening Textile Design and developing a new approach for the design of Costume and Couture.

"I can't wait to be part of Parsons and The New School to create innovative ways of teaching between the different creative and scientific disciplines as well as the performing arts," said Edelkoort. "I have spent my life developing creativity and recognizing emerging social shifts that designers and industries need to understand. The opportunity to share my experiences with these talented students is an exciting next experience for me, and I look forward to working together to design a better world."
As the creator of Trend Union, the Paris-based forecasting agency, Edelkoort works with many of the world's most leading brands. She also creates coveted trend books that address societal changes expressed in sensory experiences. Edelkoort created the cult magazines, View on Colour and Bloom, which have become valuable tools for strategists and designers at international brands. She has co-founded the foundation HeartWear (1993) to help artisans in developing communities, encouraging fair trade and sustainability.

"Lidewij Edelkoort brings a way of thinking and of using design that will be an inspiration for both faculty and students," said Susan Taylor-Leduc, dean of Parsons Paris. "Her unique vision of the future of design, and the role designers, and entrepreneurs will play, will be instrumental as she helps to build our curriculum." Lidewij Edelkoort will be leading a course on trend forecasting and color at Parsons Paris in spring of 2016.

Previously, Edelkoort was chairwoman of the Design Academy Eindhoven and established the DesignHuis, a cultural design institution in the same city. She co-founded and established the School of Form in Poznan, Poland for design students in Eastern Europe and created Trend Tablet, an interactive online forum that teaches about the power of design, technology and craft to shape our lived experiences.

Edelkoort actively curates exhibitions around the world, including the current "Oracles du Design" at the GaîtéLyrique in Paris, in partnership with the Centre National des Arts Plastiques (CNAP) that invited Edelkoort to curate a show from it's prestigious international design archive.
###
About The New School

Founded in 1919,The New Schoolwas born out of principles of academic freedom, tolerance, and experimentation. Committed to social engagement, The New School today remains in the vanguard of innovation in higher education, with more than 10,000 undergraduate and graduate students challenging the status quo in design and the social sciences, liberal arts, management, the arts, and media. The New School welcomes thousands of adult learners annually for continuing education courses and calendar of lectures, screenings, readings, and concerts. Through its online learning portals, research institutes, and international partnerships, The New School maintains a global presence. Learn more atwww.newschool.edu.

The New School's Parsons School of Design is a global leader in design education, with programs that span the disciplines of design and the fine arts. With the launch of its fashion design program in 1906, Parsons is credited with the rise of Seventh Avenue, the epicenter of American fashion. Parsons offers a Bachelor of Fine Arts degree in Fashion Design, Associate degrees in Fashion Design and Fashion Marketing, and a Master of Fine Arts Program in Fashion Design and Society initiated through the support of Parsons alumna Donna Karan. Parsons has educated generations of leading American fashion designers, including Tom Ford, Marc Jacobs, Donna Karan, Isaac Mizrahi, Tracy Reese, Narciso Rodriguez, Anna Sui, Prabal Gurung, Derek Lam, Proenza Schouler, Vena Cava, Alexander Wang, and Jason Wu. For more information, visithttp://www.newschool.edu/parsons.

Parsons Paris, founded in 1921, is a branch campus of The New School. Having established some of the first programs in fashion design, interior design, and graphic design, Parsons has a long legacy of art and design innovation for students in Paris.  http://www.Newscool.edu/parsons.paris/

MARKETING AND COMMUNICATION
79 Fifth Avenue
New York, NY 10003
www.newschool.edu
PRESS RELEASE
Media Contacts:
Joesphine Parr,
The New School
212-229-5667 x. 3094
parrj@newschool.edu