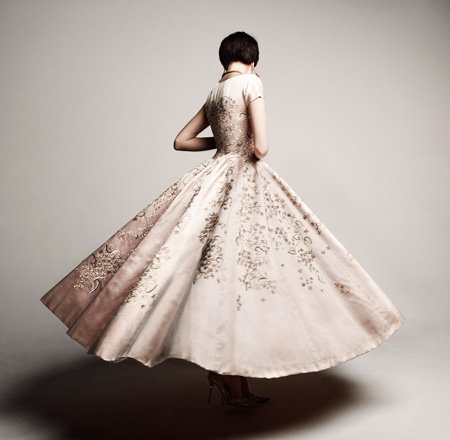 Sophie Gimbel, Evening Dress, 1953. Photo Credit: Julia Noni for Saks Fifth Avenue
On View January 22-February 12, 2013
The Sheila C. Johnson Design Center
Parsons The New School for Design
66 Fifth Avenue, New York
www.newschool.edu/sjdc
Lecture: Curator Beth Dincuff in conversation with Saks legend Helen O'Hagan
Friday, February 8, 5:30 pm
Teresa Lang Center, The New School
55 West 13th Street, 2nd Floor
NEW YORK, December 10, 2012 – On January 22, The Sheila C. Johnson Design Center (SJDC) at Parsons The New School for Design will present Sophie Gimbel: Fashioning American Couture, an exhibition that explores the career of this seminal, yet little known today, 20th century designer who directed the Salon Moderne at Saks Fifth Avenue and became a champion of American Couture.
The Salon Moderne was the exclusive haute couture boutique within Saks Fifth Avenue, which in the 1920s and 1930s helped introduce preeminent European designers such as Schiaparelli, Vionnet, Mainbocher, and Balenciaga to the American public. In the 1940s, it became a platform for Gimbel's own couture designs, which were intended specifically for American women.  Gimbel's work graced the cover of Vogue's inaugural American fashion issue in 1940, and in 1947 she made the cover of Time magazine, the first American designer to achieve this distinction.  In timing with the exhibition, Saks Fifth Avenue will feature Gimbel looks in the windows of their flagship store on Fifth Avenue. On February 8, Parsons will also present a lecture by the curator, Beth Dincuff Charleston, in conversation with Saks legend Helen O'Hagan at The New School.
"Gimbel was an outspoken champion of American fashion," said Beth Dincuff Charleston, who also curates the Parsons Fashion Archives, which houses the school's collection of Gimbel garments as well as nearly 10,000 other works that represent a range of styles, time periods and countries. "She rejected the radicalism of Christian Dior's New Look in favor of subtler changes in American women's wear, speaking to an intelligent consumer who was no longer willing to follow fashion dictates from a distant European capital. Among Sophie Gimbel's many contributions towards an emerging American style was her strong support of Parsons, and the education of a new generation of American designers."
American Couture, a term used to identify expertly rendered made-to-measure garments that underwent numerous fittings, was a movement led by Gimbel, who headed the Salon Moderne from the 1930s until its closing in 1969. Noteworthy Salon Moderne clients included Marlene Dietrich, Hedy Lamar, Claudette Colbert, Rose Kennedy, and Lady Bird Johnson, for whom she designed a suit for the inauguration of President Lyndon B. Johnson. Fashions that Gimbel helped popularize included: sari dresses, bolero jackets, culottes, suit jackets lined with bold contrasting colors, and beaded sweaters with ball gowns. During World War II, she played a major role in organizing the first combined showing of American fashion in a precursor to New York Fashion Week.
"We are honored to be partnering with Parsons on an exhibition that is such a part of our Saks heritage," said Ron Frasch, President and Chief Merchandising Officer of Saks Fifth Avenue. "Sophie Gimbel's designs had widespread appeal for their simple lines and subdued elegance. She taught us that 'You don't have to have lots of clothes in order to be chic. But you most certainly have to have the right clothes.' At Saks, we continue to live by that mantra each day by providing our customers with a differentiated and edited assortment of the world's most beautiful apparel and accessories."
Gimbel was, in the vernacular of mid-twentieth century fashion journalism, "her own best model," and today would be invariably labeled a lifestyle brand. Consequently, the promotion of her image gave her further authority on various matter of taste and allowed her to comment on fashion, design and entertaining trends in an internationally syndicated newspaper column; be elected a member of the International Best Dressed List Hall of Fame; and, most famously, achieve a Time magazine cover story.
The exhibition features 18 garments from the Parsons Fashion Archive. Laboriously crafted by skilled artisans who made up the Salon Moderne workroom, these dresses, gowns and suits demonstrate techniques in cutting, patternmaking, draping, construction and fitting learned both domestically and abroad, rendered in luxury fabrics and a rich color palette. The exhibition will also feature archival photographs and other ephemera that document her impact on American fashion, and works created by Parsons students in a couture class that emphasize the techniques on display in the exhibition, as well as a video of their creations.
For more information, visit the SJDC website.
About Parsons The New School for Design
Parsons The New School for Design is a global leader in design education, with programs that span the disciplines of design and the fine arts. With the launch of its fashion design program in 1906, Parson is credited with the birth of American fashion. Parson offers a Bachelor of Fine Arts degree in Fashion Design, Associate Degrees in Fashion Design and Fashion Marketing, and a Master of Fine Arts Program in Fashion Design and Society that was initiated through the support of Parsons alumna Donna Karan. Parsons has educated generations of leading American fashion designers, including Tom Ford, Marc Jacobs, Donna Karan, Isaac Mizrahi, Tracy Reese, Narciso Rodriguez, Anna Sui, Prabal Gurung, Derek Lam, Ohne Titel, Thakoon Panichgul, Proenza Schouler, Vena Cava, Alexander Wang, and Jason Wu. For more information, visit www.newschool.edu/parsons.
About Saks Fifth Avenue
Saks Fifth Avenue, one of the world's preeminent specialty retailers, is renowned for its superlative American and international designer collections, its expertly edited assortment of handbags, shoes, jewelry, cosmetics and gifts, and the first-rate fashion expertise and exemplary client service of its Associates. Today, Saks operates 45 full-line stores in 20 states, 5 international licensed stores, 65 Saks Fifth Avenue OFF 5TH stores and saks.com, the company's online store. For more information, visit http://www.saksfifthavenue.com.
About the Sheila C. Johnson Design Center
The Sheila C. Johnson Design Center is an award-winning campus center for Parsons The New School for Design that combines learning and public spaces with exhibition galleries to provide an important new downtown destination for art and design programming.  The mission of the Center is to generate an active dialogue on the role of innovative art and design in responding to the contemporary world.  Its programming encourages an interdisciplinary examination of possibility and process, linking the university to local and global debates.  The center is named in honor of its primary benefactor, New School Trustee and Parsons Board Chair Sheila C. Johnson.  The design by Lyn Rice Architects is the recipient of numerous awards, including an Honor Award from the American Institute of Architects. For more information please visit www.newschool.edu/sjdc.
# # #
General Information
Location: 2 West 13th Street, New York
Gallery hours: Open daily 12:00 p.m. - 6:00 p.m. and Thursday evenings until 8:00 p.m.; closed all major holidays and holiday eves
Admission: Free
Info: Please contact 212.229.8919 or visit www.newschool.edu/sjdc