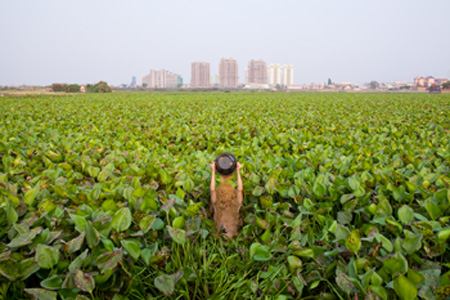 Khvay Samnang, Untitled, 2011
NEW YORK, March 14, 2013—As part of Season of Cambodia, a multidisciplinary arts festival taking place this spring in New York City, Parsons The New School for Design and Cambodian Living Arts will present Living Arts City: Art and Urbanism in Phnom Penh and New York, a two-day colloquium on April 6 and 7 that will bring together artists, performers, curators, arts managers, scholars and students in a series of facilitated workshops and discussions on how to make the arts central to a sustainable future in Cambodia, in the face of rapid growth and urban development. In addition, the school will present two related exhibitions, with an opening reception on April 10.
Season of Cambodia brings more than 125 artists to New York City for a major celebration of Cambodian arts, culture, and humanities. The festival celebrates Cambodia's artistic renaissance just one generation after the Khmer Rouge regime (1975-1979), a dark period in Cambodia's history when nearly 90 percent of the nation's artists and intellectuals were tragically eliminated in an effort to devastate a flourishing artistic community. The festival serves as an international platform that not only highlights the extraordinary resilience of the Cambodian nation and its artists, but also helps pave the way for other post-conflict nations seeking renewal through artistic expression.
"We share with the festival's main organizer, Cambodian Living Arts, a vision of art and design as transformative social agents in the future of our cities," said Brian McGrath, the research chair in Urban Design at Parsons, who is organizing the colloquium. "This year, we have aligned our academic activities and public programs to explore the current vibrancy of the arts in Cambodia, but also its vulnerability in the face of rapid urban development."
These activities build upon a history of exchange among faculty and students across The New School with colleagues in Cambodia. Parsons faculty members have collaborated with Cambodian Living Arts for over three years of reciprocal visits between Phnom Penh and New York, while Eugene Lang College The New School for Liberal Arts conducts an ongoing summer program in Siem Reap.
Among the highlights of the colloquium is a keynote address by William Greaves, the director of the Vann Molyvann Project in Phnom Penh and New York, who will discuss Phnom Penh's emergence as a cosmopolitan city during the 1950s and 1960s, when the capital of the newly independent Cambodia was planned and designed by the architect Vann Molyvann. The lecture sets the stage for imagining the type of cultural city possible in Phnom Penh today as an emerging 21st century democracy.
The second day will feature workshops, screenings and a panel discussion, featuring a number of contemporary Cambodian artists and arts organizers from both Phnom Penh and New York. This includes Khvyay Samnang, Lim Sokchanlina and Vuth Lyno, co-founders of art collective Stiev Selepak and organizers of the community-based experimental residency program, Sa Sa Art Projects, which is located in Phnom Penh's historic White Building, one of the city's first examples of low-cost, multi-story housing specifically intended to house artists, cultural workers and municipal staff. Today, the White Building is one of the city's most vibrant communities, with more than 2,500 residents including classical dancers, master musicians, skilled craftspeople, cultural workers, civil servants, and street vendors.
The members of Stiev Selepak, along with other contemporary artists, are also featured in the screening Rescue Archeology: Documents of Performance Art from Phnom Penh. The colloquium will conclude with a workshop facilitated by faculty and students from The New School, with a goal of replicating the success of the White Building into a plan for a Living Arts Hub for Phnom Penh. Such New York projects as East 4th Street Arts Block and Long Island City Civic Action will provide a model for the discussion.
"I have literally watched a new city take shape since moving to Phnom Penh a decade ago, and it is the community of artists who have given it vitality," said Phloeun Prim, executive director of Cambodian Living Arts, a capacity-building program for artists and arts organizations, which seeks to facilitate the transformation of Cambodia through the arts.
The colloquium is presented in collaboration with IN RESIDENCE, the Visual Art program of Season of Cambodia. Also in connection with Season of Cambodia, Parsons will also present two exhibitions. Water, Politics and Art (April 5-May 10), looks at future architectural and urban design visions for Phnom Penh, which is situated in a flood plain and experiencing rapid urbanization, as developed by students at Parsons and a number of Cambodian universities. Cambodia: Experience and Encounter (April 11-24) presents work created through an intensive curatorial workshop that mines work created across The New School about Cambodia, transforming the gallery into a series of encounters between "here" and "there"—U.S./Cambodia, New York/Phnom Penh, Siem Reap, Battambang—to explore modes of engagement.
For more information, please visit the website of the School of Constructed Environments at Parsons.
Parsons The New School for Design is one of the most comprehensive and prestigious schools of art and design in the world, and is a part of The New School, a university with a legacy of progressive ideals, scholarship, and pedagogy. The School of Constructed Environments at Parsons offers undergraduate and graduate degrees in the full spectrum of disciplines, creatively and critically addressing the complexities of life in the 21st century. Its School of Constructed Environments is the only integrated school of interior design, lighting design, product design and architecture in the country. Its School of Design Strategies encompasses programs that apply design thinking to study the intersection of cities, services and ecosystems. Including MS, MA and BS programs dedicated to training tomorrow's urban leaders. For more information, visit www.newschool.edu/parsons.
Season of Cambodia is co-chaired by Anne H. Bass, John Burt, and Darren Walker. Lead institutional support comes from the Ford Foundation, The Rockefeller Foundation, and Robert Sterling Clark Foundation. Additional support is provided by Fresh Sound Foundation, Rockefeller Brothers Fund, Asian Cultural Council, The Kaplen Foundation, Openbox Inc., EVA Air, Bloomberg Philanthropies, The Pollock-Krasner Foundation, U.S. Embassy Phnom Penh, The Shelley and Donald Rubin Foundation, Sofitel NY and Henry Luce Foundation. For more information, visit www.seasonofcambodia.org.
# # #