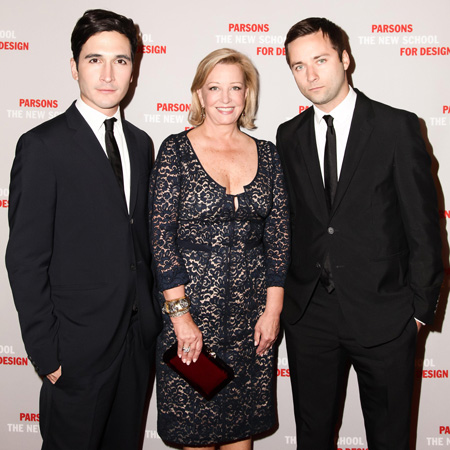 Honorees Bonnie Brooks and Lazaro Hernandez and Jack McCollough of Proenza Schouler
NEW YORK, May 23, 2013—Last evening, Parsons The New School for Design honored Bonnie Brooks, President of the Hudson's Bay Company, and Parsons alumni Jack McCollough and Lazaro Hernandez of Proenza Schouler, at the annual Parsons Fashion Benefit at Pier Sixty, Chelsea Piers. Brooks received her award from fashion television personality Jeanne Beker; while McCollough and Hernandez were presented with their award by Cathy Horyn of The New York Times. Parsons alumna Tracy Reese introduced the runway show of top graduating student collections, and Parsons board member Arnold Aronson made a special tribute to former board member Marvin Traub, who passed away last year—both were instrumental in supporting the Fashion Benefit for many years.
At the event Parsons Executive Dean Joel Towers announced that the benefit, now in its 65th year, raised nearly $1.7 million for scholarships at Parsons, a global leader in art and design education with programs that span the disciplines. Simon Collins, dean of the School of Fashion at Parsons, joined the honorees, Brooks, McCollough and Hernandez, to announce the Designers of the Year, an honor received by alumni McCollough '02 and Hernandez '02, as well as Marc Jacobs '84 in their graduating years. This year's recipients were Womenswear Designers of the Year Harim Jung from Seoul, South Korea, and Kaye Applewaite from Barbados; Menswear Designer of the Year Yunxiang Sharon Zhou from Tai'An, China; and Childrenswear Designer of the Year Diana Flavio Woodside from Los Angeles.
At the benefit, Brooks, McCollough and Hernandez were recognized for their significant contributions to the field. Past honorees include Donna Karan, Reed Krakoff, Francisco Costa, Diane von Furstenberg, and Marc Jacobs.
"Bonnie sets an example for our students of a fashion industry leader who has risen to the top of her field, revitalizing major retailers from North America to Asia. Her deep commitment to design and creativity reflect the core values of our school," said Parsons Executive Dean Joel Towers. "Jack and Lazaro's ability to transform their thesis collection into one of today's most successful fashion labels is an unparalleled success story. It demonstrates the keen design talent and entrepreneurial instincts we strive to foster in our curriculum."
Brooks serves as President of the Hudson's Bay Company, where she oversees Lord & Taylor in the U.S. and The Bay in Canada, two of North America's most iconic department stores. Prior to her current role, she was President and CEO of The Bay. She has spent her career building high-end retail names across the world, and previously spearheaded the turnaround and revitalization of Asia's Lane Crawford as president of the Lane Crawford Joyce Group. In this role, Brooks brought many of the world's leading brands into Greater China and Southeast Asia. Since joining the Hudson's Bay Company, Ms. Brooks has collectively raised more than $17 million for charitable organizations. Monocle magazine has recognized her as one of the top 25 retailers in the world; and Fast Company has named her one of the world's 100 Most Creative People in Business.
Said Brooks: "I have worked with many designers throughout my career and believe strongly in discovering, nurturing and supporting young and emerging talent. Parsons has launched many famous careers in our industry, from Donna Karan, Marc Jacobs and Tom Ford to a new generation of designers like my fellow honorees, Jack and Lazaro. None of us in the industry would be here without the creativity and discipline that is fostered at schools like Parsons, and I am honored to support scholarships at Parsons through the proceeds of tonight's event."
Proenza Schouler is a New York-based womenswear and accessories brand founded in 2002 by designers Jack McCollough and Lazaro Hernandez. The duo met while studying at Parsons, eventually collaborating on an award-winning thesis that became their first collection as Proenza Schouler. Awarded with the inaugural CFDA Vogue Fashion Fund award in 2004, the emerging brand was established as a leading talent in the industry. Three years later, Proenza Schouler was honored with the 2007 CFDA Womenswear Designer of the Year Award, which was awarded to the label again in 2011. In September 2012, Proenza Schouler opened its first store in one of the most significant retail destinations in the world, New York's Madison Avenue, in a space designed by architect David Adjaye. Proenza Schouler is sold in over 100 of the most exclusive retail outlets worldwide, including Barneys New York, Bergdorf Goodman, Harvey Nichols, Colette and Joyce.
Said Hernandez with McCollough: "We are so lucky to be part of an industry that encourages young talent. Not only did Parsons provide us with a foundation in design, but also enabled us to form relationships that jumpstarted our careers, which began this very night eleven years ago. This is a full circle moment for us in accepting this award."
Since their time as students at Parsons, McCollough and Hernandez have remained connected to the school, meeting with students and participating in a conversation series with Simon Collins, dean of the School of Fashion at Parsons. Said Collins: "It is terrific to honor Jack and Lazaro. For our students to see what they have been able to achieve in such as short time is inspirational. It is a thrill for us to have them and Bonnie Brooks, who has been such a support to emerging designers, to view the next generation, as we debut 2013 thesis collections."
Thesis collections are the culmination of four years of intensive study at Parsons, and represent the personal vision of the designers. The yearlong process encourages innovation and experimentation, beginning with the submission of sketches, development of prototypes, and months of intensive construction, fittings and assessment. It culminates with student presentations to panels of industry professionals. This year's panels featured Parsons alumni Reed Krakoff and Flora Gill of Ohne Titel; as well as designers Sophie Theallet and Maria Cornejo; and fashion directors Colleen Sherin of Saks Fifth Avenue and Ana Maria Pimental of Neiman Marcus and Bergdorf Goodman. In addition, the collections shown on the runway will be on view in the windows of the flagship Saks Fifth Avenue on Fifth Avenue from May 24 through June 4.
The benefit also showcased special projects with external partners including Kering, The Shoe Polytechnic, Saga Furs, Solstiss, and Swarovski. Sponsors of the Parsons Fashion Benefit include Armani Exchange, The Edit Desk, Factory PR, idm, The Fancy, Fashion GPS, Milk Studios, Nars, Patrick Melville Pipino, Schwarzkopf Professional, and Style Sight.
Parsons The New School for Design is a global leader in design education, with programs that span the disciplines of design and the fine arts. With the launch of its fashion design program in 1906, Parsons is credited with the rise of Seventh Avenue, the epicenter of American fashion. Parsons offers a Bachelor of Fine Arts degree in Fashion Design, Associate degrees in Fashion Design and Fashion Marketing, and a Master of Fine Arts Program in Fashion Design and Society initiated through the support of Parsons alumna Donna Karan. Parsons has educated generations of leading American fashion designers, including Tom Ford, Marc Jacobs, Donna Karan, Isaac Mizrahi, Tracy Reese, Narciso Rodriguez, Anna Sui, Prabal Gurung, Derek Lam, Proenza Schouler, Vena Cava, Alexander Wang, and Jason Wu. For more information, visit www.newschool.edu/parsons.
# # #
EDITOR'S NOTE: For runway and event images, please contact Deborah Kirschner or Chris Chafin in the New School Communications Office. Event Images are also accessible on the website of Billy Farrell Agency.