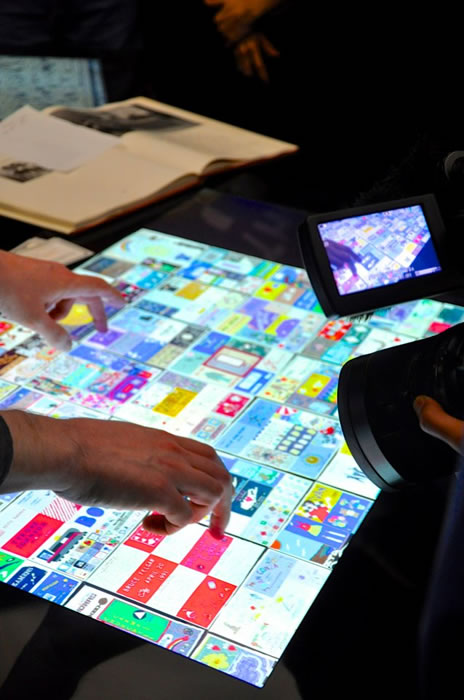 AIDS Quilt Touch will be on display at The New School booth at SXSWi (Booth 425)
NEW YORK (March 5, 2013) - What do fashion design, urban management, and cultural heritage have in common? For all these disciplines - and many more - data is the key to their future. At South by Southwest Interactive 2013, The New School will be sharing cutting-edge projects that link new data technologies to innovations across industries and areas of study.
"South by Southwest Interactive is unique in that it brings together musicians, filmmakers, engineers, and designers who are creating from the ground up," says Anne Balsamo, chair of Media Studies at The New School for Public Engagement. "It's a cross-disciplinary and democratic approach that attracts independent thinkers, makers, and artists, making it a great place for The New School to be."
At The New School's booth (number 425), Balsamo will present the AIDS Quilt Touch digital experience, a suite of mobile and web apps based on the AIDS Memorial Quilt. AIDS Quilt Touch uses data and technology to make the public arts project more accessible than ever - the app makes the quilt searchable, and by zooming in on a specific panel, the viewer can learn more about the individual being honored. Balsamo will speak on a panel about the project on March 10 (see below for details).
Unleashing the power of data is a theme that runs through all New School activities at SXSW. Unleashing the power of data is a theme that runs through all New
School activities at SXSW. As part of the Newsbot panel (March 9), Colleen Macklin, director of PETLab, a research center for social interest games at Parsons The New School for Design, will unveil a new project focused on the development of toys and games that provide new ways to interact with news that addresses complex issues. The New School is partnering with two public radio giants on the project, the public radio program "Radiolab" and major public radio syndicator Public Radio International® (PRI).
In addition, two faculty members in the MFA Design and Technology Program at Parsons will explore this topic. Sabine Seymour, director of the Fashionable Technology Lab at Parsons, will present The Skin as Metaphor: Fashion, Technology & Body (March 9), and Joseph Saavedra will look at the opportunities data presents civil society at Empowering Communities with Civic Science and Data (March 11).
THE NEW SCHOOL@SXSW
The Skin as Metaphor: Fashion, Technology & Body
Saturday, March 9 12:30 p.m. - 1:30 p.m. (local time)
Radisson Town Lake's Town Lake Ballroom, 111 East Cesar Chavez
Sabine Seymour, Assistant Professor of Fashion Technology at Parsons The New School for Design explores how real-time data can influence textile design. Technologies enrich and amplify the cognitive characteristics of our human skin and stimuli of our senses. New garments manufactured with computational smart fabrics are nodes in a larger network of skin, body and sense. They capture data for the possible adaptation to the environment or body data that might lead to the transformation of human behavior. The next generation of computational smart textiles will become self-contained energy systems that derive energy through the sun, movement, or temperature fluctuations.
NewsBots
Saturday, March 9 5:00PM - 6:00PM (local time)
Austin Convention Center Room 12AB, 500 E Cesar Chavez St
Parsons Assistant Professor Colleen Macklin, director of educational gaming project PETLAB, brings her expertise to this exploration of data-enabled objects. Macklin will draw on her DATATOYS course at Parsons, a collaboration with WNYC's Radio Lab and Public Radio International. As maker culture and hardware hackers merge the physical and the digital in new ways, this panel explores the potential for Internet-enabled things to help humans to gather, distribute, and understand news. With Dan Sinker, director of Knight-Mozilla and Sean Bonner, co-founder of Safecast. Sponsored by the Knight Foundation.
Big Heritage, Big Quilts & Big Canvases
Sunday, March 10 11:00 a.m. – 12:00 p.m. (local time)
Austin Convention Center Room 9ABC
New School Media Studies Chair Anne Balsamo will speak about AIDS Quilt Touch as an example of data's crucial new role in the domain of cultural heritage—both for scholarly work and public consumption. Recent work explores novel and engaging ways to visualize and explore cultural heritage data collections and tell little stories with big data. See demos of applications built on Microsoft PixelSense and Surfaces that demonstrate the architecture of intimacy and public interactives. These range from digital memorials to multitouch interaction to explore large-format artworks in their rich context of related artworks, annotations, and guided tours. We will also explore the technological and social challenges of creating interactive exhibits around the AIDS Memorial Quilt, the largest community-created piece of folk art in the world. These applications are a beachhead on the untouched shores of big humanities research. They are what we can expect today and are also first steps towards what might define an ideal user interface. With Brown University's Andy Van Damm, Microsoft Research's Donald Brinkman, and Michigan State University's Ethan Watrall.
Empowering Communities with Civic Science and Data
Monday, March 11 9:30 a.m. - 10:30 p.m. (local time)
Austin Convention Center Room 9ABC
Joseph Saavedra, assistant professor of media design at Parsons The New School for Design asks, " In a data driven world, how do individuals contribute? Do you question where your data comes from and who owns it?" This panel will explore the recent surge of grassroots movements empowering communities of citizens to understand more about their world through data, the scalability of these projects, and their future in our Internet-reliant society. From maker-centric Pachube/LogMeIn to environmental justice based Public Laboratory, open-source communities are popping up that are taking on broad social and environmental issues. Tools for collecting and interpreting data are cheaper and more ubiquitous than ever before. Undeniably, this movement is largely due to the ease and proliferation of communities on both local and international levels, thanks in part to the Internet. We'll discuss how grassroots projects are reimagining the way communities engage with their environment through the use of open hardware and software tools for monitoring and data analysis. With Leif Percifield, Creative Technologist; Ed Borden, Senior Manager and Platform Evangelist at Cosm; and Shannon Dosemagen, Director of Outreach and Partnerships for the Public Laboratory for Open Technology and Science.