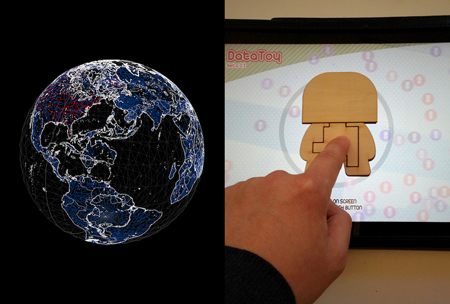 Data Toys will premiere at SXSWi on March 9.
NEW YORK, March 7, 2013—How can a toy help you understand complex, but important, current affairs such as the immigration debate?
This month, a project from faculty and students at The New School will shed some light on those questions with their project, Data Toys. It is overseen and led by three professors: Heather Chaplin, journalism professor at Eugene Lang College The New School for Liberal Arts; and Colleen Macklin and John Sharp, both professors in the MFA Design and Technology program at Parsons The New School for Design and co-directors of PETLab. Their work is closely related to a class, composed of an interdisciplinary team of interactive design and journalism students. This is made possible by a generous grant from the Knight Foundation's Knight Prototype Fund, which helps bring media innovation projects from idea to demo.
The New School is partnering with two public radio giants on the project: "Radiolab" and major public radio syndicator Public Radio International® (PRI). Macklin will be presenting at SXSW Interactive as part of the Newsbots panel on Saturday, March 9. Later that same day, Macklin will be speaking, along with Sharp, at the Knight Foundation & MIT Media Lab sponsored Demo Fair and Gathering.  The pair will also be at the Knight Foundation booth in the convention's main hall on Sunday and Monday.
The inspiration for Data Toys is Froebel Gifts, the series of simple toys invented in the early 19th century by Friedrich Froebel, a German educator who invented the concept of kindergarten. By giving young children simple objects such as wooden blocks and colorful balls, Froebel believed they would learn about spatial relations, counting, color, and much more. Almost two centuries of kindergarten classes have proved his hypothesis. Datatoys takes this concept but focuses on educating all ages on major societal and political issues relevant to 21st century American adults, and, more broadly, familiarizing the public with systems thinking as a way to better understand the world.
"What's great about toys is that they enable you to come to your own conclusions," said Macklin. "They help you find new ways of thinking about an issue, rather than feeding you the answers."
Datatoys is also helping a pair of public radio giants educate their audience though play. For WNYC show Radiolab, the class is designing a way for the program to interact with audiences of their live road show, which often runs into the thousands.
"In a fundamental way, Radiolab is interactive," said Ellen Horne, Executive Producer, Radiolab. "When we started to experiment with translating the show to a physical environment—a stage show—we became interested in figuring out how to play with the audience. Enter Colleen Macklin and the Design and Technology program at Parsons. We've been working together on building a game that will engage up to 4,000 live in-person players simultaneously. Colleen's a resourceful creative partner and seeing her thoughtful playfulness in action in the classroom has been impressive."
For PRI, the class is developing tactile and online toys to augment its ongoing and in-depth reporting on the immigration debate. "Public Radio International is all about storytelling that moves people and society," says Michael Skoler, Vice President of Interactive at Public Radio International. "Parsons students and faculty are all about design that moves people and society."

About PETLAB
PETlab is a project of Parsons The New School for Design in New York City. It is a place for testing prototyping methods and the process of collaborative design with organizations interested in using games as a form of public interest engagement. Through our work, we connect with scholars and designers in the field of digital media, practitioners working in the spheres of education and social issues, and people of all ages at play. In the first year, we are working on a number of gaming platforms including Flash, Xbox XNA, and mobile phones. We are also working with a wide range of partners such as MTV, Microsoft, Boys and Girls Clubs, and New York Public Library. For more information, visit http://petlab.parsons.edu.
About Parsons The New School for Design
Parsons The New School for Design is one of the leading institutions for art and design education in the world. Based in New York but active around the world, the school offers undergraduate and graduate programs in the full spectrum of art and design disciplines. Critical thinking and collaboration are at the heart of a Parsons education. Parsons graduates are leaders in their respective fields, with a shared commitment to creatively and critically addressing the complexities of life in the 21st century. For more information, please visit www.newschool.edu/parsons.
About Eugene Lang College The New School for Library Arts
Eugene Lang College The New School for Liberal Arts is a seminar-style liberal arts college located in New York City that was established in 1985. Remaining faithful to its founding philosophy, Eugene Lang College grew out of a highly progressive freshman-year program developed at The New School in 1973. Lang offers intensive liberal arts study as well as a faculty committed to teaching undergraduates in an interdisciplinary context. Majors include. Areas of study include religious studies, urban studies, social inquiry, interdisciplinary science, culture and media, literary studies, the arts, philosophy, interdisciplinary science, psychology, economics, environmental studies, philosophy and education studies. For more information, visit www.lang.newschool.edu.
# # #