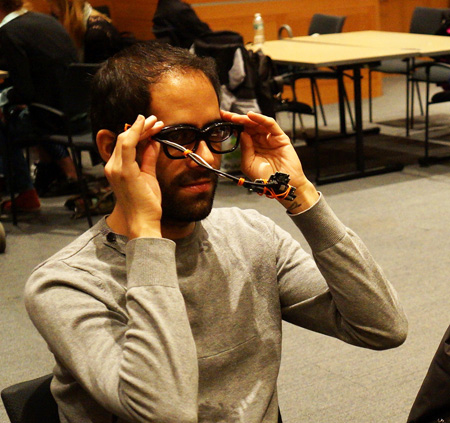 A student tests a prototype in the Accessibility in Art Museums collab betwenn Parsons The New School for Design and The Metropolitan Museum of Art
NEW YORK, December 10, 2013 — Working in collaboration with The Metropolitan Museum of Art, students from Parsons The New School for Design are imagining new ways for people with a wide range of disabilities to experience art and museums. The students, from the Design and Technology Program within Parsons' School of Art, Media, and Technology, have spent the fall semester getting a deep understanding of the needs and desires of people with disabilities in a museum setting and design new technologies to meet them. They've been aided in this process by working closely with museum education specialists at the Met, as well as people with disabilities and professionals in the field of access technology. The results of this work, in the form of apps, tactile objects, and new technologies, will be on display at a special event at the Met from 11 a.m. to 2 p.m. on Saturday, December 14 in the Bonnie J. Sacerdote Lecture Hall in the Uris Center for Education.
"Design is all about solving problems," said Katherine Moriwaki, director of the Design and Technology Program at Parsons. "This collaboration shows the immense good designers can do when they turn their minds to the social and health issues facing our society that need real, beautiful solutions."
The student designs include:
A pair of projects aimed at enhancing the museum experience of people with limited mobility:

Redesigning the Met's website to make it an immersive experience on par with attending the museum in person, optimized for people with low vision who use screen readers.
Detailed mapping of the museum, which allows people whose visits are limited by mobility issues to plan out a route to everything they want to see as well as such necessities as ramps, bathrooms and quiet corners to rest. The app also helps visitors choose routes with sensory issues in mind, indicating spaces that are less noisy or have natural light.

Multi-sensory, tactile objects that allow people with impaired vision to experience works of painting, photography, or other two-dimensional visual art.
Devices that track the eye movements of people with cognitive disabilities like autism as they view works of art, to help understand their experience of the piece and foster meaningful experiences for all Met visitors through individual and collective participation of art viewing.

"The Metropolitan Museum of Art has a long history of accessible education programming for people with disabilities," said Rebecca McGinnis, Museum Educator for Access and Community Programs at The Metropolitan Museum of Art. " We are excited to be collaborating with Parsons to explore cutting-edge design solutions to museum access challenges. The students' skill and creativity demonstrate to us that the future of accessible technology is in good hands."
Parsons The New School for Design is one of the leading institutions for art and design education in the world. Based in New York but active around the world, the school offers undergraduate and graduate programs in the full spectrum of art and design disciplines. Critical thinking and collaboration are at the heart of a Parsons education. Parsons graduates are leaders in their respective fields, with a shared commitment to creatively and critically addressing the complexities of life in the 21st century. For more information, please visitwww.newschool.edu/parsons.
The Metropolitan Museum of Art is one of the world's largest and finest museums, with collections spanning more than 5,000 years of world culture, from prehistory to the present and from every part of the globe. The Metropolitan Museum's main building, located at the edge of Central Park along Fifth Avenue in Manhattan, and The Cloisters museum and gardens, its branch museum for medieval art and architecture in northern Manhattan, welcomed more than 6 million visitors last year. For additional information about the Museum, visit www.metmuseum.org.
# # #