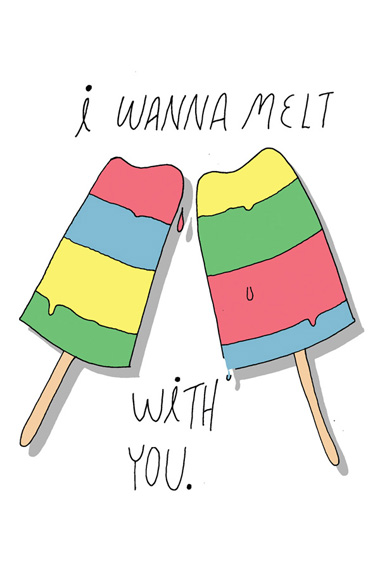 A piece by Colleen Reinhart, for sale on Fab
NEW YORK, November 12, 2012 -- When Parsons The New School for Design was established in 1896 by impressionist painter William Merritt Chase, its purpose was to provide progressive artists-in-training with the opportunity to pursue their work free from the rigidity of a traditional art education. More than a century later, Parsons—renamed for former school president and director Frank Alvah Parsons, who guided the school through its evolution during the Industrial Revolution—continues to be synonymous with top-tier, inspired, out-of-the-box art and design.
With the help of faculty members Steven Guarnaccia and Noël Claro, Parsons has teamed with Fab.com, a design marketplace founded by Parsons alum Bradford Shellhammer, to present a body of work collected from students in the school's BFA Illustration Program. Students created and submitted hundreds of entries; Fab selected 30 to show and have their work sold on Fab.
"The overall quality of the art we received from students at Parsons was overwhelming, said Fab art buyer Austin Blonde. "We've turned this partnership into an opportunity for students to gain access to the design marketplace and experience the business aspect of entering the art market after college."
From watercolor to photography, printmaking and digital illustration, this collection represents the innovative and amazing work coming out of Parsons The New School for Design today. No wonder it continues to be a program lauded the world across for its creativity, originality and quality.
About Fab
Fab is everyday design. Launched in June 2011 by Jason Goldberg and Bradford Shellhammer, Fab's mission is to help people better their lives with design. More than 9 million people around the world use Fab to discover everyday design products at great prices, to connect with the world's most exciting designers, and to share their favorite design inspirations. Fab is headquartered in New York, NY and delivers to over 26 countries and counting across the globe.
About Parsons The New School for Design

Parsons The New School for Design is one of the leading institutions for art and design education in the world. Based in New York but active around the world, the school offers undergraduate and graduate programs in the full spectrum of art and design disciplines. Critical thinking and collaboration are at the heart of a Parsons education. Parsons graduates are leaders in their respective fields, with a shared commitment to creatively and critically addressing the complexities of life in the 21st century. For more information, please visitwww.newschool.edu/parsons.
The BFA Illustration program at Parsons educates students on the art of communicating concise ideas with images through picture books, magazines, newspapers, animation, graphic novels, textiles and other media. For more information, please visit www.newschool.edu/parsons/bfa-illustration.
# # #