new exhibition and symposium at the new school explores the artist as activist
In Common: Romare Bearden and New Approaches to Art, Race, and Economy combines an exploration of the life and impact of American icon Romare Bearden with contemporary art, live performance, and critical investigation of the intersections of creativity, culture, race, and economy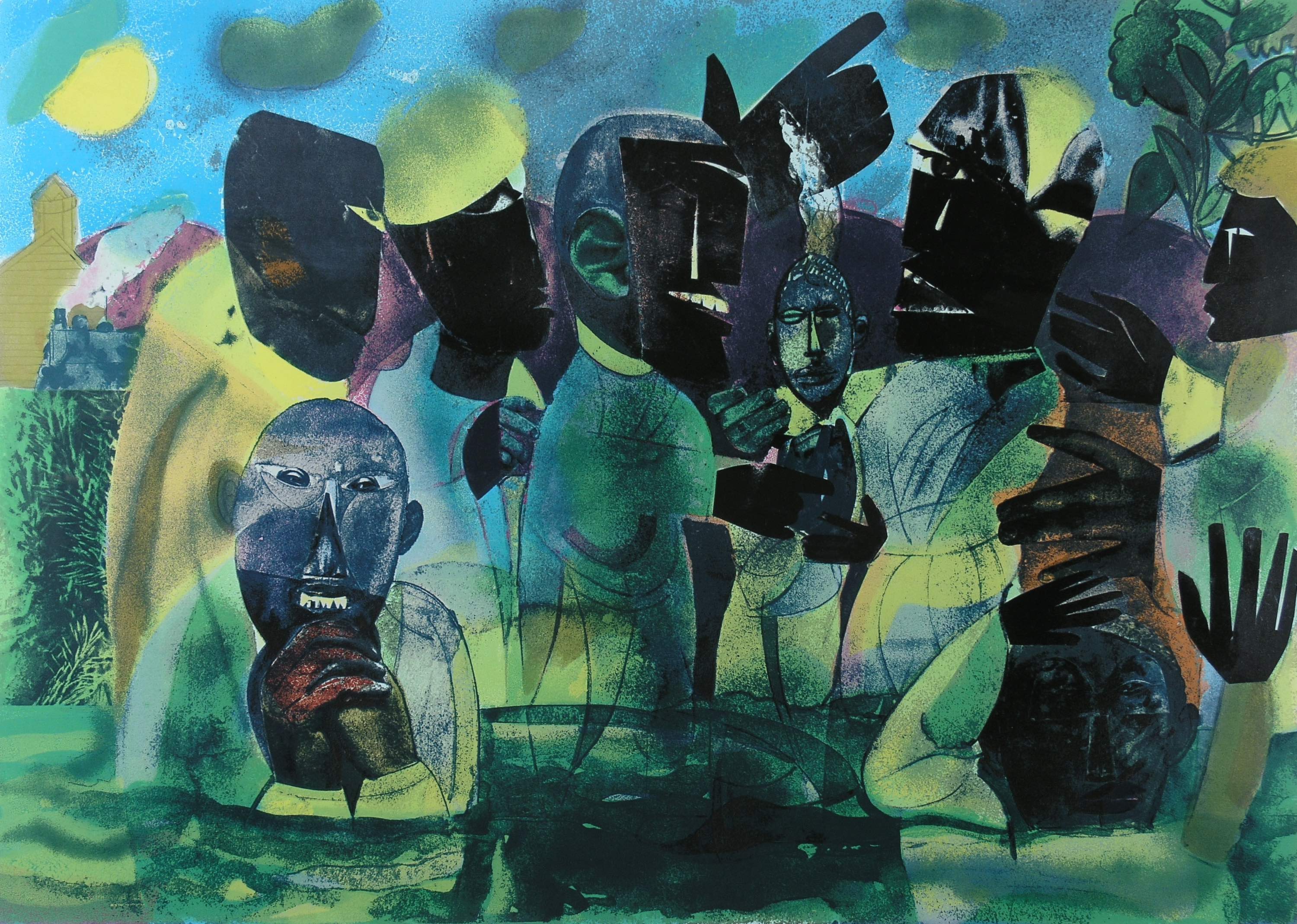 Romare Bearden, Baptism, 1976. Silkscreen on paper. Courtesy of Romare Bearden Foundation

NEW YORK, November 7, 2023 – Opening on Thursday, November 9, at the Sheila C. Johnson Design Center's Anna-Maria and Stephen Kellen Gallery at The New School's Parsons School of Design, the new exhibition In Common: New Approaches with Romare Bearden highlights Romare Bearden's (1911–1988) work as an artist, educator, scholar, songwriter, and social activist. Drawing from the collections of the Romare Bearden Foundation, The New School, and private collectors, the exhibition presents a selection of works demonstrating Bearden's keen exploration of race and racial stereotypes—often taking inspiration from history, literature, the Bible, jazz, and African American communities—alongside artworks from six leading and emerging contemporary Black artists: Black Quantum Futurism, Kahlil Robert Irving, Lorraine O'Grady, Hank Willis Thomas, Mickalene Thomas, and Charisse Pearlina Weston.
Presented by the Institute on Race, Power and Political Economy (The Institute) and the Vera List Center for Art and Politics at The New School, the Romare Bearden Foundation, and the Institute of Jazz Studies at Rutgers University Newark, the exhibition offers a stirring, multigenerational dialogue on the political agency of art.

"This is not just an exhibition but a call to action," Henry A. J. Ramos, the project initiator and a Senior Fellow at the Institute on Race, Power and Political Economy, said. "Just as in past eras, like the 1930s and the 1960s, when major dislocations in human relations, politics, and economics compelled creative leaders to use their collective voice to advance the Common Good, we live in such times today. 'In Common' is our response to this call to action, providing an opportunity simultaneously to learn from history and to co-create a better course for the future."
The November 9 opening reception will be held from 6:00–8:00 pm ET at the Kellen Gallery. Mary Watson, Executive Dean, Schools of Public Engagement at The New School, and Darrick Hamilton, Founding Director of The Institute and Henry Cohen Professor of Economics and Urban Policy at The New School will provide opening remarks, followed by artist introductions and ad hoc tours of the exhibit with exhibiting artists and the co-curators Johanne Bryant-Reid and Diedra Harris-Kelley, Co-Directors of the Romare Bearden Foundation; Carin Kuoni, Senior Director/Chief Curator of the Vera List Center for Art and Politics; and Eriola Pira, Curator and Director of Programs, Vera List Center for Art and Politics.
One of our nation's greatest visual artists and activists, Romare Bearden came of age during the Harlem Renaissance and was a leading voice of mid- to late twentieth-century Black struggles for political and economic justice. In his extensive and wide-ranging work, Bearden addressed the African American community's experiences with institutionalized racism and poverty in the United States, as well as the resiliency of Black people in responding to inequality and injustice through the power of community, collective action, faith, music, and dance. The exhibition juxtaposes Bearden's art with contemporary works by artists whose practices and values resonate with those of Bearden, and who pay direct homage to Bearden's compositions and themes.
"We are pleased to bring Bearden, the great collaborator, to the table with these contemporary voices and art mediums,"
Diedra Harris-Kelley
of the Romare Bearden Foundation said. "In response to his words, 'I want to see how life can triumph,' we offer
In Common
as one such triumph. We say art is still the most powerful way to survive."
"Romare Bearden was a local artist with a global audience and global discourse," Hank Willis Thomas, exhibiting artist, said. "What I love about his work is that he could speak intimately to the human condition and create a context through his collage that expands space and time and references multiple cultural influences all at once…I am often thinking about ways in which the past is present and how, through my practice, I can bring stories together that might seem disparate in a way that future generations can connect the dots."
"Romare Bearden's work provides us with a sense of 'Layer Time,' a temporal dimension that is like collage layers, each representing a distinct temporal phase," the artist collective Black Quantum Futurism said. "Bearden's fluid navigation between media, art, and political activism reflects the interdisciplinary core of our Black Space Agency project." In addition to this project, the exhibition will host Black Quantum Futurism's performative lecture titled Layer Time: The Past is Already Rearranged by Our Gaze as part of the symposium on December 1. They added, "[Bearden's] legacy motivates us to transcend conventional artistic domains, weaving narratives that echo through time and space, paralleling our own journey to unveil and uproot obscured narratives surrounding Black spatial agency and temporal autonomy."
The three-day symposium, In Common: Romare Bearden and New Approaches to Art, Race & Economy, will take place November 30–December 2 at The New School, and will draw on Bearden's activist legacy to spotlight the potent, yet still-too-rarely-acknowledged relationships between race, culture, economy, and the Common Good. The symposium will feature contemporary creative works, live performances, and perspectives from socially-conscious, politically engaged BIPOC artists and commentators. Plenary discussions will investigate the themes of purposeful creativity, the artist as activist, BIPOC leadership in creative culture and economy, and much more.
Among the featured symposium presenters and speakers will be three-time Grammy Award winning drummer Terri Lyne Carrington and four-time Grammy-nominated jazz artist Stefon Harris, Pulitzer Prize winning poet and MacArthur Fellow Natalie Diaz, and former Spelman College president Mary Schmidt Campbell.

Additional speakers, performers, and artists at the symposium include: Michael Aghahowa, Dwight Andrews, Rocío Aranda-Alvarado, Aisha Benson, Black Quantum Futurism, Johanne Bryant-Reid, C. Daniel Dawson, Asali DeVan Ecclesiastes, Adrienne Edwards, Nicole Fleetwood, Darrick Hamilton, Diedra Harris-Kelley, Angie Kim, Maurine Knighton, Carin Kuoni, Jessica Lynne, Robert G. O'Meally, Evangeline Ordaz, Eriola Pira, Henry A. J. Ramos, Mary Schmidt Campbell, Fayemi Shakur, Radhika Subramaniam, Salamishah Tillet, Eddie Torres, Yvonne Watson, Jordan Weber, Charisse Pearlina Weston, Renée T. White, Calvin Williams, H. Sharif Williams, and Wayne Winborne.

The symposium is free and open to the public, with pre-registration required.

The exhibition is free and open to the public from November 9, 2023–January 15, 2024, with daily hours of 12:00–6:00 pm ET, and Thursdays late until 8:00 pm ET, at Parsons' Sheila C. Johnson Design Center's Anna-Maria and Stephen Kellen Gallery.

The Institute on Race, Power and Political Economy advances research to understand structural inequalities and works to identify groundbreaking ways to promote equity. A premier cross-disciplinary hub, the Institute draws on faculty across The New School in New York City, which has long fostered innovative thinking about power, structure, design, politics, economics, and society. The Institute engages with researchers and practitioners, including community and business leaders, policymakers, philanthropists, and journalists across the nation and around the world.

The Vera List Center for Art and Politics is an artist-focused research center and public forum for art, culture, and politics. It was established at The New School in 1992—a time of rousing debates about freedom of speech, identity politics, and society's investment in the arts. A leader in the field, the center is a nonprofit that catalyzes and supports politically engaged art, public scholarship, and research throughout the world. It fosters vibrant and diverse communities of artists, scholars, and policymakers who take creative, intellectual, and political risks to bring about positive change.

The Institute of Jazz Studies is the world's foremost jazz archives and research library. Founded in 1952 by pioneer jazz scholar Marshall Stearns (1908–1966), the Institute has been a pioneering institution in the preservation and access of jazz heritage. IJS relocated from Stearns' apartment to Rutgers University–Newark in 1966, and is part of the Rutgers University Libraries. In 1994, IJS moved to spacious new quarters on the fourth floor of the John Cotton Dana Library at Rutgers–Newark. The Institute serves a broad clientele, including teachers, scholars, musicians, the media, record companies, filmmakers, and arts agencies.

The Romare Bearden Foundation was established in 1990 as a nonprofit organization by the estate of Romare Bearden (1911–1988) to preserve and perpetuate the legacy of this preeminent American artist. The Foundation realizes its mission by preserving a collection of Bearden's artworks and extensive archives of books, articles, letters, photographs and other materials; hosting, supporting and presenting scholarly and public programs, including symposia, panel presentations and school-based programs featuring Bearden's art and life; and providing support for and encouragement of museum exhibitions and new scholarly research on Bearden and his contributions to twentieth-century art.


Founded in 1919, The New School was established to advance academic freedom, tolerance, and experimentation. A century later, The New School remains at the forefront of innovation in higher education, inspiring more than 10,000 undergraduate and graduate students to challenge the status quo in design and the social sciences, liberal arts, management, the arts, and media. The university welcomes thousands of adult learners annually for continuing education courses and public programs that encourage open discourse and social engagement. Through our online learning portals, research institutes, and international partnerships, The New School maintains a global presence.

MARKETING AND COMMUNICATION
79 Fifth Avenue
New York, NY 10003
www.newschool.edu
PRESS RELEASE
Media Contacts:
Will Wilbur,
The New School

[email protected]
Follow @TheNewSchool