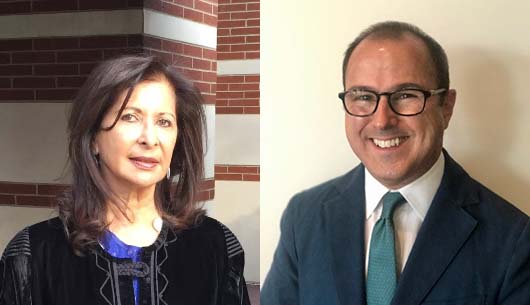 New Board of Trustees Members LtR: Asmita Bhatia and David R. Poma
New York, June 22, 2023—The New School is pleased to announce the election of two new members to its Board of Trustees: Asmita Bhatia and David R. Poma (MA Economics,'02). Both will serve a term of four years effective May 4, 2023.
"My fellow Trustees and I are excited to welcome Asmita and David to the Board," said Linda E. Rappaport, Chair of the Board of Trustees. "Both have distinguished themselves throughout their careers and share a deep appreciation for The New School's mission and vision that will inform their work on behalf of our community. There is much to accomplish in the years ahead, and they—along with all of our Trustees—will be instrumental in shaping the university's future."
In addition to welcoming Bhatia and Poma, The New School also announced the continued service of six Trustees: Craig Bernecker (Faculty Trustee), Christopher Castano, Susan Foote, Bevis Longstreth, Robert Mundheim, and Joshua Sapan.
Dedicated to overseeing the overall governance of The New School, the Trustees collaborate on strategic direction and large-scale programmatic initiatives for the university. They are also responsible for the approval of budget and stewardship of the endowment. 
The New School's new Trustees are: 
Asmita Bhatia is a former Senior Vice President at Citigroup, where her work focused primarily on real estate strategy. Mrs. Bhatia now works in her family's real estate business, the Arun Bhatia Development Organization, which has several divisions, including Booth 15 Property and AIB Management. Mrs. Bhatia previously served on the Board of Directors of South Asian Youth Action (SAYA), a youth development organization supporting low-income youth of all backgrounds in Brooklyn and Queens.
David R. Poma, MA Economics '02 (NSSR), is a private investor. In addition to his degree from The New School, Mr. Poma holds a BA from Villanova. He joined the NSSR Board of Governors in 2018. Mr. Poma taught economics at St. Francis College and previously worked at the Union Bank of Switzerland and Crédit Lyonnais.