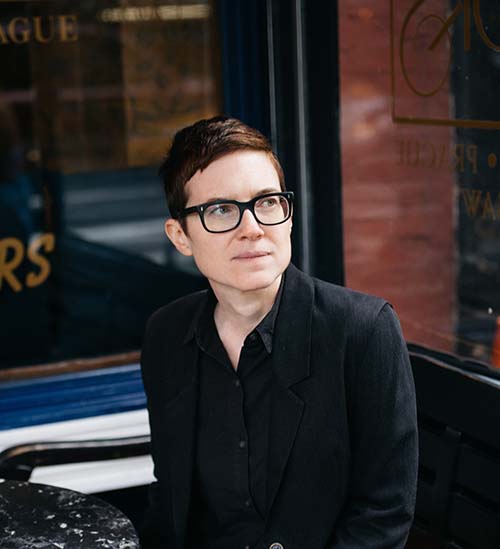 Kate Eichhorn
New York, April 6, 2023—The New School announced today that Kate Eichhorn has been appointed Dean of the School of Undergraduate Studies (SUS) at the Schools of Public Engagement. Currently, Eichhorn is chair of the Culture and Media Studies program at The New School's Eugene Lang College of Liberal Arts. She will begin her new role as dean on April 17, 2023.
 
As Dean, Eichhorn will serve as the principal academic and strategic leader for SUS, which includes the Bachelor's Program for Adults and Transfer Students, and . Designed for working professionals and experienced adults, SUS offers a broad curriculum of practice-based learning and flexibility that enables students to balance academic work with career, family, and other aspects of life.
 
Mary Watson, executive dean of the Schools of Public Engagement, said, "Kate has demonstrated an abiding commitment to students at The New School. I am certain that in her new role as School Dean of SUS, she will extend and elevate her commitments in ways that will deepen our undergraduate retention and expand our reach."
 
Eichhorn succeeds interim dean Gustav Peebles, who will share responsibilities with Eichhorn through the end of the spring 2023 semester to aid in the leadership transition.
 
Eichhorn has been a member of the faculty at Eugene Lang College of Liberal Arts since 2008, most recently as a professor of culture and media studies, and has served as the chair of the Culture and Media Studies program since 2020. She served as chair of Lang's First-Year Writing program from 2008 to 2016. Eichhorn also serves on two university committees: as tri-chair of the Planning, Resources, and Institutional Effectiveness–Strategic Planning Process (term of 2022–2024), and as co-chair of the Financial Transparency Committee (2022 to the present).
 
"Throughout my career, I've always approached higher education not only as a site of teaching, learning, and research but also as a site of resistance and social transformation. Now I'm excited to continue this exploration in collaboration with colleagues in the School of Undergraduate Studies and across SPE. I particularly look forward to advancing the principles of innovation, inclusion, equity, critical thinking, and social justice that will continue to guide and inform the university into its next century," said Eichhorn.
 
Eichhorn's interdisciplinary research and teaching covers a range of topics, from media and memory to digital activism. A prolific writer, she is the author of eight books, including two collections of poetry, two edited literary collections, and four nonfiction titles. Recent works include Content (MIT Press, 2022) and The End of Forgetting (Harvard University Press, 2019). She has also written about technology, youth cultures, and education for publications including Wired, Literary Hub, MIT Technology Review, and the Times Higher Education Supplement.
Before joining The New School, Eichhorn taught at Toronto Metropolitan University where she offered courses in the Department of English, the Chang School of Continuing Education, and the Graduate Programme in Communication and Culture. Eichhorn holds a PhD in Language, Culture, and Teaching from York University; a Master of Arts in Philosophy of Education from Simon Fraser University; and a Bachelor of Arts in English and Women's Studies from Trent University.