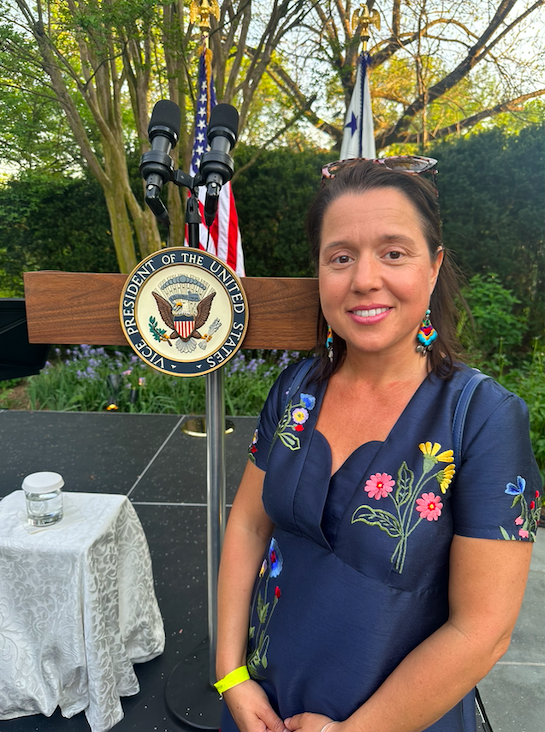 Ana Baptista, Co-Director of the Tishman Environment and Design Center
New York, April 21, 2023—On the eve of Earth Day, the President welcomes Environmental Justice leaders from New Jersey and around the country to participate in the signing of a new Executive Order on Environmental Justice. In attendance at the historic signing were Maria Lopez-Nunez of the Ironbound Community Corp and Dr. Nicky Sheats of the New Jersey Environmental Justice Alliance who are both members of the White House Environmental Justice Council as well as Dr. Ana Baptista a trustee of ICC and NJEJA and Co-Director of the Tishman Environment and Design Center and Melissa Miles, Executive Director of New Jersey Environmental Alliance. The last Executive Order on Environmental Justice 12898 was signed by President Clinton in 1994 at a time when few people in the public or private sectors took the cumulative impacts and historical legacy of environmental racism seriously. Today, environmental justice has gained a prominent policy agenda thanks to the tireless work of grassroots and frontline organizations like the Ironbound Community Corporation and the New Jersey Environmental Justice Alliance.
This new executive order comes on the heels of implementing New Jersey's landmark environmental justice law. In many ways states like New Jersey have led the way, passing innovative new laws on cumulative impacts and pushing the federal government to go further, and faster on the promise of environmental justice. The environmental justice movement has advanced these new protections as well as a historic level of federal investment targeting Environmental Justice communities through programs like Justice40 and the Inflation Reduction Act's Environmental Justice Block Grants. 
 
The new Executive Order entitled, Revitalizing Our Nation's Commitment to Environmental Justice for All, will:
Deepen the Biden-Harris Administration's whole-of-government commitment to environmental justice.
Better protect overburdened communities from pollution and environmental harms.
Strengthen engagement with communities and mobilize federal agencies to confront existing and legacy barriers and injustices.
Promote the latest science, data, and research, including on cumulative impacts.
Expand interagency coordination and launch a new Office of Environmental Justice within the White House Council on Environmental Quality.
Increase accountability and transparency in federal environmental justice policy.
Honor and build on the foundation of ongoing environmental justice work.
In addition to the Executive Order, the Biden-Harris Administration is announcing other new steps, including Publishing the first-ever Environmental Justice Scorecard, launching the White House Campaign for Environmental Justice, announcing new Justice40 covered programs and taking new steps to combat plastic pollution in communities.
"The Biden-Harris administration's commitment to centering their environmental and climate agenda on environmental justice communities is reflected in today's signing of the new Executive Order on Environmental Justice and the launch of the EJ Scorecard. EJ communities around the country can now track the federal government's progress on the historic investments in EJ and look forward to new commitments by federal agencies to implement cumulative impact policies." - Dr. Ana Baptista, ICC & NJEJA Trustee, Tishman Environment and Design Center, The New School
"This is an important moment to reflect on how far we've come as a movement and also how much more work remains to be done to ensure our communities are the beneficiaries of these historic federal investments and EJ policies. The Executive Order on Environmental Justice marks a milestone for moving the federal government further than it's ever gone before to deliver on the promise of environmental justice. We will remain steadfast in our efforts to realize that vision." - Maria Lopez-Nunez, Ironbound Community Corp.

"The cumulative pollution burdens that EJ communities continue to face will demand that we implement federal, state, and local policies that can protect EJ communities now and into the future. This new Executive Order on Environmental Justice ensures that the federal government goes further than it ever has on delivering the protections and investments our communities need." - Dr, Nicky Sheats, New Jersey Environmental Justice Alliance, Kean University