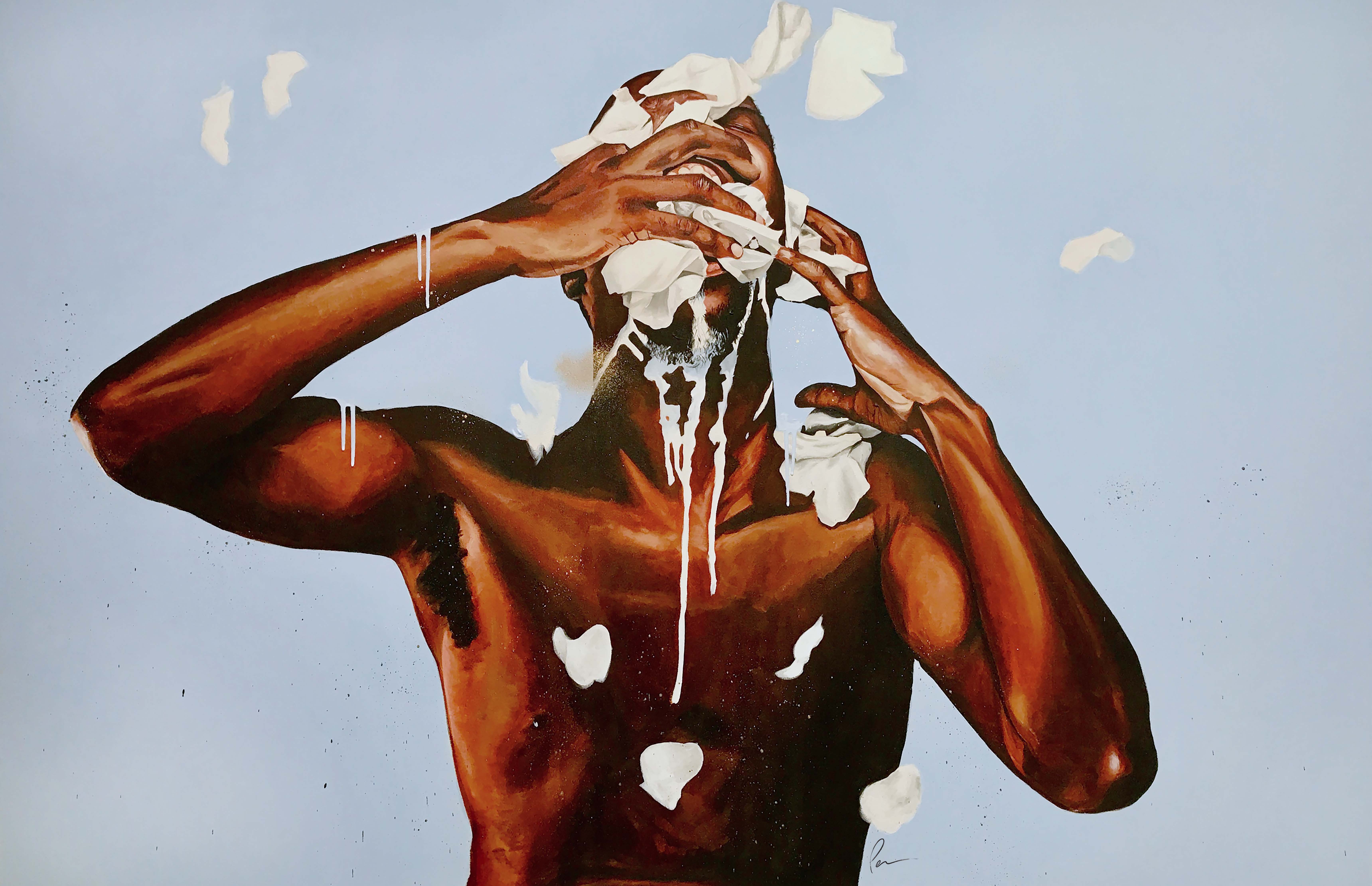 White Lies, Subtleties, Micro-Aggressions, and Other Choking Hazards (c. 2017)
Artist: Dr. Fahamu Pecou
New York, April 28, 2022 — Public Seminar, a journal of ideas, politics, and culture, today published "Teaching While Black," a special issue that illuminates the current condition of African American scholars who work in higher education. Featuring artwork by acclaimed interdisciplinary artist and scholar, Dr. Fahamu Pecou, the special issue is co-edited by New School President and University Professor Dwight A. McBride, James Baldwin Review Managing Editor Justin A. Joyce, and Public Seminar's co-executive editor Claire Potter.
"Teaching While Black" presents essays and interviews written by 15 scholars working at a range of higher education institutions. The authors share brief essays on aspects of their lives as Black academics, providing a range of powerful reflections that both speak broadly to the dilemmas faced by people of color in the academy, and to white faculty who might seek to understand the experiences informing the trajectories of Black colleagues. The issue also includes an excerpted essay from the anthology Teaching Black: The Craft of Teaching on Black Life and Literature edited by Ana-Maurine Lara and drea brown on prioritizing Black texts in the classroom. 
"Currently, conservatives around the country are trying to end the teaching of race at all educational levels, effectively centering white experiences as if this told the story of racism in higher education," said Claire Potter, Public Seminar's co-executive editor and Professor of History at The New School for Social Research. "Public Seminar thought this was a critical moment to elevate Black voices, and Black experiences, in an overwhelmingly white higher education industry. We were delighted to partner with President McBride in producing a special issue that we hope will encourage faculty and administrators around the country to listen and respond to these voices as they plot their post-pandemic future."
The special issue's two lead features, an interview with University of Chicago political scientist Cathy Cohen, and an essay written by McBride, address pathways to success by academics who were both the first in their families to attend college and are also gay. McBride, a leading scholar of race and literary studies, explores the meaning of being a "first," in its joys and challenges but also in the non-recognition of Black excellence by white colleagues. Cohen tells a longer story about what it meant to enter a world where she was an outsider, even among other Black students, and which communities laid the groundwork for her success.
"Teaching While Black" also includes:
Spelman literary scholar Beverly Guy-Sheftall reflects on the power of women's studies to create spaces for resistance;
Occidental historian Erica Ball explores the many ways she has been asked to be "Black;" 
Gina Athena Ulysse, an anthropologist and performance artist at UC-Santa Cruz, addresses cultures of overwork that make Black women sick; 
Emory law professor Dorothy Brown discusses the barriers Black women face to their success—including the burdens of constant representation that suck time away from scholarship—and how she learned to navigate them; and
Religion scholar Sylvester Johnson speaks to the importance of recognizing experiences with racism as a common reality that faculty and students share.
Artwork by pioneering Atlanta-based artist Dr. Fahamu Pecou accompanies the essays and interview within the "Teaching While Black" special issue. Combining fine arts, hip hop, Yoruba spirituality, and popular culture—often in meditations on Blackness and masculinity, Pecou's art presents Blackness in ways that aren't usually captured in the artworld. His work is exhibited in museums and galleries worldwide and has also been featured in several films and television shows, including Between the World and Me, Blackish, Empire, Master of None, and The Chi. 
In a 2021 interview, Pecou shared, "Black visibility is a subtle, but profound affirmation. It gives one permission to be comfortable with who they are and to explore who you can become." The Source noted in 2015, "Pecou gives us a surplus of culture in its entirety with no apologies."
List of Contributors:
Bridgette Baldwin: Professor of Law, Western New England University
Davarian L. Baldwin: Paul E. Raether Distinguished Professor of American Studies, Trinity College
Erica L. Ball: Mary Jane Hewitt Department Chair in Black Studies, Occidental College
Dorothy A. Brown: Asa Griggs Candler Professor of Law, Emory University
Cathy Cohen: David and Mary Winton Green Distinguished Service Professor of Political Science, University of Chicago
Terrance Dean: Assistant Professor of Black Studies, Denison University
Beverly Guy-Sheftall: Founding Director of the Women's Research & Resource Center and Anna Julia Cooper Professor of Women's Studies, Spelman College; adjunct professor at Emory University's Institute for Women's Studies. President of the National Women's Studies Association (NWSA)
Duchess Harris: Professor of American Studies, Macalester College
Sylvester Johnson: Assistant Vice Provost for the Humanities and Director of the Center for Humanities, Virginia Tech
Dwight A. McBride, President and University Professor, The New School
Charles I. Nero: Benjamin E. Mays '20 Distinguished Prof of Rhetoric, Film, and Screen Studies, Bates College
Lisa B. Thompson: Professor of African and African Diaspora Studies, Advisor to the Dean for Faculty Mentoring and Support, University of Texas at Austin
Gina Athena Ulysse: Professor of Feminist Studies, UC Santa Cruz
Featured Excerpt Contributors:
Ana-Maurine Lara: Associate Professor of Anthropology, University of Oregon
drea brown: Assistant Professor of English, Texas State University
List of Featured Artwork by Dr. Fahamu Pecou:
Egun Dance 01 (2016)
• Graphite and Acrylic on paper

Omo (2017)
• Acrylic on Canvas

Onire the General –Collection: Trapademia III: 7 African Powers (2020)
• Acrylic on Canvas

AYELALA bka LAL –Collection: Trapademia III: 7 African Powers (2020)
• Graphite and Acrylic on Arches 300# CP

The Ways of White Folks (2020)
• Acrylic on Canvas

Things Fall Apart (2020)
• Acrylic on Canvas

Don't Think I'm Not (aka The King in I) –Collection Trapademia
• Acrylic on Canvas

Notes of a Native Son –Collection: Trapademia II: Lit (2020)
• Acrylic on Canvas

Protagonist 1 –Collection: Trapademia II: Lit (2020)
• Graphite and Acrylic on Canvas

Osmosis –Collection: Trapademia II: Lit (2020)
• Graphite and Acrylic on Canvas

Declaration of Independence (2021)
• Acrylic on Canvas

White Lies, Subtleties, Micro-Aggressions, and Other Choking Hazards (2017)
• Acrylic on Canvas