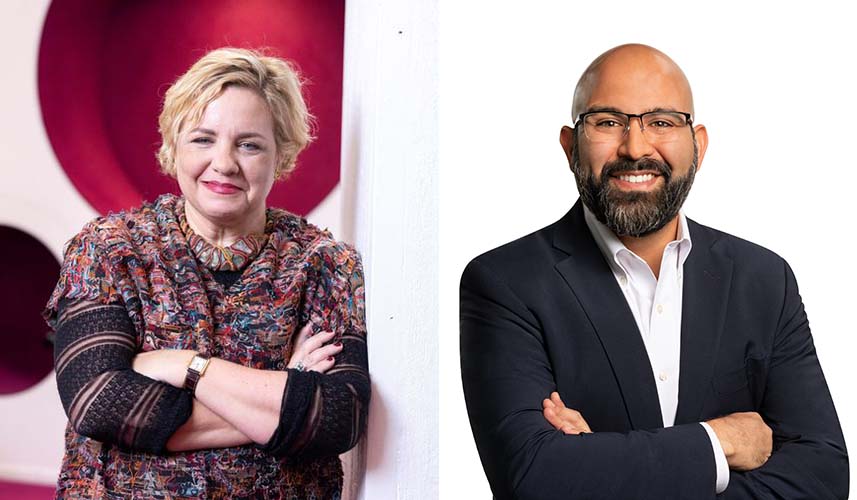 LtR: Mariana Amatullo, Vice Provost and Academic Dean; Joe Sloan, Executive Director and Dean, Continuing and Professional Education
New York, October 3, 2022—The New School today announced the appointment of Joe Sloan as Executive Director and Dean of Continuing and Professional Education and Mariana Amatullo as Vice Provost and Academic Dean for Continuing and Professional Education (CPE).
"Drawing on their experience in disciplines that are central to The New School and our legacy of continuing education, Joe and Mariana bring fresh and distinctive perspectives that will help us reach new and broader audiences with programming tailored to their interests and needs," said Anne Adriance, Senior Vice President for Marketing and Business Development. "I am excited to work with Joe and Mariana. Their strengths as leaders will enable the university to expand and evolve our offerings and provide an even richer and more engaging experience for our students."

Continuing and Professional Education's (CPE) multifaceted learning experiences offer a range of  educational opportunities for learners of all ages with contemporary programming tailored to meet their interests and needs. It now brings together a suite of offerings—Continuing and Professional Education Programs, Parsons Entrepreneur Academy, Pre-College and Summer Intensive Programs, and Parsons Executive Education—to expand the reach of The New School's unique approach to design, management, fine arts, and critical thinking.

"I'm excited to join The New School's Continuing and Professional Education unit as Executive Director and Dean," said Sloan. "The New School's CPE is known for dynamic educational experiences in design, fine arts, management, the social sciences, and critical thinking that allow learners to advance their personal and professional interests, and I'm looking forward to expanding our reach and bringing our world-class interdisciplinary approach to a wider audience."

"I am delighted to take on this new and important role at CPE and continue collaborating with my peers in the academic leadership of our institution to expand and innovate the great educational experiences we provide to a wide spectrum of students in CPE: executives, entrepreneurs, creatives, innovators, makers, and young learners," said Amatullo. "Our programs embrace a culture of lifelong learning increasingly essential to contend with the global disruptions and profound inequities we are experiencing today– from the climate crisis to technological and demographic change and the transforming world of work. I am looking forward to facilitating new academic pathways and opportunities to make our rich learning environment accessible to a wider set of learners with programming relevant to the urgent societal needs that The New School is in a unique position to address with the talent and creativity of our community."

Joe Sloan, PhD
An accomplished and results-driven online program management operations executive, Sloan has approximately 20 years of experience leading innovative online learning solutions and strategic growth planning in for-profit, state and private university leadership roles. As Executive Director and Dean of CPE, he serves as CPE's senior business leader with responsibility for expanding access and driving new revenue for the division, including the online development and expansion of programs, offerings, delivery-platform, and external partnerships. 

He comes to The New School from Bisk Education where he was Senior Vice President of Partnerships overseeing company-wide online degree and certificate program partnerships at Columbia Law, Emory University, Florida Tech, Michigan State University, Southern Methodist University, and Villanova University, among others. He has worked in leadership positions at Arizona State University, Apollo Education Group, University of Phoenix, Western International University and at Pearson, where he oversaw one of the largest online program management partnership in North America as Vice President of the Arizona State University (ASU) Online relationship. His work for ASU includes supporting the expansion and innovation of a first-of-its-kind partnership between ASU and Starbucks Corporation, offering more than 100 online programs to Starbucks employees. Sloan also was instrumental in the launch of InStride, a learning services enterprise organization established between The Rise Fund, an impact investment group, and ASU.

Sloan's teaching experience includes courses in international management at the National Economics University in Vietnam. He holds a PhD in Industrial-Organizational Psychology from Grand Canyon University, an MBA and Bachelor of Science in Business Management from the University of Phoenix, and most recently attended the Institute for Management & Leadership Education at Harvard University. 
Mariana Amatullo, PhD
A practitioner-scholar, academic administrator, and design strategist, Amatullo has been a key member of The New School since joining the university in 2017. As Vice Provost and Academic Dean of CPE, Amatullo provides academic leadership, strategy, integration, and development, and ensures collaboration and curricular integrity. Her work encompasses integrating academic development and academic administrative functions for the division to operate as a continued source for teaching and learning innovation, new partnerships, profitability, and sustainability. She most recently served as Vice Provost for Global Executive Education and Online Strategic Initiatives for CPE, making vital contributions to the unit's Online Learning division and the establishment of Parsons Executive Education. Amatullo is also a faculty member in the School of Design Strategies at Parsons School of Design and is a core faculty member of the university's Graduate Minor in Civic Service Design.
Prior to joining The New School, Mariana led the award-winning social innovation department, Designmatters, at ArtCenter College of Design in Pasadena, California which she co-founded in 2001. She is Honorary President of the Cumulus Association, the leading global association of art and design education and research, and recently joined the Board of Aalto University in Finland. She holds a PhD in Management (Designing Sustainable Systems) from Case Western Reserve University, an MA in Art History and Museum Studies from the University of Southern California, and a Licence en Lettres Degree from the Sorbonne University, Paris, where she also studied Art History at L'Ecole du Louvre.