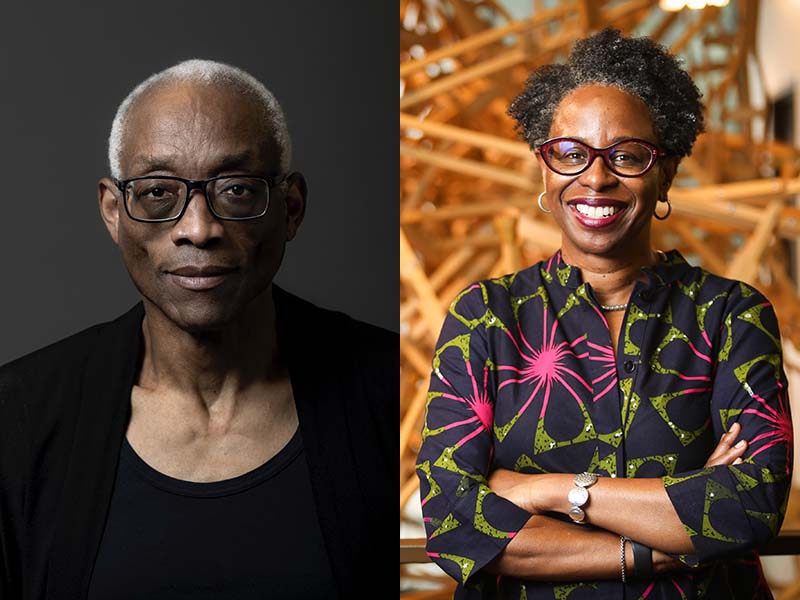 LtR: 2022-2023 Presidential Visiting Scholars Bill T. Jones and Lisa B. Thompson
New York, May 23, 2022—The renowned scholars and creative practitioners Bill T. Jones and Lisa B. Thompson have been named Presidential Visiting Scholars at The New School for the 2022-2023 academic year. This is the second cohort of Presidential Visiting Scholars at the university, a program that launched last year with the lauded philosophers Judith Butler and Cornel West. The Presidential Visiting Scholars program brings major thinkers of the highest standing to the university to teach unique courses, collaborate on creative or research initiatives, deliver lectures, and participate in public programming and other special projects.
 
Bill T. Jones's engagement as a Presidential Visiting Scholar at The New School represents a new chapter in the university's visiting scholar program. Early in his career, Jones made his mark as a dancer and choreographer blending a powerful artistic vision with deep personal meaning, often giving voice to major issues facing society. Today, he is a seminal figure in the history of performing arts worldwide. At The New School, Jones's work will encompass multiple areas of scholarly and artistic practice, including equity, inclusion, and social justice, a sustainable environment, performance, public convening, and a partnership with New York Live Arts, for which Jones serves as founding artistic director.
A dynamic voice in American theater, Lisa B. Thompson is an award-winning playwright, scholar, and professor of African and African Diaspora Studies whose art and scholarship examine stereotypes about Black life in the U.S., particularly the experiences of the Black middle class. Her plays embody character and story to thoughtfully explore the Black family, motherhood, migration, racial violence, and sexuality. Thompson will deliver a public lecture and engage in creative practice with students, faculty, and other artists which will include a public reading of one of her plays.
 
Dwight A. McBride, President of The New School, commended the selection of Jones and Thompson as Presidential Visiting Scholars: "We are honored to host the visionary artists Bill T. Jones and Lisa B. Thompson, two of the most creative forces in American performing arts. Their appointments as Presidential Visiting Scholars continue The New School's rich legacy of supporting innovative artists like the renowned dancer, choreographer, and former faculty member Martha Graham; the co-founders of the Dramatic Workshop Erwin and Maria Ley Piscator; and alumna Vinnette Carroll, the first Black woman to direct on Broadway and receive a Tony nomination for Best Director. Jones and Thompson will enrich the intellectual and creative opportunities for our students, who will be able to engage with these inspiring, provocative, and groundbreaking artists."
The Presidential Visiting Scholars are distinguished academics and artists who join The New School faculty by special invitation for a short period of time. These scholars are known for their bold research, pedagogical innovation, and ground-breaking work in domains that are among The New School's prominent strengths. Through their engagement, the Presidential Visiting Scholars support and extend The New School's academic distinction and commitment to inclusive excellence.
Bill T. Jones
Bill T. Jones, artistic director of New York Live Arts and artistic director/co-founder of the Bill T. Jones/Arnie Zane Dance Company, is a multi-talented artist, choreographer, dancer, theater director and writer. He has received major honors ranging from a 1994 MacArthur "Genius" Award to Kennedy Center Honors in 2010. Jones was honored with the 2014 Doris Duke Award, recognized as Officier de l'Ordre des Arts et des Lettres by the French government in 2010, inducted into the American Academy of Arts & Sciences in 2009, and named "An Irreplaceable Dance Treasure" by the Dance Heritage Coalition in 2000. He is a two-time Tony Award recipient for Best Choreography for FELA! and Spring Awakening and received an Obie Award for Spring Awakening's off-Broadway run. His choreography for the off-Broadway production of The Seven earned him a 2006 Lucille Lortel Award.
Lisa B. Thompson
Lisa B. Thompson, Bobby and Sherri Patton Professor of African and African Diaspora Studies, and College of Liberal Arts' Advisor to the Dean for Faculty Mentoring and Support at the University of Texas at Austin, is an award-winning theater artist, teacher and scholar. The artist/scholar is the author of four books: Beyond the Black Lady: Sexuality and the New African American Middle Class (University of Illinois Press, 2009), Single Black Female (Samuel French, 2012), Underground, Monroe, and The Mamalogues: Three Plays (Northwestern University Press, 2020), and The Mamalogues (Samuel French, 2021). Thompson's plays have been produced off-Broadway, throughout the US and internationally. Her work has received support from institutions such as the American Council of Learned Societies, Hedgebrook, MacDowell, Millay Arts, the National Performance Network, the University of Texas' Center for the Study of Race and Democracy, and Harvard University's W. E. B. DuBois Research Institute at the Hutchins Center.