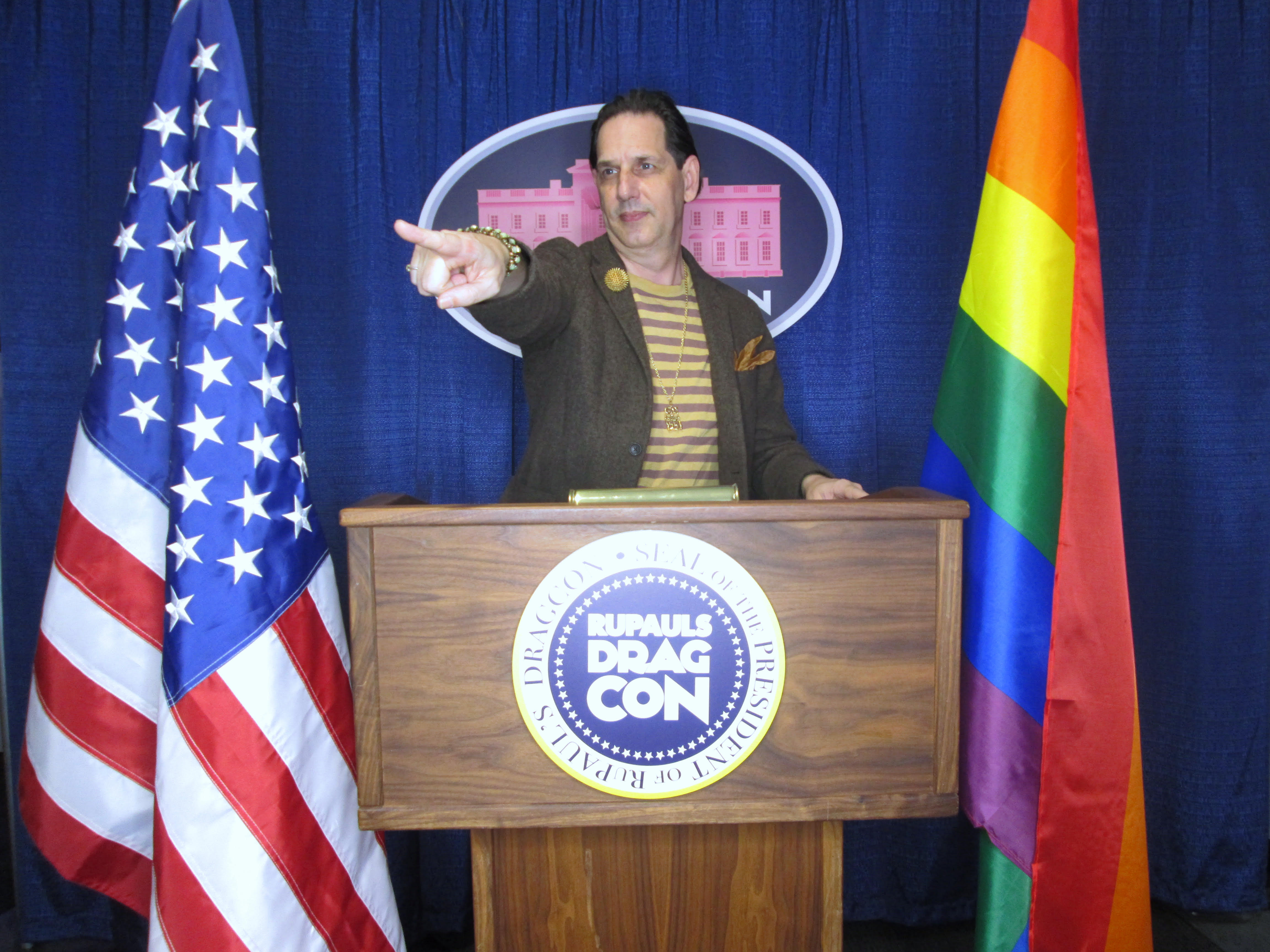 Joe E. Jeffreys fields questions at RuPaul's Drag Con NYC about his New School course RuPaul's Drag Race and Its Impact
New York, January 14, 2019 -- Noted drag historian Joe E. Jeffreys will lead "RuPaul's Drag Race and Its Impact," an in-depth exploration of the award-winning reality television show and its far-reaching impact on contemporary culture, scheduled this spring at The New School's Eugene Lang College of Liberal Arts. In addition to probing the history of drag, the class will feature guest speakers associated with the hit show throughout the semester.
This is believed to be the first semester-long college course devoted to an in-depth study of RuPaul's Drag Race and its cultural influence. "The class will examine all seasons of the show, exploring its audience demographics, historicizing the show's lineage and scrutinizing such concerns as race, ethnicity, aesthetics, and body image as presented in the broadcasts. We look to understand how the media phenomenon has shaped the way a wide public view the art form of female impersonation and how the program has changed the profession itself," said Professor Jeffreys.
About to enter its 11th season, the show follows a group of drag contestants competing to be crowned America's next drag superstar and win a cash prize of $100,000. Over the past decade, the show "has evolved to reflect an era fixated on gender and identity," (New York Times).
"Students will read selections from the large body of scholarly writing surrounding the television program and the class will contextualize the show through the lens of vaudeville female impersonators like Julian Eltinge and the stories of drag in documentaries, from Queens at Heart and The Queen to Paris is Burning and Wigstock: The Movie," Jeffreys noted. "RuPaul's career before the show, autobiographical writings and interviews will be considered alongside changing ideas and practices around gender impersonation, drag kids and DragCon as part of the interrogation into the show's impact."
Jeffreys has written on female and male impersonation in academic journals, encyclopedias and essay anthologies. He has video documented the New York City drag communities for the past decade, creating a unique moving image archive of more than 1,500 hours of footage from which he creates mash ups and shorts that have screened at video festivals worldwide and at museums and galleries including the Tate Modern and The Museum of Arts and Design. (See examples of Jeffreys' drag video work at https://vimeo.com/joejeffreys.) Jeffreys has been interviewed for features about drag by media outlets including The New York Times, Time, Vice, Food and Wine, Time Out, PopSugar and Yahoo! Lifestyle. He has taught at The New School since 2016.