New York, July 30th, 2019 -- The New School's Retirement Equity Lab (ReLab) today launches a new podcast, Reset Retirement, that offers something new in the universe of retirement podcasts: people's real stories.
Host Teresa Ghilarducci, a prominent labor economist and professor at The New School, talks to people of all ages - millennials, mid-career professionals, near retirees and longtime retirees - about what it's like to save for retirement in a system that only works for the privileged few. They share their stories about how everyday life events such as divorce, job loss, and illness can derail even the best-laid plans. Next, a panel of experts discusses what we can do to demand a system that works for real people.
"The standard retirement advice alienates people, leaving us confused, shamed and shut down," said Teresa Ghilarducci, Professor of Economics and Director of The New School's Retirement Equity Lab. "People are told that if they buy too many lattes, they are to blame for not being able to save enough. On the Reset Retirement podcast, people's stories prove it's not lattes, but real life that derails people's best intentions in a broken retirement system. Now is the time for people to overcome this 'blame the victim' strategy and join together to demand a system that works."
The first three episodes of the Reset Retirement podcast launch today. You can find the show on Apple Podcasts, Spotify, Stitcher or wherever you find your podcasts. Episode 4 will air August 6th, followed by Episode 5 on August 13th.
The episodes include timely discussions such as "Are You Alone in Your Retirement Fears?," "Do We Get Shamed by the System?," "Where Do We Go From Here?," and "How Long Can We Work?" On each episode, Ghilarducci talks to people whose individual experiences will resonate with many others.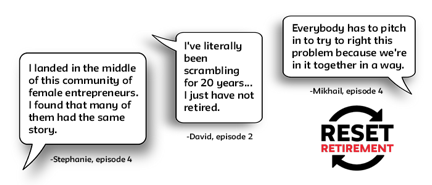 In The "Shame" episode (#3), an English professor reflects on his early savings experiences and his regret about the choices he made when he was younger. In the same episode, a single mother working at a non-profit talks about how job loss and divorce led her to deal with feelings of shame and then eventually to financial empowerment. In the "Work" episode (#4), middle-aged professionals describe how their careers were unexpectedly disrupted and how the age discrimination they faced made it difficult to keep their old jobs - and to find new ones. In "Where Do We Go from Here?" (#5), we highlight a group working to inject retirement security into the 2020 presidential campaign.
Expert guests for the first season include author and personal finance writer Helaine Olen, economist Anthony Webb, AARP's Beth Finkel, and New York labor leader Vincent Alvarez. The episodes end with a 'bright spot' for retirement reform: efforts by individuals, groups, or legislators to improve our retirement system or protect people from predatory actors in the current retirement system. 
The stakes are high when it comes to reforming our current retirement system.  Largely due to that fact that more than half the workforce - 60% - doesn't have retirement coverage at work, 8.5 million older people in the United States will fall from being middle class into poverty in retirement if we don't do anything to stop the freefall.
Follow SCEPA's Retirement Equity Lab on Twitter: @tghilarducci and Facebook: @RetirementLab