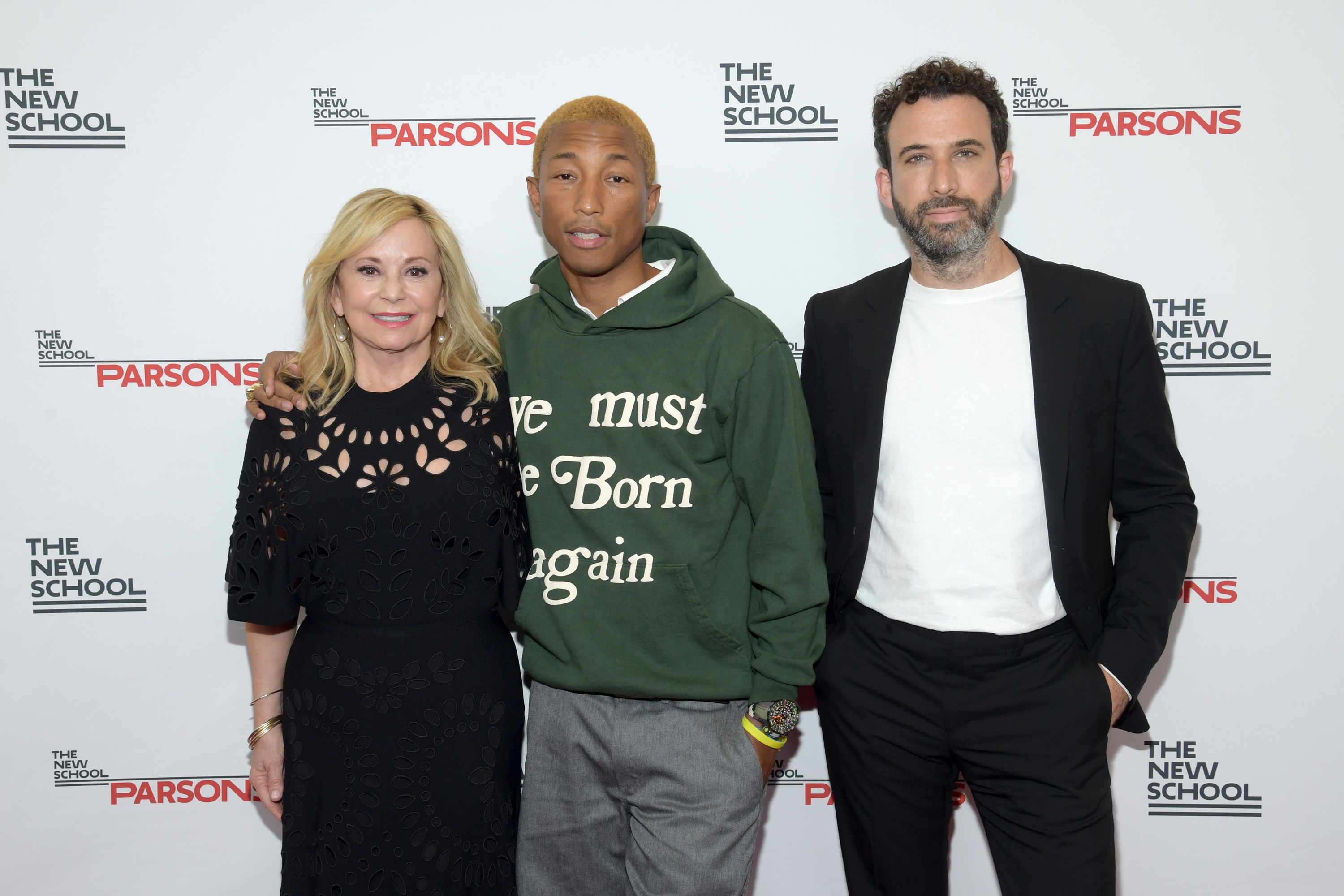 2019 Parsons Benefit Honorees: Julie Wainwright, Pharrell, Michael Preysman
NEW YORK, May 21, 2019—The New School honored singer, songwriter, artist, and designer Pharrell Williams, Julie Wainwright, Founder and CEO of The RealReal, Katrina Lake, Founder and CEO of Stitch Fix, and Michael Preysman, Founder and CEO of Everlane, at the 71st annual Parsons Benefit. The honorees were recognized for embodying the university's dedication to creativity, sustainability, and innovation as well as their exceptional commitment to educational and charitable initiatives. The event was held at Pier Sixty in New York.
The program featured remarks from each of the honorees and their presenters. KAWS, the internationally acclaimed artist and designer, presented Pharrell with the Parsons Table Award.
"Thank you, Parsons and The New School, for recognizing me tonight," said Pharrell while accepting his award. "I'm standing here in awe of these students and the world they are designing for us. I look around and really feel the future they are creating. I am inspired by the optimism and potential in the room."
Celebrating its 71st year, the perennial event is a New York fashion calendar highlight and introduces the next generation of fashion design leaders, honors icons in the field, and raises instrumental funds for student scholarships.
The 2019 Parsons Benefit raised $3.6 million in scholarships, which included an auction led by Lydia Fenet, Managing Director of Christie's.
"It was an honor to celebrate Pharrell, Julie, Katrina, and Michael, who are all leaders in their fields, and have empowered young designers and artists through their incredible work," said Joel Towers, Executive Dean of Parsons School of Design.
Following a runway show featuring fashion collections by graduating students, Burak Cakmak, Dean of the School of Fashion, announced the 2019 Designer of the Year awards in the categories below. This year's recipients are:
Social Innovation: Jose Luis Cabrera and Natalia Riedel

Future Textiles: Andrew Davis

Creative Systems: Yayi Chen and Veronica Lee
The evening featured a performance by Linda Briceño, a recent graduate of The New School's College of Performing Arts, and the first woman to win Producer of the Year at the Latin Grammys.
Additionally, at Parsons Festival on May 18th, graduating students from the School of Fashion received awards from various industry partners. The following students were honored with scholarships:
Yoox: Sharon Cho

CALA: Jaeyoung Bang

Eyes on Talent: Conor Davis, Helena Wang, and Natalia Riedel

Goodwill: Kyemah McEntyre, Bailey Hardaway, and Joyce Ko

H&M: Bailey Hardaway

Hugo Boss: Katherine Walz, Jose Luis Cabrera, Veronica Lee, and Sterling Ungphakorn

Luxarity/Lane Crawford: Yi Chen Ho

Pitti Uomo: Chaohua Shi

Safilo: Abbir Malik

Solstiss: Yayi Chen

Swarovski: Cassadee Hirsch and Taylor Hoekstra
A full suite of photos for Parsons Festival and Parsons Benefit can be found at the following links:
Past Parsons Benefit honorees include Solange, Rihanna, Eileen Fisher, Donna Karan, Arianna Huffington, Sarah Jessica Parker, Marc Jacobs and LVMH, Gucci CEO Marco Bizzarri, and Jason Wu and Hugo Boss.