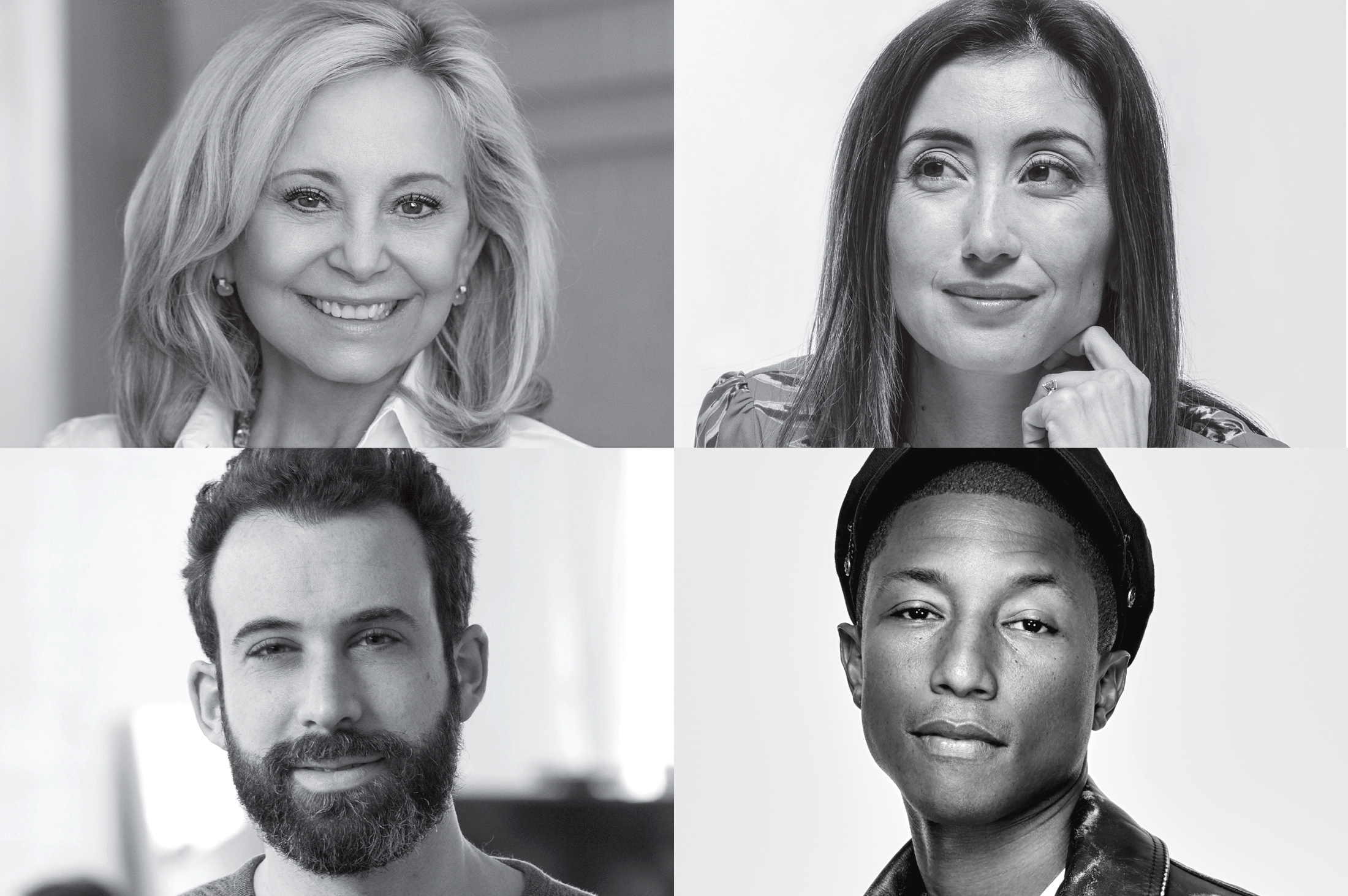 L-R: Julie Wainwright, Katrina Lake, Michael Preysman, Pharrell Williams
New York, March 25, 2019 – The New School will host the 71st annual Parsons Benefit, honoring visionary figures in fashion, technology and the arts that embody the university's commitment to creativity, innovation, and sustainability. The evening recognizes acclaimed singer, songwriter, artist and designer Pharrell Williams; Julie Wainwright, Founder and CEO of The RealReal; and Katrina Lake, Founder and CEO of Stitch Fix with the Parsons Table Award, and Michael Preysman, Founder and CEO of Everlane, with the Frank Alvah Parsons Award. The Parsons Benefit will take place on May 20, 2019 at Pier Sixty, New York, New York.
These honorees will be celebrated for their numerous contributions to fashion, entrepreneurship, and sustainability, as well as their deep commitment to supporting future generations of artists and designers. Under the leadership of Julie Wainwright, Katrina Lake, and Michael Preysman, their respective companies are positioned at the intersection of fashion and technology. They have embedded innovation throughout their businesses, challenging and advancing our ideas about fashion's role in contemporary culture. These concepts of the transformative power of design are at the core of The New School and Parsons' mission and curriculum.
"We are thrilled to be honoring Pharrell for his substantial contributions to the music and fashion industries and The RealReal, Stitch Fix, and Everlane for their unwavering commitment to innovation and sustainability in fashion," said Joel Towers, Executive Dean of Parsons School of Design. "Parsons was founded upon the idea that design can change the world, and these exceptional honorees are reimagining the creative and commercial landscape in a way that will positively impact the industry for years to come."
"We have fundamentally changed our curriculum at Parsons in order to train students to embed sustainable and ethical fashion perspectives and practices into their work," added Burak Cakmak, Dean of Fashion at Parsons. "Our honorees are constantly expanding and redefining what it means to be an innovative, responsible, and values-driven company, and we are proud to recognize these industry leaders, who share the Parsons vision that design can address and solve pressing problems."
Parsons, one of the leading art and design schools in the world, hosts the Parsons Benefit each year to present and empower the next generation of fashion designers and to raise instrumental funds for student scholarships. Donors' generosity through the Benefit supports education that enables students to pursue studies in art, design, liberal arts, music, technology, and social innovation.
As The New School celebrates its Centennial in 2019, the university is profoundly grateful to Julia Lin, a Parsons School of Design parent and member of the Parsons Board of Governors, for her university-wide challenge which enables donors who establish new endowed scholarships for student financial aid to double their impact through a dollar-for-dollar match. This means that a gift at the minimum amount to establish an endowment, $125,000, becomes a $250,000 scholarship to support students in perpetuity. Donors have the opportunity to name these endowed scholarships and make pledge payments to fulfill their commitments over a term of up to five years.
"We are so thrilled to be recognized by Parsons, an incredible institution that shares our commitment to be a force for change in fashion," said Julie Wainwright, CEO of The RealReal. "Reducing fashion's footprint is critical to the health of our planet. Parsons sits at the pivotal intersection of creativity and intention, fostering a new generation of fashion leaders who understand the importance of sustainability and will fuel change."
"I'm deeply honored to be recognized by Parsons, along with my fellow award recipients," said Katrina Lake, founder and CEO of Stitch Fix. "Parsons is a fantastic institution that is dedicated to finding, supporting and inspiring the next generation of artists, innovators and entrepreneurs who will take our industry forward. I'm excited to see what Parsons graduates can achieve in the future."
"We believe that design is one of the greatest drivers of culture, and is a key factor in creating a more sustainable supply chain," says Michael Preysman. "It is an honor to be recognized by Parsons, who has put sustainability at the forefront of their curriculum and has given young talent the tools and resources needed to innovate and build a better future for the industry."
Pharrell, Julie Wainwright, Katrina Lake, and Michael Preysman join an esteemed list of past honorees. From Donna Karan, Jason Wu, and Vera Wang, LVMH to Macy's, Rihanna to Sarah Jessica Parker, Solange, and Gucci's Marco Bizzarri, The New School celebrates the creativity and vision of past, present, and future leaders.
For the second year, Julie Gilhart serves as the Parsons Benefit Chair, alongside Co-Chair Susan Rockefeller. The evening includes a show featuring the work of select graduating Parsons BFA Fashion Design students, as well as performances featuring students from The New School's College of Performing Arts, including Latin Grammy Award winner Linda Briceño.
About the Honorees:
Pharrell Williams
Pharrell Williams is a visionary recording artist, producer, songwriter, philanthropist, fashion designer, and entrepreneur. He has been a creative force in the music industry and beyond for more than two decades.
Over the years, Pharrell has been honored with 13 Grammy Awards, including 2004's, 2014's and 2019's Producer of the Year, and ASCAP's prestigious Golden Note Award in 2012. In 2017, he received an Academy Award nomination for co-producing Best Picture-nominated Hidden Figures (2016), as well as a Golden Globe nomination for co-scoring the film. In 2014, his original song "Happy," featured in Despicable Me 2, also received an Academy Award nomination.
In 2008, Pharrell founded From One Hand To AnOTHER (FOHTA), a foundation that provides over 1,700 children across the US with summer camps focused on S.T.E.A.M.M. – Science, Technology, Engineering, Arts, Mathematics and Motivation. Serving predominantly at-risk and low-income elementary and middle school students, FOHTA's Summer of Innovation camps integrate project-based learning and mentorship across all of their curricula—all while being 100% free of charge for the families. Pharrell is also the driving force behind i am OTHER, his multimedia creative collective that serves as the umbrella for his various artistic interests.
In addition to his musical and philanthropic endeavors, Pharrell narrated Universal's 2018 remake of the classic film THE GRINCH, authored the book A Fish Doesn't Know It's Wet, and released a new Netflix Original series with his producing partner, Mimi Valdés, titled Brainchild (2018). Past projects include Dope (2015) and Roxanne Roxanne (2017). Next up, Williams and Valdés will team up with Kenya Barris for a stage musical inspired by the Juneteenth African American holiday tradition celebrating the final day of United States slavery.
Not stopping there, Pharrell has excelled as a fashion designer with his Billionaire Boys Club and Ice Cream apparel brands, the textile company Bionic Yarn, Adidas and Chanel. This past fall, he opened a restaurant and cocktail lounge called Swan and Bar Bevy in Miami's Design District.
This April, Pharrell will launch his first annual music, art and cultural festival in his hometown of Virginia Beach titled, "SOMETHING IN THE WATER." The festival will feature artists such as Travis Scott, Migos, Janelle Monáe, SZA, Rosalía, Anderson .Paak & The Free Nationals, Jhené Aiko, Mac DeMarco, Maggie Rogers, and Lil Uzi Vert, as well as Virginia's own Missy Elliott, Pusha-T, Dave Matthews Band, and DRAM.
Julie Wainwright
Julie Wainwright is an e-commerce pioneer who founded The RealReal in June 2011, bringing authenticated luxury consignment online and changing the way people buy and sell high-end luxury across all categories. The company leads the luxury space in sustainability efforts as well—it is the first luxury member of the Ellen MacArthur Foundation's CE100 USA, a group of leading companies in the circular economy, and has a long-term sustainability partnership with Stella McCartney.

Wainwright has been at the helm of leading tech companies for more than 20 years, notably as CEO of Reel.com (1997) and Pets.com (1999). She has received several prestigious industry awards and accolades since launching The RealReal including: 2018 Entrepreneur's Most Daring Entrepreneurs, 2018 Fast Company Most Creative People in Business, 2018 Inc. Magazine's 100 Female Founders List and Business of Fashion's BoF 500 list.

Wainwright is a frequent speaker at industry events like the Forbes Women's Summit, Vanity Fair's New Establishment Summit, and Copenhagen Fashion Summit. She is an Advisor to Fashion Tech Lab, as well as an Advisor to Purdue's Krannert School of Management. She actively supports dozens of nonprofits focused on women, children and the arts.
Katrina Lake
Stitch Fix was founded by Chief Executive Officer Katrina Lake in 2011. Katrina is passionate about helping people achieve everyday confidence and founded Stitch Fix to help people everywhere discover and explore their style through a truly client-focused shopping experience. Prior to Stitch Fix, Katrina developed extensive experience at the intersection of fashion, retail and technology. She managed the blogger platform at venture-backed social commerce company Polyvore. She also served as an associate at The Parthenon Group, a consulting firm, and at Leader Ventures, a venture capital firm. Katrina holds a B.S. in Economics from Stanford University and an M.B.A. from Harvard Business School. She is a member of the board of directors for GrubHub, Inc., a mobile food delivery service, and beauty brand Glossier. Katrina was named to Fast Company's Most Creative People in Business List; Fortune's 40 Under 40 List in 2016, 2017 and 2018; Vanity Fair's New Establishment List in 2017; and Marie Claire's New Guard List in 2017. Katrina has been featured on Bloomberg West, CNBC, Good Morning America, NPR, The New York Times, and The TODAY Show, and she's a regular panelist at MAKERS, Vanity Fair Founders Fair, and other leading events. In 2017, Katrina became the youngest woman to take a company public at age 34.
Michael Preysman
Michael Preysman is the founder and CEO of Everlane, a direct-to-consumer design brand based in San Francisco, California. Inspired by the lack of affordable options for quality basics, Preysman founded Everlane in 2011 with the mission to provide consumers with well-designed, high-quality clothing and accessories at an approachable price point while encouraging them to stay educated on product origins. By cutting out the middleman and openly sharing the costs behind each product, Preysman has become a distinguished leader in the transparent retail space. He has made it his mission through Everlane to lead the change towards an honest and sustainable supply chain.
Tickets
Table sponsorships and individual tickets for the gala evening are available by contacting specialevents@newschool.edu. Visit our website for more information.