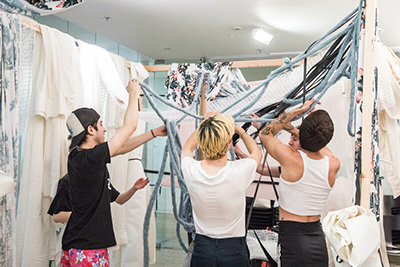 Parsons students creating float for NYC Pride March. It is the first in the university's history.

New York, June 27th, 2019 -- For the first time in its history, Parsons School of Design students have created a float for Sunday's NYC Pride March that is quite different from what spectators and viewers will be seeing elsewhere during the parade.

The float was designed by a Parsons class called "Queering Space" and they were eager to facilitate the "transformation of normative space through performance" according to Liam Pitts, one of the Parsons students who designed the float and will be participating in the march.

"A queer space is genuine, emotional and ephemeral," Pitts says. "Our float is a performance of the queer spaces in our past that have shaped our individual identities. As queer people, all of our stories transcend time and space to help us navigate the new worlds we create and subvert those that seek to disregard us and diminish our voices."


Will Fryer and Lena Kouvela, the class instructors, say that the float was created to "disrupt" an event that has become complicit in "reinforcing typical normative structures." Both Fryer and Kouvela are Parsons graduates and design professionals.

During the parade, students and volunteers will be part of a theatrical performance that through music, dance, moment and design, will tell intimate stories about experiences that shaped their lives as queer individuals. At intervals, the group will perform stories recorded by students which offer glimpses into their queer identities. Each story is performed using its own specific material, usually a fabric. The group manipulates the material as one entity to illustrate a spatial aspect of the story being told. Through performance, the individual experience becomes shared. As each story concludes, its material is hung back on the frame of the float, like laundry drying in the sun.


The float consists of a simple, timber frame, outfitted with hooks and clips, upon which a group of performers will collage a variety of soft materials. This expresses certain qualities inherent to queer space: it is ephemeral, gestural, and improvised. During the march, spaces will appear and disappear, demonstrating the feelings and expressive urges of the group. The float is not a static installation but something more fleeting that can be broken apart and put back together again.


The students in the class come from a variety of backgrounds, including fine arts, photography, textiles, product design, and urban strategy.

"This class gave them the opportunity to express themselves as queer people in their own disciplines in whatever way they desired," says Fryer.