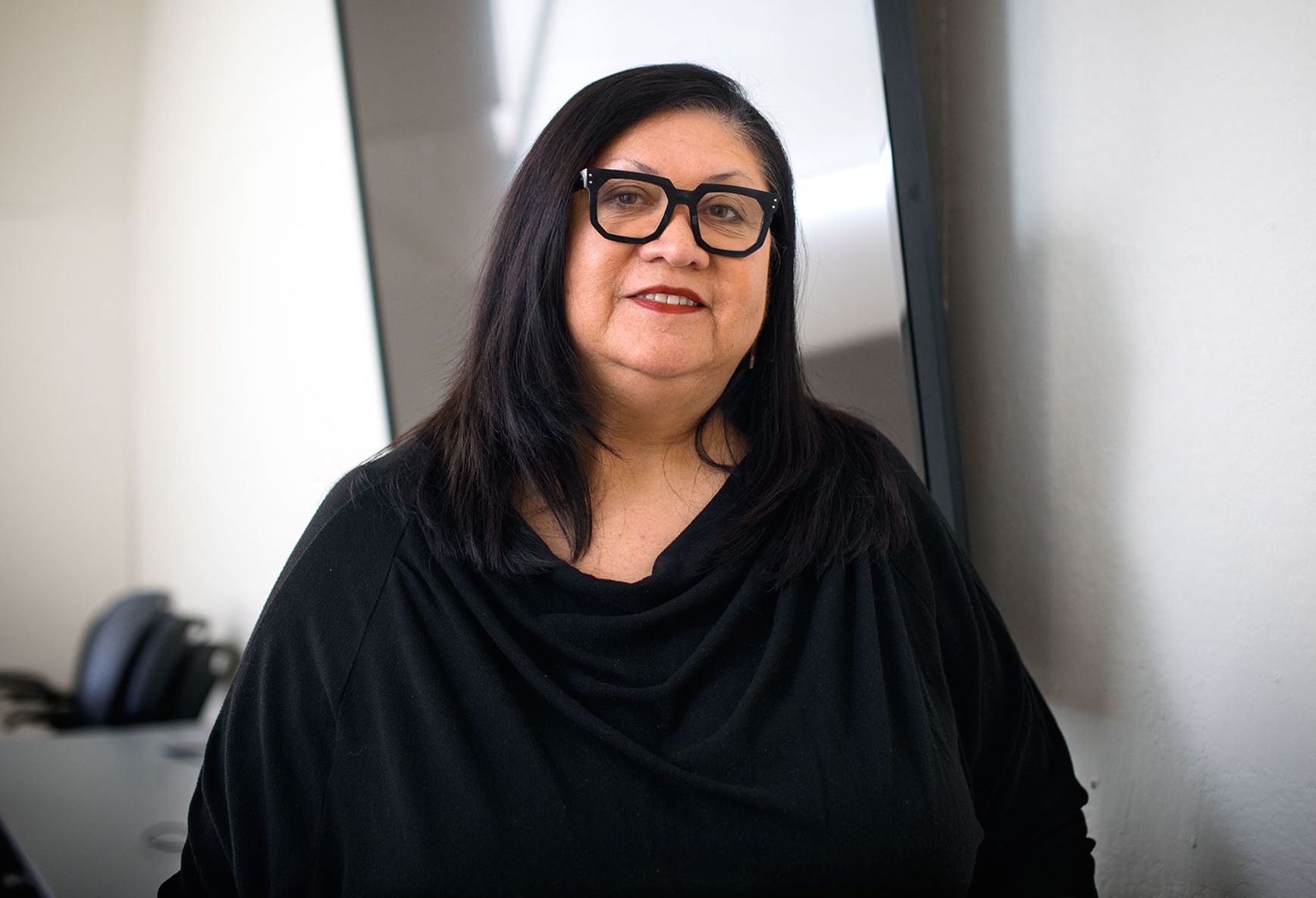 Artist and curator Jolene Rickard will be the keynote speaker at the inaugural Vera List Center Forum.
September 9, 2018 – NEW YORK, NY – At a time of increasing political polarization, the Vera List Center at The New School explores the ways in which art operates as political practice and transcends traditional party politics at its inaugural Vera List Center Forum Thursday, Oct. 4 and Friday, Oct. 5 at The New School's Tishman Auditorium, 63 Fifth Ave., New York. The event is free and open to the public.
The forum, "If Art is Politics," features thought leaders in art, policy and academia in a discussion of the political viability of art. They will examine questions such as: if considered a political practice, does art produce new political constituencies; can art encourage shared values that transcend party politics; and should politics take place in museums, studios, and on the street? An annual international convening in October, the Forum will each year explore particularly pertinent topics of that moment.
"The results of 2016 U.S. presidential election and the rise of populist political movements around the world demonstrate that politics is a radically contested space where non-action has major consequences," said Carin Kuoni, Director and Chief Curator, Vera List Center. "At the Center, for the next two years, we will explore the potential of art as a political practice, through the lens of class and privilege, policy and symbol, propaganda and aesthetics as well as scale and impact."
The forum will feature a keynote address on Thursday, Oct. 4. by artist and curator Jolene Rickard (Tuscarora). Notable presenters include:
Richard William Hill, Canada Research Chair in Indigenous Studies, Emily Carr University of Art & Design, Canada.
Koyo Kouoh, Founding Artistic director of RAW Material Company, Dakar, Senegal.
Carin Kuoni, Director and Chief Curator, Vera List Center for Art and Politics.
Nontobeko Ntombela, Curator and Lecturer, Johannesburg, South Africa.
Amanda Parmer, Curator, Vera List Center.
Jolene Rickard (Tuscarora), Artist, Curator and Associate Professor of History of Art and Visual Studies and Art Departments, and Director of the American Indian and Indigenous Studies Program, Cornell University.
Uzma Z. Rizvi, Associate Professor of Anthropology and Urban Studies, Pratt Institute, Brooklyn, and Visiting Researcher, the American University of Sharjah, UAE.
Maya Wiley, a nationally renowned expert on racial justice and equity who has litigated, lobbied the U.S. Congress, and developed programs to transform structural racism in the U.S. and in South Africa. She is Senior Vice President for Social Justice at The New School and the Henry Cohen Professor of Urban Policy and Management at The New School's the Milano School of Management, Policy, and Environment.
The forum will also feature the announcements of the finalists for and the recipient of the international biennial 2018-2020 Jane Lombard Prize for Art and Social Justice and the Vera List Center Fellowships.
The prize honors an artist or group of artists who have advanced social justice with a bold project that has long-term impact and is recognized for artistic excellence. The prize recipient's project will receive $25,000 and be featured in an exhibition at Parsons School of Design at The New School in October 2019 and will be the focus of interdisciplinary curriculum at The New School as well as text-based and multimedia resources made available to artists, scholars, and the public. The prize was recently renamed in honor of a major philanthropic commitment from Jane Lombard, a Vera List Center advisory board member whose New York-based Jane Lombard Gallery has long promoted the work of emerging and mid-career artists whose work engages with contemporary political and social issues around the world.

The fellows, who are selected for their work to advance serious conversation on art and politics, have the opportunity to develop a project using the resources of The New School and to work with students and faculty. They will receive a $10,000 stipend.

For a full schedule of events for the inaugural Vera List Center Forum, visit the VLC website.