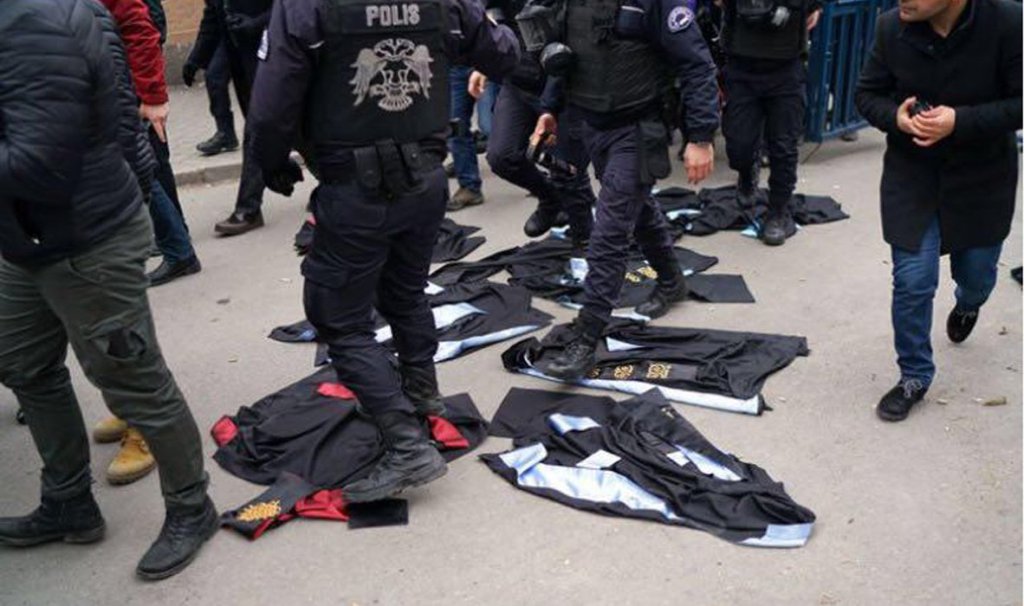 "In Ankara, police trample academic regalia laid down in protest against the dismissal of academics from universities © 2017 Reuters/Umit Bektas.

NEW YORK, NY, August 30, 2018 — Amid new U.S. immigration policies and threats to academic freedom around the world, a growing group of 11 universities and colleges are joining forces to create The New University in Exile Consortium (The New UIE Consortium) — an initiative in which academic institutions will provide a haven for refugee scholars.


Spearheaded by The New School in New York City, The New UIE Consortium currently includes Barnard College, Brown University, Columbia University, Connecticut College, Georgetown University, George Mason University, Rutgers University-Newark, Trinity College, The New School, Wayne State University, and Wellesley College — a group that is expected to grow in the coming months.

Each institution will provide space and resources to support their hosted scholars. As the administrative base for The New UIE Consortium, The New School will work to foster an intellectual community among the scholars and their host institutions through joint programming. The scholars come from Turkey, Syria, India, and other countries.

The New UIE Consortium takes its name and mission from the first University in Exile (UIE) founded by The New School for Social Research in 1933. Created as Hitler was rising to power — a period in which Jews and those deemed politically hostile were purged from German universities — the original UIE provided a safe haven for scholars whose careers and lives were being threatened by the Nazis. It stood as a bulwark against brutal policies that undermined the independence of thought and research upon and for which universities are founded.


"In bringing scholars from Turkey, Iran, Syria and other countries impacted by authoritarian regimes and conflict, The New School continues to uphold its mission — and the legacy of the University in Exile — by promoting and protecting academic freedom, tolerance, and free and open inquiry," New School President David Van Zandt said. "We are honored to be joined in this bold and courageous effort by other leading academic institutions across the country." (See quotes from presidents and chancellors of additional New UIE Consortium members below.)

"The New UIE Consortium brings our institution's roots — to confront threats to scholars around the world — into the present and future when it is again urgently needed," said Arien Mack, Alfred and Monette Marrow Professor of Psychology at The New School and founder and director of The New UIE Consortium. "It is based on our conviction that the academic community has both the responsibility and capacity to assist scholars in need, by helping to protect the intellectual capital that is jeopardized when universities and scholars are under assault."


In an effort to create a sense of community and reduce feelings of isolation and dislocation among the displaced scholars, The New School will offer a series of seminars, workshops, and other collaborative projects that will bring the scholars into frequent contact with each other and their host colleagues. It is the hope of The New UIE Consortium that working to create a community among the scholars will ease their transition into their new academic homes in the U.S.

The New School will host a launch event for The New UIE Consortium on its campus on September 6, featuring a discussion among David Miliband, President and CEO of the International Rescue Committee and former Foreign Secretary of the United Kingdom, and Kati Marton, Hungarian-American author and journalist and award-winning former NPR and ABC News correspondent. Some comments will also be made by currently hosted endangered scholars from member institutions.

The New UIE Consortium is privileged to have among its newly constituted Advisory Group well-known human rights advocates Aryeh Neier, Kenneth Roth, Masha Gessen, Judith Butler, and Jonathan Fanton.
---
Presidents and chancellors from The New UIE Consortium member universities reflect on the new initiative:

Linda Bell, Barnard College provost and dean of the faculty:
"Ensuring the free and open exchange of ideas among individuals from different cultures and backgrounds is vital for any institution committed to academic excellence. I am certain that The New University in Exile Consortium's efforts will result in exciting new scholarship of genuine purpose and value."
Brown University Provost Richard M. Locke:

"Now more than ever, colleges and universities locally and globally must join forces to keep our intellectual and physical boundaries open and welcoming. That's why we remain committed to hosting students and scholars who may be displaced by war, persecution or other man-made or natural disasters, and providing opportunities to contribute to the advancement of knowledge in relative peace and security."
Safwan M. Masri, Executive Vice President for Global Centers and Global Development at Columbia University:

"Most of the world's 69 million forcibly displaced people live in protracted situations, often deprived of participating meaningfully in the communities in which they reside. Refugee scholars in particular face acute challenges in advancing their academic work, which inhibits their ability to contribute positively to the scholarly community and to the world. Columbia University and its Global Centers, in partnership with the New School and eight other universities, is committed to addressing this through the New University in Exile, which will nurture scholars in exile and provide them with opportunities to reintegrate into the academic community. By providing these exiled scholars with access to educational resources, support in building their professional networks, platforms to share their expertise, and showcases for their value to the global academic community, The NEw UIE Consortium can help address one of the world's most urgent and important challenges."
Nancy Cantor, chancellor of Rutgers University – Newark:
"As we strive to achieve a more just world and leverage diversity to find more insightful, more innovative, and more sustainable solutions to our shared global challenges, it is essential to protect the most vulnerable among us. As a higher education institution that from its founding has been a cultivator of diverse talent from around the world, an institution that is not just in but of a historic American city—Newark, New Jersey—whose cultural, civic, and economic vitality have been redefined generation after generation by waves of freedom- and opportunity-seeking migrants, we could not be more proud to join The New UIE Consortium."
Tim Cresswell, Trinity College dean of the faculty and vice president for academic affairs:
"The practice of academic freedom by scholars around the world has often proved threatening to those who seek unquestioned rule. It is not surprising, therefore, that many great scholars, from Albert Einstein to Theodor Adorno, have also been exiles. Trinity College is delighted to be part of this important project finding homes for scholars in a troubled world."
Andy Shennan, Provost and Lia Gelin Poorvu '56 Dean of the College, Wellesley College:
"Wellesley is joining this Consortium not just because we recognize our responsibility, as a liberal arts college, to provide refuge to scholars who have been displaced or threatened by illiberal regimes, but also because we see powerful opportunity in the creation of a new network for these scholars and for the institutions that share our commitment to their cause."