PARSONS SCHOOL OF DESIGN PRESENTS STREET SEATS, A SUSTAINABLY DESIGNED POP-UP SEATING SPACE FOR NEW YORKERS TO SIT, SOCIALIZE, AND PEOPLE-WATCH
A program of the New York City Department of Transportation, Street Seats enables the creation of seasonal public open spaces at locations where sidewalk seating is not typically available

Parsons' Street Seats will be located on the northeast corner of 13th Street and 5th Avenue, adjacent to the University Center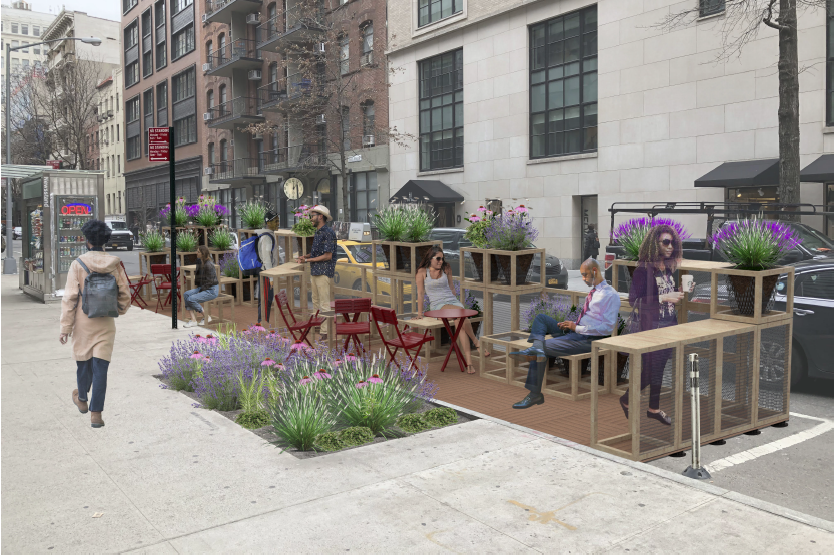 Street Seats, a sustainably designed temporary public space for New Yorkers to sit, socialize, and people-watch.

NEW YORK, NY, May 15, 2018 — Parsons School of Design at The New School presents Street Seats, a sustainably designed temporary public space for New Yorkers to sit, socialize, and people-watch. It will be unveiled May 15.

Designed and constructed by undergraduate Architecture, Interior Design, Product Design, and Food Studies students, with assistance from Design and Technology and Lighting Design graduate students, the project sits in two parking spaces at the northeast corner of Fifth Avenue and 13th Street in Greenwich Village. Street Seats is an elective design-build class, now in its fourth iteration, offered within Parsons' School of Constructed Environments.

The Parsons Street Seats has been designed with an eye toward sustainability. Repurposed fishing net is used as netting for seats, planters, and screens; naturally rot resistant Western red cedar is used for the structural modules and countertops; and coconut fiber and jute webbing, both of which are biodegradable, are used for the planters.

Operating independently from the electric grid, the lighting system uses solar panels, batteries, and energy efficient LED lighting that is activated by a daylight sensor to provide artificial light after sundown.

Additionally, planters are installed on the edges of the seating area to reduce noise from the street and provide a pleasant environment in which to sit and relax. Herbs and native plants were chosen for their fragrance, to attract pollinators, and their ability to thrive in the urban environment in New York City. Thirteen species of plants will provide a variety of blooms and changes in color throughout the growing season. 

The design was reviewed by Silman Structural Engineers. Seeds were donated by the Greenbelt Native Plant Center; Sam Robinson of Greenwood Robinson contributed gravel for the planters; Voltaic Systems provided material and consulting support for solar-powered lighting; and Van Houten Farms and Westco FG Corp.provided additional discounts on materials. 
Parsons School of Design at The New School, founded in 1896, is one of the leading institutions for art and design education in the world. Based in New York but active around the world, the school offers undergraduate and graduate programs in the full spectrum of art and design disciplines, as well as online courses, degree and certificate programs. Critical thinking and collaboration are at the heart of a Parsons education. Parsons graduates are leaders in their respective fields, with a shared commitment to creatively and critically addressing the complexities of life in the 21st century.

Founded in 1919, The New School was born out of principles of academic freedom, tolerance, and experimentation. Committed to social engagement, The New School today remains in the vanguard of innovation in higher education, with more than 10,000 undergraduate and graduate students challenging the status quo in design and the social sciences, liberal arts, management, the arts, and media. The New School welcomes thousands of adult learners annually for continuing education courses and calendar of lectures, screenings, readings, and concerts. Through its online learning portals, research institutes, and international partnerships, The New School maintains a global presence. Learn more at newschool.edu.