the new school's college of performing arts announces robert hurwitz, visionary music producer, as Aaron Copland fellow
As Aaron Copland Fellow, Hurwitz Will Create New Learning Opportunities Across the College of Performing Arts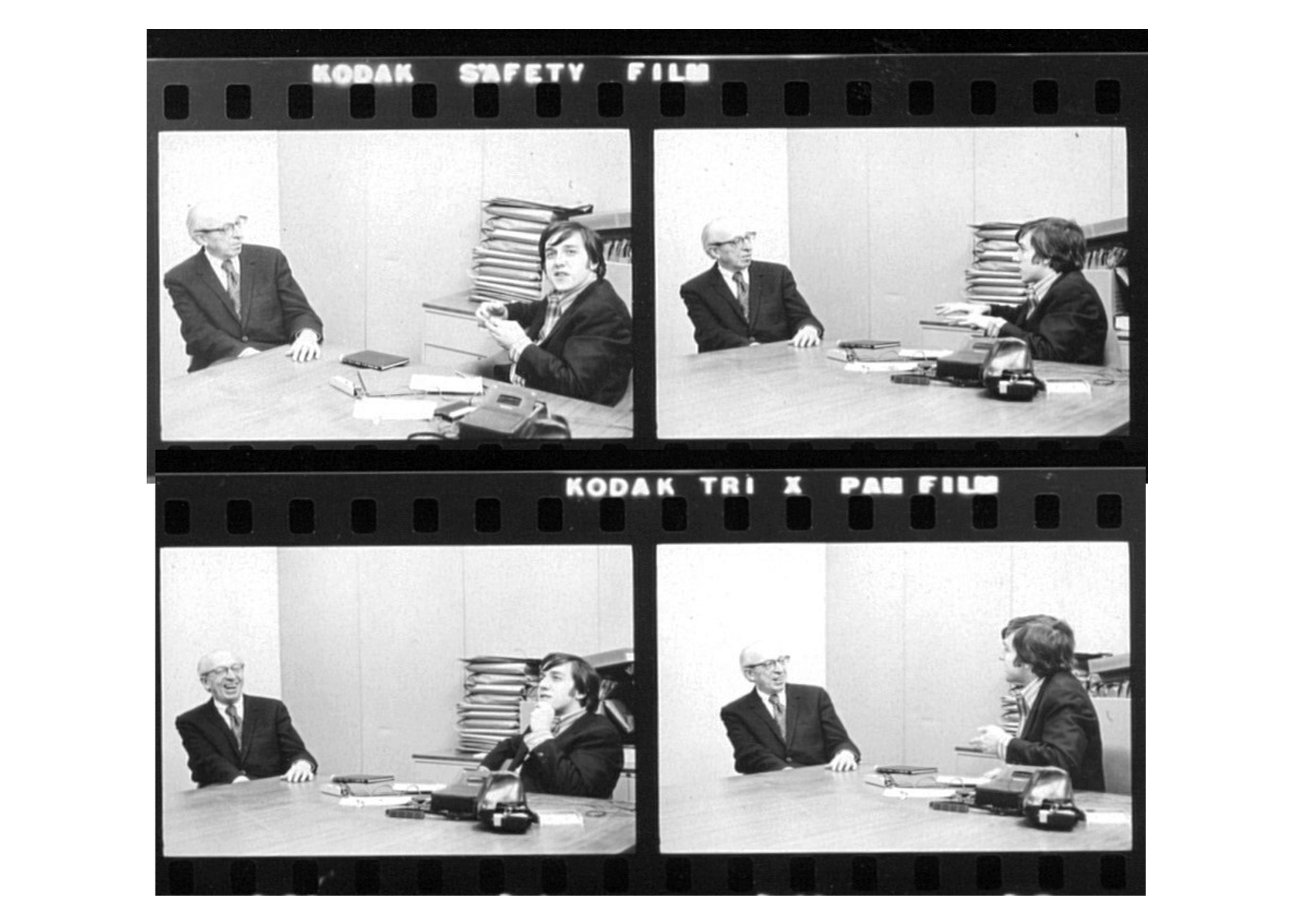 Robert Hurwitz with Aaron Copland in 1973. Photo by David Gahr.
New York, April 25, 2018 – The New School's College of Performing Arts (CoPA) announced today that Robert Hurwitz, Chairman Emeritus and former President of Nonesuch Records, has been named the Aaron Copland Fellow at the university's College of Performing Arts, expanding upon a decade-long teaching relationship with The New School.
"Under Bob's visionary leadership, Nonesuch Records has provided an unparalleled platform for many of the most important and interesting artists of the late 20th and early 21st century, including John Adams, Laurie Anderson, Philip Glass, Richard Goode, Brad Mehldau, Steve Reich, the Kronos Quartet, and so many more," said College of Performing Arts Executive Dean Richard Kessler. "Expanding Bob's role at The New School through the Aaron Copland Fellowship means that more students at The College of Performing Arts will have the opportunity to learn from one of the most important music industry visionaries of our time."
As the Aaron Copland Fellow, Hurwitz will play an important role in the continuing development of CoPA's new Master's in Arts Management and Entrepreneurship, which welcomed its first cohort in Fall 2017. Drawing on his landmark tenure as President of Nonesuch Records, Hurwitz will provide educational and practical training for musicians and artists who are navigating between the worlds of art and commerce, and lead students in an examination of the impact of the digital revolution on the performing arts and artists.

"Aaron Copland's music has been a life-long companion and as the years go on I find myself more and more deeply moved whenever I hear his music," says Hurwitz. "I also had the great privilege of meeting with Copland a few times in my early 20s when I worked at Columbia Masterworks. It is a great honor to be awarded a teaching fellow position that bears his name, and I am so grateful to Richard Kessler and The New School's College of Performing Arts for this recognition. "
Hurwitz was President of Nonesuch Records from 1984 to 2017, where he signed and worked with artists including Caetano Veloso, Chris Thile, Jeremy Denk, Stephen Sondheim, Audra McDonald, Randy Newman, Joshua Redman, The Magnetic Fields, John Zorn, Adam Guettel, as well as those mentioned above. Hurwitz is credited with helping the company expand their offerings by signing artists of diverse genres, including jazz, bluegrass, musical theater, and rock.
In naming Robert Hurwitz as the Aaron Copland Fellow, The New School is reaching back into its 100 year history, recognizing the long-term and ground breaking tenure of Copland as a faculty member at The New School. Copland had a decade-long tenure at The New School where he taught a range of courses and developed much of the content for his important book, What to Listen for in Music.
The New School's College of Performing Arts (CoPA), formed in the fall of 2015, brings together Mannes School of Music, the iconic 100-year-old conservatory; the legendary New School for Jazz and Contemporary Music, and the innovative and ground-breaking School of Drama. With each school contributing its unique culture of excellence, the College of Performing Arts creates opportunities for cross-disciplinary collaboration, innovative education, and world-class performances. As part of the formation of The College, Mannes has moved into the newly renovated Arnhold Hall in Greenwich Village, a state-of-the-art facility designed especially for the performing arts. Also housed in Arnhold Hall are The School of Jazz and the School of Drama's BFA program. As a part of The New School, students and faculty across the College of Performing Arts experience a supportive and rigorous environment with enhanced opportunities to collaborate with colleagues in a wide array of disciplines, from the visual arts and fashion design, to the social sciences, to public policy and advocacy, and more. CoPA has over 900 degree and diploma seeking students, including a variety of programs at the undergraduate and graduate level, as well as an additional 400 pre-college students at Mannes Prep.
Founded in 1919, The New School was born out of principles of academic freedom, tolerance, and experimentation. Committed to social engagement, The New School today remains in the vanguard of innovation in higher education, with more than 10,000 undergraduate and graduate students challenging the status quo in design and the social sciences, liberal arts, management, the arts, and media. The New School welcomes thousands of adult learners annually for continuing education courses and calendar of lectures, screenings, readings, and concerts. Through its online learning portals, research institutes, and international partnerships, The New School maintains a global presence.