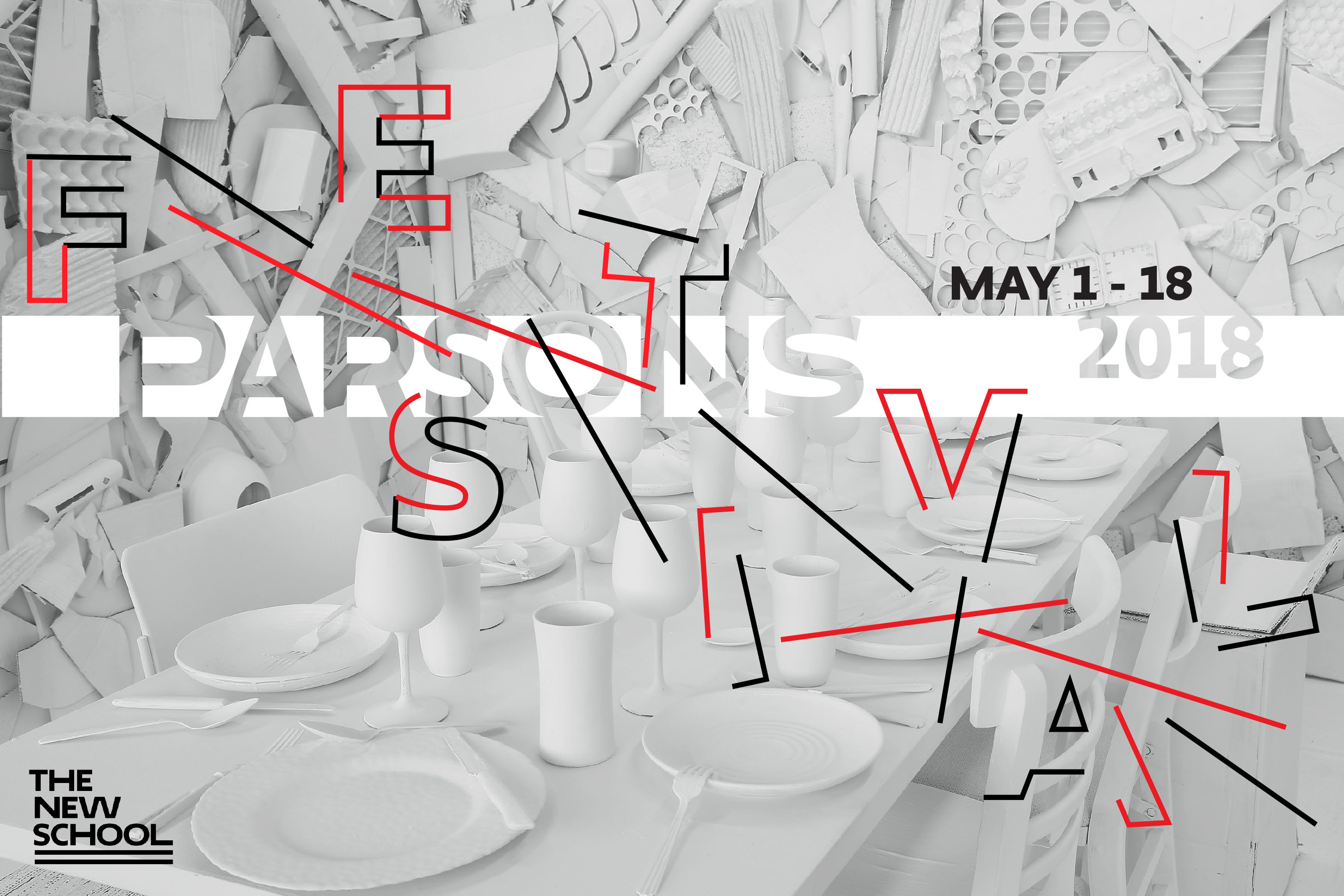 Parsons Festival 2018 is a celebration of the leading art and design school and the creative and intellectual achievements of its graduating students.

NEW YORK, May 8, 2018 — The New School's Parsons School of Design presents Parsons Festival 2018, a celebration of the leading art and design school and the creative and intellectual achievements of its graduating students.
Running through May 18, the festival features exhibitions and sales of student work, public programs, interactive installations, and workshops across The New School's Greenwich Village campus and at venues throughout New York City, including Aperture, the Westbeth Gallery, and Roche Bobois' Madison Avenue showroom. This year's festival is once again part of NYCxDESIGN, New York City's citywide celebration of design.
The following is a closer look at standout projects by Parsons' accomplished class of artists, designers, architects, photographers, filmmakers, technologists, scholars, and strategists.
Street Seats / Students from BFA Product Design, BFA Architectural Design, BFA Interior Design, MFA Lighting Design, and MFA Design and Technology
Students transformed the sidewalk at the southeast corner of Fifth Avenue and 13th Street into a space for New Yorkers to sit, socialize, and people watch. Designed with an eye to sustainability, the fourth iteration of the annual project is built with netting from repurposed fishing net, biodegradable coconut fibers and jute webbing, and naturally rot-resistant western red cedar. A lighting system using solar panels, batteries, and energy-efficient LED lighting is activated by a daylight sensor, providing artificial light after sundown.
Seating for Eating: Partnership with Roche Bobois / MFA Industrial Design and BFA Product Design Students
Parsons School of Design and Roche Bobois showcase 16 functional, full-scale furniture prototypes designed by Parsons students for the leading design brand's Design Awards competition. In response to the theme "Seating for Eating," students created prototypes to reinvigorate "the cultural and historical rituals of resting, gathering, and nourishing the body." On view May 10–23, 10:00 a.m.–7:00 p.m. Roche Bobois Showroom, 200 Madison Avenue.
Research_Tech+Fashion+Design / Yang Zhang, AAS Fashion
In his work, Zhang attempts to digitally decode the structure of the body. Using Adobe SketchUp as his mapping tool, he creates a hyper-realized form of the human figure, which he uses to design his garments. Yang's pieces include exaggerated arms, legs, and torsos that are recreated as gloves, pants, and jackets, respectively.
Designing for Transitions in Cancer / Javi Arenas and Emma Eriksson, MFA Transdisciplinary Design
Working in partnership with Memorial Sloan Kettering Cancer Center, Arenas and Eriksson explore how design can play a role in creating a more supportive environment during transitions—between being diagnosed and beginning treatment, and between finishing treatment and beginning years of screening and monitoring—experienced by cancer patients.
White Enough / Paula Elizabeth Mateo, BFA Fine Arts
In White Enough, Mateo uses artificial and real hair to explore ideas of beauty imposed by systemic racism on the Afro-Latinx community. The work speaks to self-hatred, racism, confusion of origin, and the stigma resulting from refusal to conform to Eurocentric standards. Mateo pulls, untangles, twists, fluffs, sets, and sews together hair of different textures and colors, combing it into a single piece. She pierces it with nails, symbolically penetrating each strand with the expectations of society.
Clusters of Tweets: Responses to #metoo / Ellie Frymire, MS Data Visualization
Last October, several women came forward with allegations of sexual assault and harassment against Harvey Weinstein, sparking the #metoo movement. In Clusters of Tweets: Responses to #metoo, Frymire analyzes the scope of #metoo tweets and visualizes the language contained therein.
Research on Street Lighting Conditions in NYCHA Housing / Iris Ahn, MFA Lighting Design
Working with associate professor of lighting design Craig Bernecker, Ahn explores the relationship between the street lighting conditions and the perceived level of safety at Jacob Riis Houses in Queens. The goal of this study is to see whether lighting design could be used to improve the quality of life and and create a safer urban environment.
Citize* / Nicole Collis, BBA Strategic Design and Management
Citize* is a digital platform through which students from The New School help students from the Idea Platform at the University of Puerto Rico, Mayaguez campus, launch start-up companies by providing emotional, financial, and intellectual support. A response to both the Puerto Rican debt crisis and the devastation caused by Hurricane Maria, Citize* offers an innovative alternative to traditional humanitarian responses through long-term sustainable economic solutions.
Sonder and Bazaar / Jesse Cermak, BFA Interior Design
Sonder and Bazaar is an LGBTQ+ hub, market, and housing environment that provides a space in which homeless youth who are active artists, designers, and creators can pursue their craft. The various programs hosted by Sonder and Bazaar provide employment opportunities through permanent shops as well as a space for makers to sell their goods.
Borrowed Good / Erin Tilley, MS Strategic Design and Management
Borrowed Good is a scalable systems approach to reducing plastic consumer waste, starting with disposable utensils. Washable metal utensils are delivered by subscription to restaurants for takeout use, customers place the used utensils in conveniently located deposit boxes, and the dirty utensils are collected from the deposit locations, washed, and redistributed to restaurants.