THE NEW SCHOOL LAUNCHES A SUSTAINABILITY CONTEST ON EARTH DAY USING MTA METROCARDS — 50,000 METROCARDS WILL INCLUDE A CHALLENGE FOR SUBWAY RIDERS: "HOW WOULD YOU MAKE NYC MORE SUSTAINABLE?"
This is the first time a contest of this kind will be advertised on Metrocards

New Yorkers are invited to enter the contest by posting their sustainability idea to social media using the hashtag #NewSchoolNewPath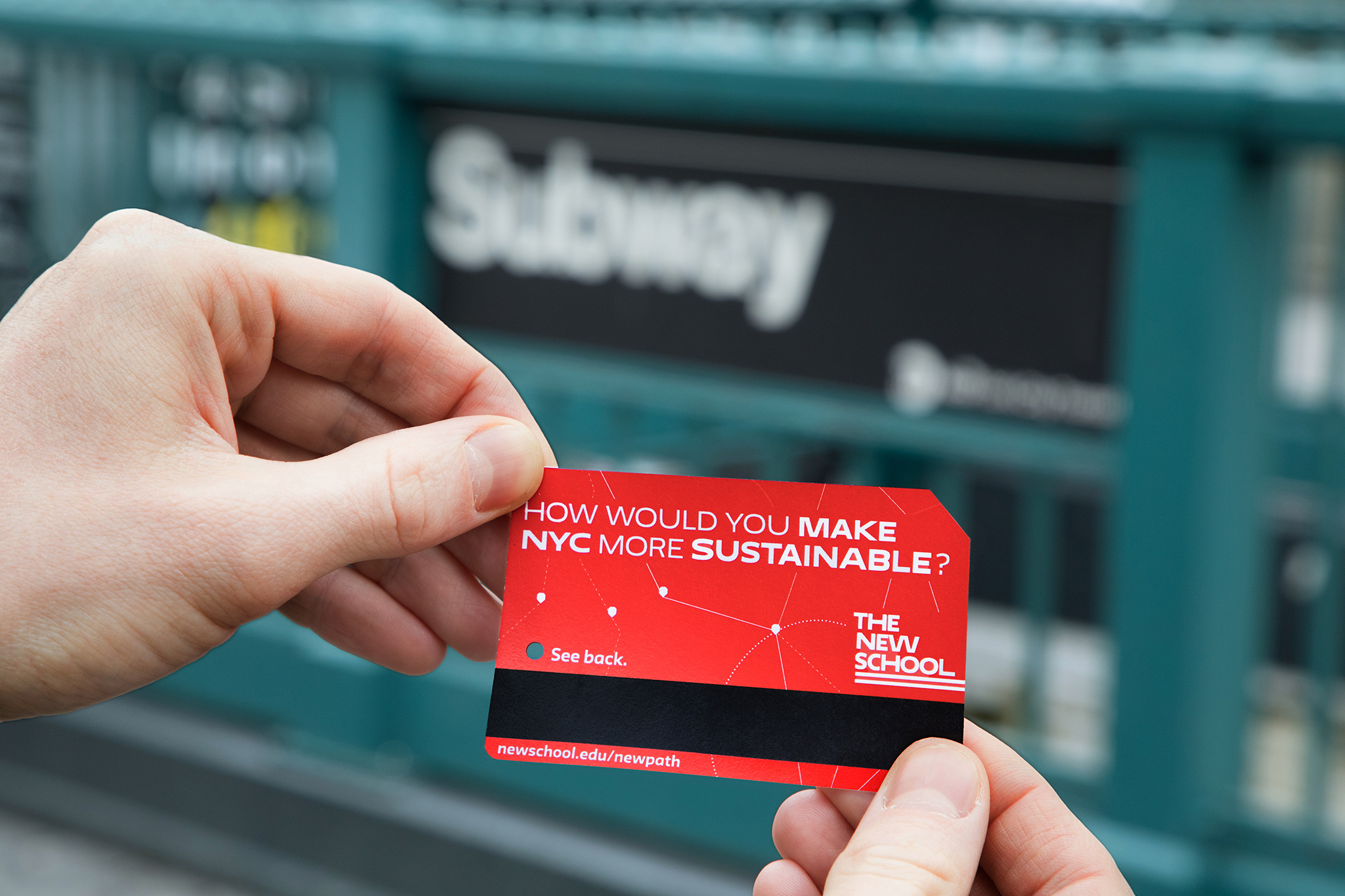 The New School will be using MetroCards to launch a unique contest in which New Yorkers will be asked — via an announcement printed on the back of 50,000 subway cards — 'How would you make New York City more sustainable?"
NEW YORK, April 12, 2018 — The New School, a university in Greenwich Village, will be using MetroCards to launch a unique contest in which New Yorkers will be asked — via an announcement printed on the back of 50,000 subway cards — 'How would you make New York City more sustainable?"
This is the first time the MTA will be used by an educational institution to launch a contest, and the first time such an initiative will be advertised on Metrocards.
The New School will be handing out MetroCards with two free trips and helping New Yorkers post sustainability ideas to social media using the hashtag #NewSchoolNewPath at Union Square on Earth Day, Sunday, April 22.
The winner of the contest will get funding to realize his or her project, as well as mentoring and guidance from New School faculty and students. New Yorkers who do not receive a MetroCard can enter the contest on The New School's website.
Founded in 1919, The New School was born out of principles of academic freedom, tolerance, and experimentation. Committed to social engagement, The New School today remains in the vanguard of innovation in higher education, with more than 10,000 undergraduate and graduate students challenging the status quo in design and the social sciences, liberal arts, management, the arts, and media. The New School welcomes thousands of adult learners annually for continuing education courses and calendar of lectures, screenings, readings, and concerts. Through its online learning portals, research institutes, and international partnerships, The New School maintains a global presence.

MARKETING AND COMMUNICATION
79 Fifth Avenue
New York, NY 10003
www.newschool.edu
PRESS RELEASE
Media Contacts:
Scott Gargan,
The New School
212-229-5667 x 3794
gargans@newschool.edu