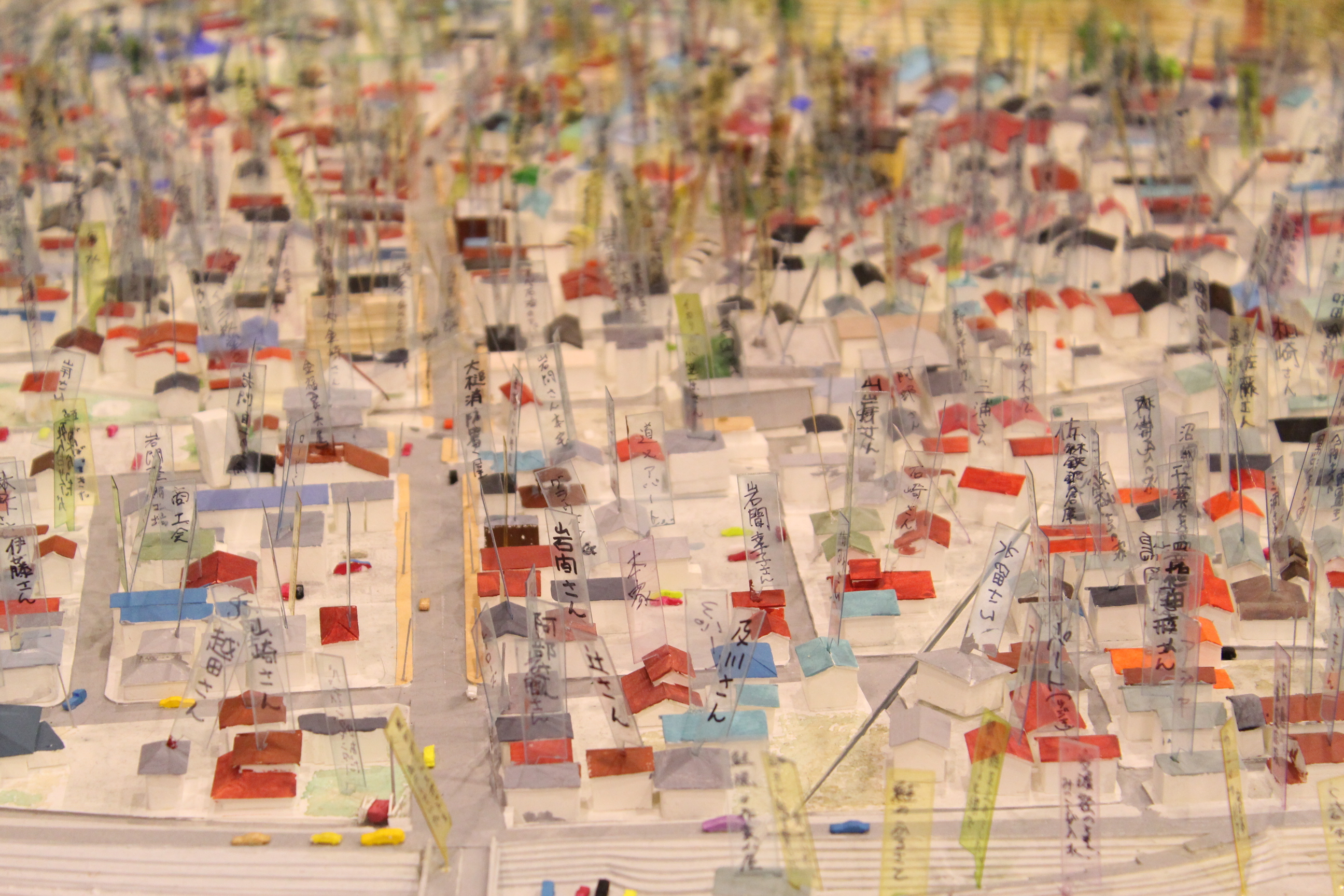 "Lost Homes" Model, Osamu Tsukihashi (Photo courtesy: KIITO)
NEW YORK, NY, September 10, 2018 — Parsons School of Design at The New School and The Japan Foundation Asia Center announce the opening of "Earth Manual Project – This Could Save Your Life," featuring design solutions for disaster preparedness. The exhibition is on view September 27 through December 12 at Parsons' Sheila C. Johnson Design Center.
"Earth Manual Project – This Could Save Your Life" showcases some of the best practices for dealing with disasters at different stages — from preparedness education to response and relief efforts — with a particular focus on creative design ideas. Originating in Japan, the exhibition features work from countries where natural disasters are frequent, such as Indonesia, Thailand, and the Philippines. Projects introduced in the exhibition utilize distinctly creative and innovative approaches to disaster issues.
The exhibited projects include:
Emergency! Kaeru Caravan! (Japan), an emergency drill program for families that has become extremely popular in Japan due to its engaging educational programming and game-like activities. The program is conducted in tandem with a popular toy exchange event. Versions of the project have been implemented in 19 different countries.
How to Craft Safety (Japan), brief video clips produced by NHK World-Japan (Japan Broadcasting Corporation) that show how to quickly create items that may be needed after a disaster, such as origami plates made of newspaper and beds made of cardboard boxes.
HANDs! Project (Japan + 8 countries), an annual initiative in which students and young professionals from nine Asian countries learn and produce innovative disaster prevention programs. The initiative has had 100 participants and 27 outcome projects since 2014, reaching more than 90,000 people on the ground. HANDs! has received extensive mainstream media coverage (TV, magazines, newspapers, online media) in Association of Southeast Asian Nations countries and Japan. For more information, visit HANDs! Project.
Roo su Flood videos (Thailand), an educational tool using animation for dealing with events that could happen before, during, and after flooding.
Lost Homes (Japan) is an architectural model showing a town before it was destroyed by a tsunami caused by the 2011 Great East Japan Earthquake. As part of a healing process, survivors added details such as roof colors and names of residents.
"Earth Manual Project – This Could Save Your Life" is accompanied by "Disaster Preparedness in the Constructed Environment," an exhibition featuring projects by Parsons School of Design students created during a weeklong disaster preparedness design intensive in fall 2017. Working in a variety of design fields, including architecture, interior design, lighting design, product design, and industrial design, students based projects on case studies provided by the Zolberg Institute on Migration and Mobility at The New School for Social Research on Hurricane Sandy, the 1977 and 2003 blackouts in New York, and the September 11 terrorist attacks.
Parsons students will participate in a second design intensive September 24-28.
"Confronting the very real threat of natural and man-made disasters, this school-wide initiative reflects Parsons' and the Japan Foundation's commitment to working collaboratively and across disciplines to confront one of the most pressing issues of our time," says Robert Kirkbride, dean of Parsons' School of Constructed Environments. "With the effects of climate change becoming increasingly apparent in the form of extreme weather conditions and rising sea levels, the need for such action is becoming more and more urgent."
In conjunction with the exhibition, a panel discussion bringing together three experts on disaster preparedness and their innovative contributions will take place at the Zolberg Institute on Migration and Mobility on November 13, and atJapan Society, New York, on November 14, 2018.
"Earth Manual Project – This Could Save Your Life" is a collaboration between The Japan Foundation Asia Center and Parsons School of Design at The New School, in cooperation with Design and Creative Center Kobe (KIITO) / Plus Arts. It is curated by Hirokazu Nagata, President of Plus Arts and Vice Director of KIITO. The inaugural Earth Manual Project exhibition was held in 2013 at KIITO in Kobe-city, Hyogo, Japan. It has since traveled to several venues in the Philippines and Thailand; this New York exhibition marks its North American debut.