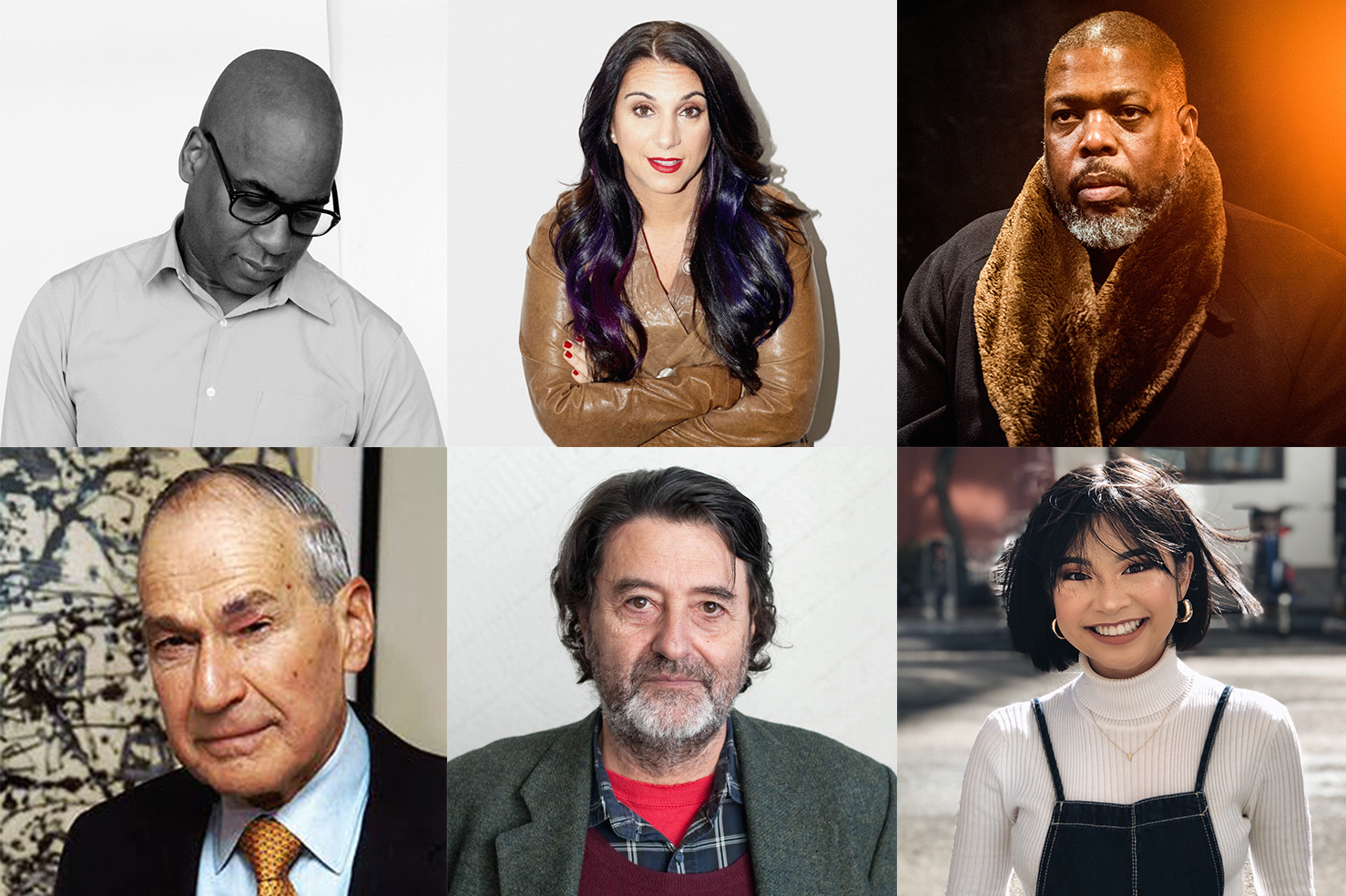 Clockwise from left: The New School honorary degree recipients Glenn Ligon, Nancy Lublin, and Hilton Als; student Commencement speaker Yu Ling Wu; and honorary degree recipients Camilo José Vergara, and Michael Gellert.
NEW YORK, April 2, 2018 — Preeminent multimedia artist Glenn Ligon; Pulitzer Prize-winning critic Hilton Als; photographer and documentarian Camilo José Vergara; social entrepreneur and Crisis Text Line CEO Nancy Lublin; and philanthropist, Windcrest Partners co-founder, and longtime New School Trustee Michael Gellert will receive honorary degrees and address graduates at The New School's 82nd commencement exercises on Friday, May 18 at 11:30 a.m.
New School President David E. Van Zandt will preside over the ceremony, which will take place at the Arthur Ashe Stadium at the USTA Billie Jean King National Tennis Center in Flushing Meadows-Corona Park, Queens. This marks the second year that The New School will hold its commencement exercises at the legendary venue. The ceremony will be broadcast live on Livestream.
Dispensing with the formalities and extended speeches, the honorary degree recipients will take turns delivering brief, impactful talks that get to the heart of their advice to The New School's graduating class.
"We at The New School are thrilled to honor Glenn Ligon, Hilton Als, Camilo José Vergaral, Nancy Lublin, and Michael Gellert — inspiring individuals who, through their art, writing, photography, social entrepreneurism, and public service have worked to address pressing social issues and challenge the status quo," Van Zandt said. The honorees are:
Glenn Ligon is a multimedia artist whose work explores history, language, and cultural identity through painting, neon, photography, sculpture, print, installation, and video. He is best known for his landmark series of highly textured text-based paintings, which draw on the writings and speech of diverse figures such as Jean Genet, Zora Neale Hurston, Gertrude Stein, Richard Pryor, and Walt Whitman (the poet inspired For Comrades and Lovers, a site-specific work on display at The New School's University Center). Ligon has earned numerous awards for his work, including the John Simon Guggenheim Memorial Foundation Fellowship in 2003, the Skowhegan Medal for Painting in 2006, and the Studio Museum's Joyce Alexander Wein Artist Prize in 2009.
Nancy Lublin is a social entrepreneur who uses tech and design to develop life-changing solutions to real-world problems. She is the founder and CEO of Crisis Text Line, the nation's first free 24/7 text line for people in crisis, as well as the creator of Dress for Success, the non-profit that provides professional attire and career development to underprivileged women. Lublin was called one of the "most creative people in business" by Fast Company, one of the "World's 50 Greatest Leaders" by Fortune, Woman of the Year by the New York Women's Commission, and one of the Schwab Foundation's 2014 Social Entrepreneurs of the Year.
Hilton Als is a writer, curator, professor, and critic who examines the arts and their place in a changing world where views of race, class, gender, and sexuality are constantly developing. He currently serves as the theater critic for The New Yorker, where his work earned him the 2017 Pulitzer Prize for Criticism. Additionally, he was awarded a Guggenheim for creative writing in 2000 and the George Jean Nathan Award for Dramatic Criticism for 2002-03, and the Lambda Literary's Trustee Award for Excellence in Literature in 2016. His most recent book, White Girls, was a finalist for the National Book Critics Circle Award and the winner of the Lambda Literary Award in 2014.
Camilo José Vergara is a Chilean-born, New York-based writer, photographer and documentarian. For more than four decades, Vergara has been devoted to photographing and systematically documenting the poorest and most segregated communities in urban America, including East Coast cities such as New York, Newark and Camden, rust belt cities of the Midwest like Detroit and Chicago, and West Coast cities as Los Angeles and Richmond, California. In 2013, Vergara was presented with the National Humanities Medal by President Obama, becoming the first photographer to receive the award.
Michael Gellert is a philanthropist, general partner and co-founder of Windcrest Partners, an evergreen venture capital and private equity partnership that invests in energy, entertainment, healthcare administration, and Internet technology, among other industries. He serves on the boards of various non-profits, including the Caramoor Center for Music and the Arts, Human Rights Watch, and Carnegie Institution for Science (Chairman 2003 to 2013). Gellert has also served on The New School's Board of Trustees for more than three decades. During his tenure, Gellert has been active on nearly all of the university's committees, and his interest in the arts and public policy has kept him engaged with the core academic mission of the university.
Yu Ling Wu, the student Commencement speaker, will graduate with a BAFA degree in Theater at Eugene Lang College with a minor in Ethnicity and Race and Integrated Design at Parsons School of Design. A first and half generation immigrant from San Francisco, Wu's artistic work sits at the intersection of vulnerability, humor, and love. At The New School, she has found a home at 13th Street Residence Hall, where she was a Resident Advisor for three years. At Lang, she developed collective action projects with the Gural Scholars program. In 2017, she was awarded the Lang Global Ambassadors Award as well as the Gilman Scholarship to support the creation of a solo performance in Berlin, which will premiere this April at Mabou Mines; and she received the 2018 Sekou Sundiata Outstanding Creative Project in the Arts Award for her Know Your Rights Immigrant Artist book.
Following the graduation ceremony, The New School will host a celebratory festival featuring a DJ, Haiku writers, a pop-up shop of New School-themed swag from The New Store, T-shirt silkscreening, and local food trucks.
The New School's Class of 2018 is made up of more than 2,000 associate's, bachelor's, master's, and doctoral graduates in art and design, the social sciences, the humanities, management, and the performing arts. This is the first graduating class of the MPS Communication Design and MA Arts Management and Entrepreneurship.