vera list center for art and politics at the new school marks 25 years of confronting contemporary issues at the intersection of art and politics
25th Anniversary Conference, Biennial Prize, Exhibition and Events Announced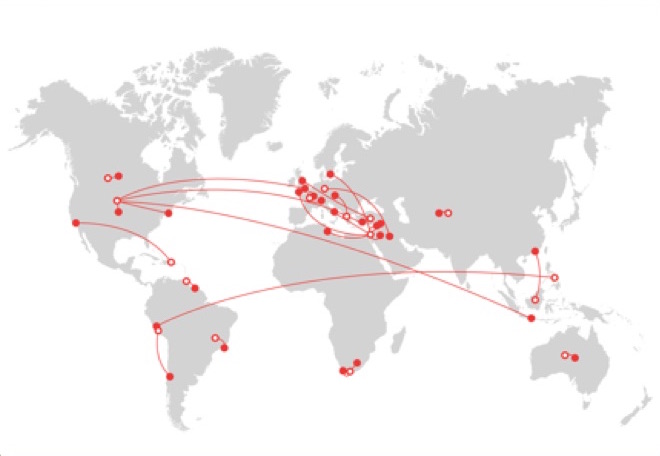 The Vera List Center for Art and Politics (VLC) at The New School celebrates its 25th anniversary with a series of dynamic events in the fall.
NEW YORK, September 7, 2017 — The Vera List Center for Art and Politics (VLC) at The New School — the only organization focused exclusively on advancing research, scholarship and public discourse on contemporary issues at the intersection of art and politics — announces a series of dynamic events celebrating its 25th anniversary in the fall, including an exhibition by Brazilian artist Maria Thereza Alves that explores colonialism, slavery and the global commerce of goods through displaced plants in ballast — the waste material historically used to balance ships in maritime trade.
A scholarly research center and public forum for art, culture and politics, the VLC has championed the arts as expressions of political moments since its founding in 1992 amid the Culture Wars. Today, debates around freedom of speech, identity politics and society's investment in the arts make the VLC's charge as critical now as it has ever been.
"The Center's work is more relevant than ever, as we find ourselves in a political climate not unlike the one that led to our founding in the early 90s," VLC Director Carin Kuoni said. "For our 25th anniversary, we will dive deep into the question of the political relevance of contemporary art. While global regimes of communication and capitalism have destabilized Western representative democracies, artistic projects have inserted themselves successfully in various political contexts. It is exhilarating to examine these forms of political and civic engagement through our programs and the Center's network of international collaborators and partners."
As part of its 2017-2018 anniversary season, the VLC will present an International Biennial Prize Conference on Nov. 3 and 4 at The New School featuring a keynote conversation with Maria Thereza Alves and author and theorist Saidiya Hartman. The conference is accompanied by an exhibition of work by Thereza Alves, the recipient of the Vera List Center Prize for Art and Politics 2016-2018. All events are free and open to the public and registration is open.
Centered on Maria Thereza Alves' exemplary VLC Prize-winning project Seeds of Change and the practices of the Prize finalists, the conference will assemble artists, cultural leaders, scholars, curators, and policy-makers who will explore the field of art and social justice over two days of vigorous conversations and lively events. It will culminate in the keynote and presentation of the Vera List Center Prize for Art and Politics to Alves, followed by the opening of her exhibition Maria Thereza Alves, Seeds of Change: New York—A Botany of Colonization.
"The International Prize Conference will mine the projects of Maria Thereza Alves and the Prize finalists to understand urgent global issues, and to model ways in which the artists successfully address them," said Mary Watson, executive dean of The New School. "New School faculty will join the conference participants, among them artists, curators and scholars from South Africa, Indonesia, Colombia, Mexico, Canada and the U.S."
The five 2016-2018 Prize finalists are London-based interdisciplinary research agency Forensic Architecture; the artists coalition Gulf Labor; House of Natural Fibers (HONF), a new media arts laboratory in Yogyakarta, Indonesia; IsumaTV, a collaborative multimedia platform for indigenous filmmakers and media organization in Canada; and MadeYouLook, an artist collective based in Johannesburg, South Africa.
In spring 2018, the Vera List Center will celebrate the achievements of Vera List Center Fellows over the last 25 years.
The Vera List Center for Art and Politics is a scholarly research center and a public forum for art, culture, and politics. It was established at The New School in 1992—a time of rousing debates about freedom of speech, identity politics, and society's investment in the arts. A pioneer in the field, the Center is a nonprofit that serves a critical mission: to foster a vibrant and diverse community of artists, scholars, and policy makers who take creative, intellectual, and political risks to bring about positive change. For more information, visit the Vera List Center website.
The Vera List Center Prize for Art and Politics is biennial and international, and honors an artist or group of artists who have taken great risks to advance social justice in profound and visionary ways. Juried by a Prize Council of 25 leading international artists, curators, activists and educators, it is awarded for a project's long-term impact, boldness, and artistic excellence. The two-year Prize initiative is an integral part of the intellectual life of The New School and unfolds across various platforms that include an exhibition, prize publication, classes, public programs and an international conference. The inaugural Prize recipient (2012–14) was Theaster Gates for Dorchester Projects, and the 2014–16 Prize winner was Abounaddara, the anonymous collective of Syrian filmmakers.
Founded in 1919, The New School was born out of principles of academic freedom, tolerance, and experimentation. Committed to social engagement, The New School today remains in the vanguard of innovation in higher education, with more than 10,000 undergraduate and graduate students challenging the status quo in design and the social sciences, liberal arts, management, the arts, and media. The New School welcomes thousands of adult learners annually for continuing education courses and calendar of lectures, screenings, readings, and concerts. Through its online learning portals, research institutes, and international partnerships, The New School maintains a global presence. For more information, visit The New School's website.


MARKETING AND COMMUNICATION
79 Fifth Avenue
New York, NY 10003
www.newschool.edu
PRESS RELEASE
Media Contacts:
Scott Gargan,
The New School
212-229-5667 x 3794
gargans@newschool.edu