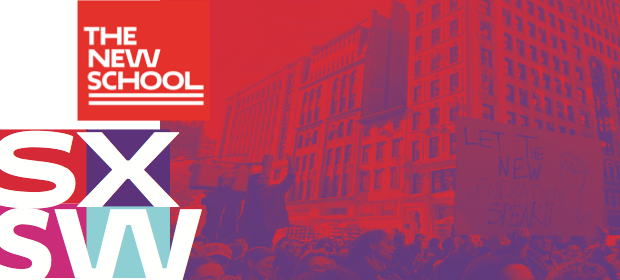 NEW YORK, March 7, 2017 —​ The New School ​— a progressive New York City university comprised of five schools including Parsons School of Design — returns to​ SXSW Interactive in Austin, Texas March 10-15, sharing innovative projects and perspectives that embody ​the university's human­-centered approach to technology and design-inspired solutions to pressing social issues.
Student- and faculty-designed wearable technology projects and specialized talks and workshops by professors and alumni will highlight the university's commitment to confronting real-world problems. They include:

Inclusively Designed Wearables

An exhibition of wearable technology projects by Parsons students, alumni, and faculty members that raise awareness on social and political issues and address human health needs. On view will be garments designed for breast cancer patients who are experiencing physical mobility challenges and millennials suffering from lower back pain; pieces that visualize the dramatic change of global temperature in the last 40 years and aid our understanding of near-Earth asteroids and deep space; and garments that, using Intel technology, transform to allow busy young professionals to transition from casual- to formal-wear and from daytime to nighttime. TheCurrent Mansion, 1309 Meriden Lane. Saturday, 9 a.m.-12 p.m. and Sunday, 3-6 p.m.
Parsons and Panasonic Present Wearable Tech Pieces and Experiences

An exhibition of wearable technology projects and experiences, created by teams of Parsons students and innovators from Panasonic Corporation, that address wellness needs such as sleep and social interaction. One example is Göbie, a bracelet that uses haptic feedback, gesture recognition, and a visual LED language to encourage users to interact outside of a screen interface. Its connected app recognizes when other Gobi users are near and prompts a spontaneous play experience that fosters a sense of community no matter the location. Demos held Saturday through Monday, March 11-13, 9:30 a.m.-8 p.m. and Tuesday, March 14, 9:30 a.m.-5 p.m. Panasonic House (at Parkside), 301 East 6th St.
Metagaming the Future: A Lab for Discussion

A spirited session of Metagame, a custom card game exposing the absurd extremes of opinions on the most important debates of our time (i.e. "Which is more poetic: Tetris or To Kill a Mockingbird?" and "Which is more influential: Duchamp's Fountain or the Big Mac?"). Led by Colleen Macklin, Associate Professor of Media Design, the game and related workshop are designed to spark fresh social discussion, bringing current challenges to light and helping participants to envision potential futures. Sunday, March 12, 10:15-11:15 a.m. Techspace Austin, 45 Brazos Street.
The New Archive: How Tech Democratizes Historical Narratives
A discussion led by New School faculty member Lauren Walsh and VII Agency photojournalist Ron Haviv on Lost Rolls America, a public photo archive that aims to democratize historical narratives by inviting users to submit material that is added to a digital repository of visual memories. The project has been featured in The New York Times and NPR. Monday, March 13, 4:30-5:30 p.m. Techspace Austin, 45 Brazos Street. The talk will be Livestreamed.

Networking For Social Good: Happy Hour Hosted by The New School
A happy hour with New School faculty members who can chat about the myriad ways design and technology can be used to confront pressing social issues and enhance human well-being. The event is part of the Social Good Hub, a creative content venue curated and produced by SXSW Eco. Techspace Austin, 45 Brazos Street. Monday, March 13, 5:30-6:30 p.m.
Digital Equity as Public Policy in the Trump Era
A discussion with Maya Wiley — civil rights activist, former counsel to the Mayor of New York City and vice president of social justice at The New School — on opportunities for expanding high-speed Internet to the 55 million Americans who lack it. Wednesday, March 15, 12:30-1:30 p.m. JW Marriot, 203 and 204, 110 East 2nd Street. The talk will be Livestreamed.