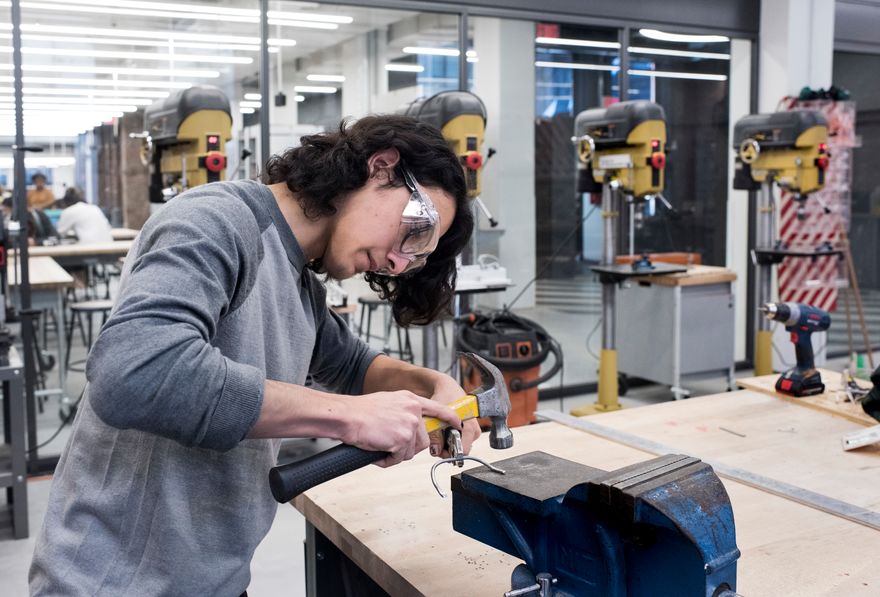 Students at Parsons School of Design at The New School will collaborate with renowned international luxury furniture brand Roche Bobois to design and prototype functional, full-scale seating devices..
November, 2017, New York, NY — Roche Bobois launches the fifth edition of its Design Awards competition in partnership with Parsons School of Design at The New School, giving students the opportunity to collaborate with the renowned international luxury furniture brand to design and prototype functional, full-scale seating devices that have the potential to be manufactured and brought to market.
Driven by the theme "Seating for Eating," students in Parsons' MFA Industrial Design and BFA Product Design programs will create 16 design proposals, one of which will be chosen by Roche Bobois to present at its annual design review for consideration for production. Throughout the design process, Roche Bobois representatives will provide additional support in the form of showroom visits, critique reviews, as well as providing input on feasibility, market appropriateness, and overall project visions.
Roche Bobois is committed to giving young designers the opportunity for exposure at the outset of their career. Since 2009, the brand has organized a design competition to take place in a new country every two years, with the intention of discovering promising young talent from all over the world.
"Whether it is a close partnership with certified or emerging stars, we imagine furniture designed to be functional, to bring about emotion and to respond to the core value of Roche Bobois: design for living or as we like to call it, French Art de Vivre," says Nicolas Roche, Creative Director for Roche Bobois. "With the ambition of always going forward in innovation and new approaches to today's living, helping young designers emerge is one of our 'natural' missions."
"This year's competition theme, 'Seating for Eating' enables our students to conduct focused research on the array of cultural approaches to sharing a meal with the real-world imperative of generating a manufacturable and marketable product in a taut timeline," says Robert Kirkbride, dean of Parsons School of Constructed Environments.
Distinguished internationally as a hub of innovation and creativity, Parsons has trained some of the world's most accomplished artists and designers, including Donna Karan, Marc Jacobs, Norman Rockwell, Isaac Mizrahi, Tom Ford, and Alexander Wang. The school is committed to a design approach that is human centered and socially engaged.
"Consistent with the aims of Parsons Product and Industrial Design programs to interrogate local and global practices and flows of manufacturing and distribution, this collaboration with Roche Bobois provides students an opportunity to innovate with human behavior, fabrication techniques, and brand identity," dean Kirkbride says.
Nicolas Roche, Creative Director, presented Roche Bobois' design brief to students at their Madison Avenue showroom at the end of August. Commenting on the partnership, Nicolas remarked: 'It is absolutely wonderful for Roche Bobois to have the opportunity to work with Parsons, a school known worldwide for the quality of its teaching and the talent of its students. We expect the designing force of Parsons will enrich our brand with their creativity and innovation."
Final concepts will be presented to a selection panel in December comprising of Gilles Bonan, Roche Bobois' CEO; Nicolas Roche, Roche Bobois' Creative Director; Robert Kirkbride, Dean of Parsons' School of Constructed Environments; Barry Richards, Rockwell Group Principal and Studio Leader; and Stephen Burks, winner of the 2015 National Design Award in product design and designer of the Roche Bobois Traveler collection. The winning project will be prototyped in Europe and presented during Roche Bobois' internal Spring 2018 Market and potentially manufactured for retail in Roche Bobois' worldwide network as part of the brand's Fall-Winter 2018 Collection.