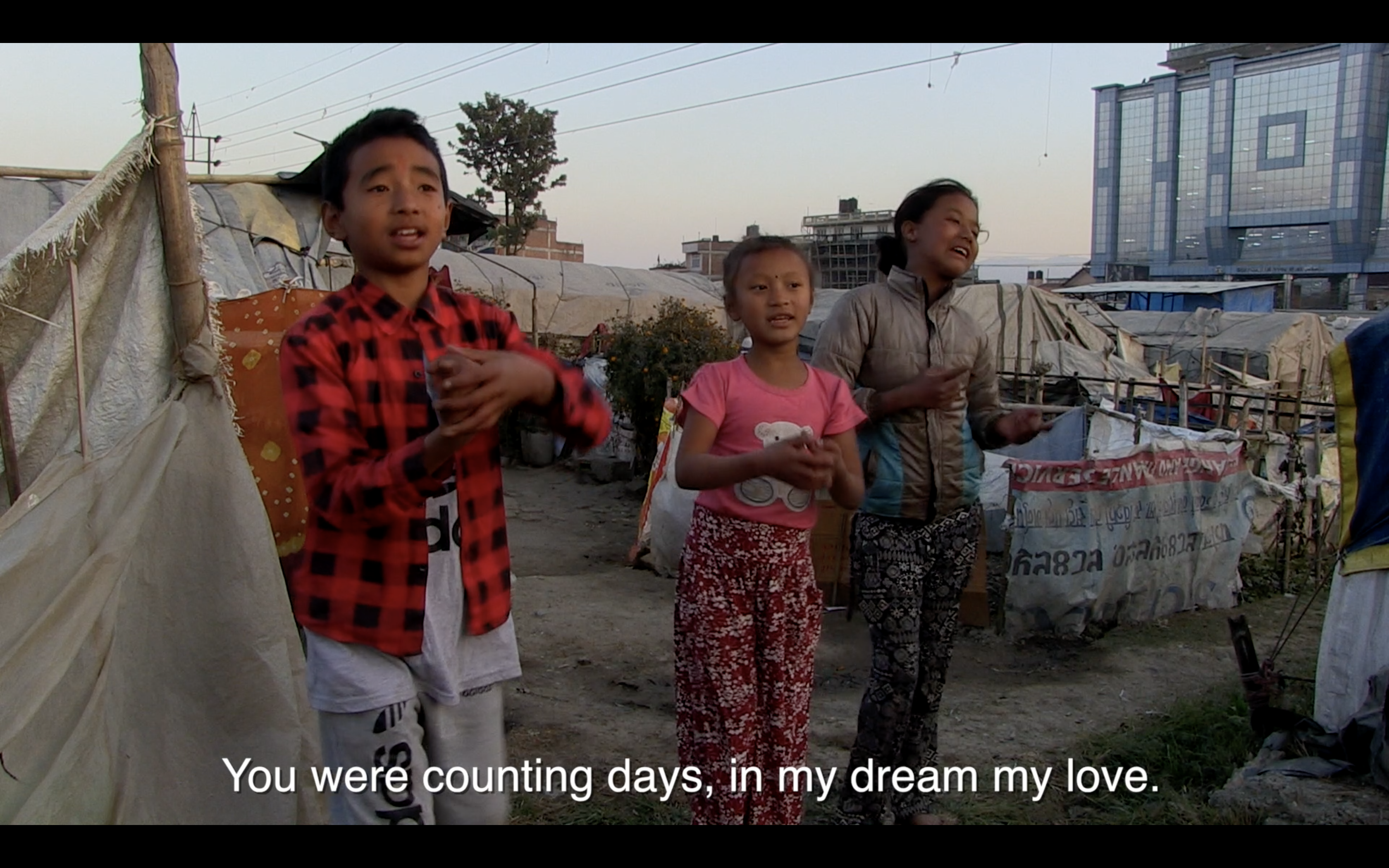 A still from "Songs of Chuchepati Camp," a video by Charwei Tsai & Tsering Tashi Gyalthang is on view in Kailash Cartographies at The Sheila C. Johnson Design Center's Arnold and Sheila Aronson Galleries.

NEW YORK, March 23, 2017 —​ The Sheila C. Johnson Design Center (SJDC) at The New School's Parsons School of Design and the India China Institute (ICI) at The New School present Kailash Cartographies, a multi-media exhibition of artists from India, China, Nepal, and the United States who explore conceptions of sacred geography, particularly in the Himalayas.
The artists in the exhibition pose questions about the nature of both the sacred and the secular by drawing on the points of connection with landscapes and lived worlds. The photographs, videos, works on paper, and installations deploy cartographic modes that are both personal and political.

The title of the exhibition refers to Mount Kailash, the symbolic center of the Buddhist and Bön cosmos and the seat of Shiva for Hindus. Although associated with a multiplicity of geographical sites and religious representations, its earthly manifestation is most often located in Tibet.
"It is the simultaneously singular and plural aspect of this sacred geography that caught our imagination," said Sreshta Rit Premnath, curator of the exhibition and participating artist. "Every gesture within such a geography is both specifically located yet can be powerfully invoked elsewhere."

The exhibition emerges from a three-year research project of the India-China Institute focused on sacred landscapes and sustainable futures in the Himalayas. In conjunction with this endeavor, a group of artists initiated creative explorations in 2015 and 2016. Many of the works in the exhibition were the direct result of a creative workshop convened in Kathmandu in March 2016.
Featured artists are Atul Bhalla, Kevin Bubriski, Vibha Galhotra, Sreshta Rit Premnath, Ashmina Ranjit, Nitin Sawhney, Radhika Subramaniam, Charwei Tsai & Tsering Tashi Gyalthang, Zheng Bo & Jiang Chao and Qiu Zhijie.
Programming associated with Kalish Cartographies include:
Artist Talk: Bo Zheng with Steven Lam
Bo Zheng (born in Beijing, 1974; lives and works in Hong Kong) is an artist, writer, and teacher, committed to socially and ecologically engaged art. He investigates the past and imagines the future from the perspectives of marginalized communities and marginalized plants. He has worked with a number of museums and art spaces in Asia and Europe, most recently Cass Sculpture Foundation (Chichester, UK), TheCube Project Space (Taipei), and Villa Vassilieff (Paris). He will be joined in conversation with Steven Lam, independent curator and director for the School of Art and Design at SUNY Purchase. Wednesday, March 15, 7-8:30 p.m. Kellen Auditorium, 66 Fifth Ave.
Closing Reception
New School faculty, members and ICI staff share stories about doing fieldwork in India, Nepal and Tibet as part of a three-year research project on religion, ecology, and culture in the Himalayas. A photo presentation highlighting some of the key areas from the field research will also be featured. Thursday, March 30, 5-7 p.m. Kellen Auditorium, 66 Fifth Ave.