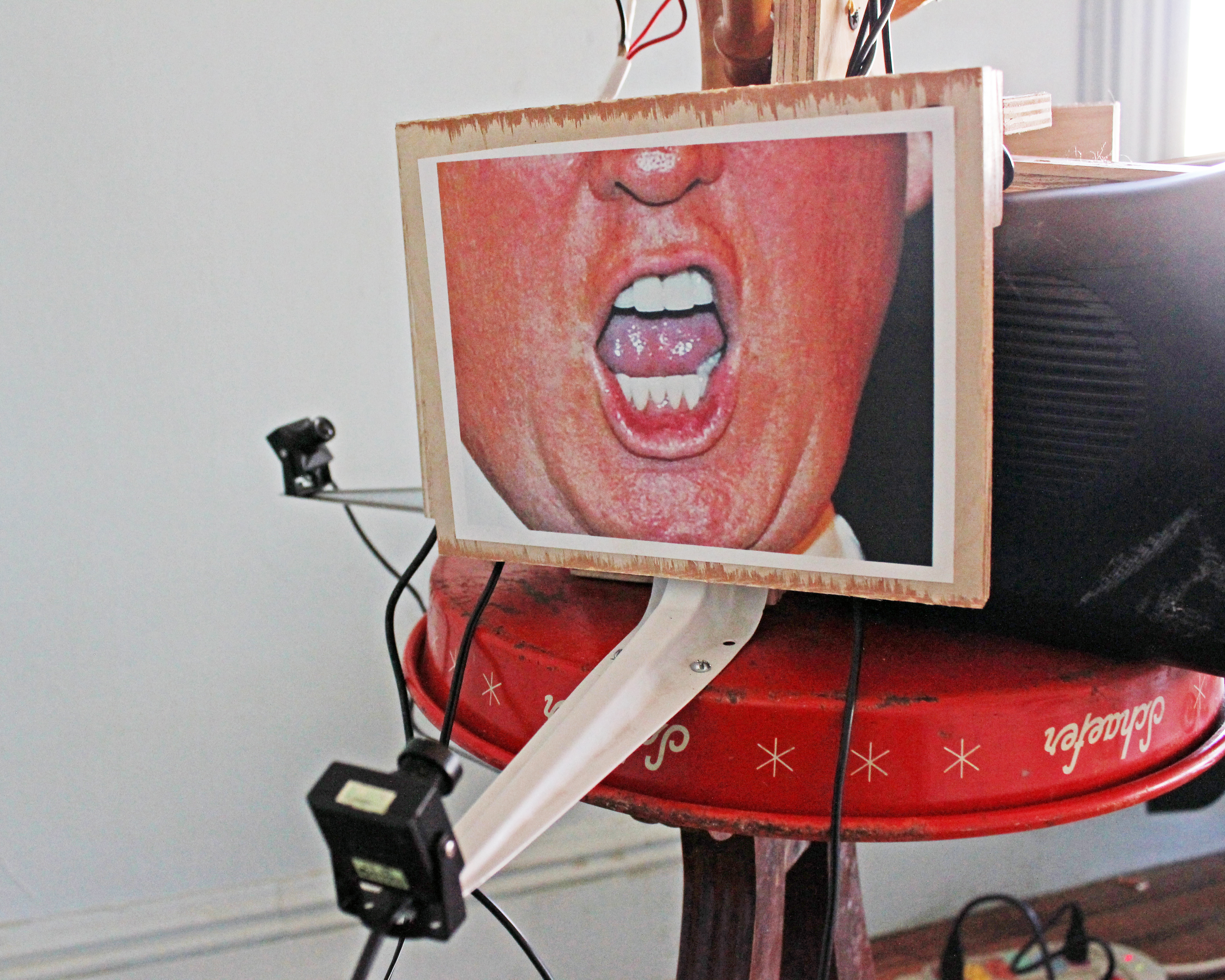 Ian Burns, Model of a Model of the Spread of Ignorance, 2017. Baby monitor cameras, TV, motors, switches, clockwork timer, found furniture, wood. (Courtesy of the artist and Anna Schwartz Gallery, Melbourne)
NEW YORK, September 21, 2017 — Through dioramas and dream houses, cloud-chambers and inflatables, typefaces and automata, A Working Model of the World — the latest exhibition at the Sheila C. Johnson Design Center (SJDC) at The New School's Parsons School of Design — explores the world of models.

Using video, installation, photography, sculpture and other techniques of model-making, artists explore the practical, philosophical and symbolic work of models. Their works are displayed alongside select models from material culture. From children rolling dough to ecologists predicting rising sea-levels to the ritual power of modeling tumors, the exhibition asks us to think of 'model' as a verb.
"A Working Model of the World invites a conversation between different forms of material thinking, asking how we use models to contemplate, experiment, invent and teach," say exhibition curators Dr. Lizzie Muller of UNSW Art & Design and Holly Williams of The Curators' Department. "It explores the losses and gains that flow from the way models isolate one part of the complexity of the world."

"We think of our galleries as a microcosm—modeling and remodeling both research and thinking at the university and beyond," said Radhika Subramaniam, Director/Chief Curator of the SJDC. "This exciting collaboration continues that work."
The exhibition features artists from Australia, New Zealand and the United States: Brook Andrew, Corinne May Botz, Ian Burns, Maria Fernanda Cardoso, Kate Dunn, David Eastwood, caraballo-farman, Emily Floyd, Andrea Fraser and Jeff Preiss, Glen Hayward, Jo Law, Palle Nielsen, Kenzee Patterson, Sascha Pohflepp & Chris Woebken, Karolina Sobecka, and jackie sumell. An earlier edition of the exhibition showed at UNSW Galleries Sydney in May 2017. This is the debut New York exhibition for several Australian artists in the show.

The exhibition is developed and presented as a partnership between UNSW Galleries https://www.artdesign.unsw.edu.au/unsw-galleries, Sydney, The Curators' Department http://www.thecuratorsdepartment.com/, Sydney and the Sheila C. Johnson Design Center. This project has been assisted by the Australian Government through the Australia Council, its arts funding and advisory body.