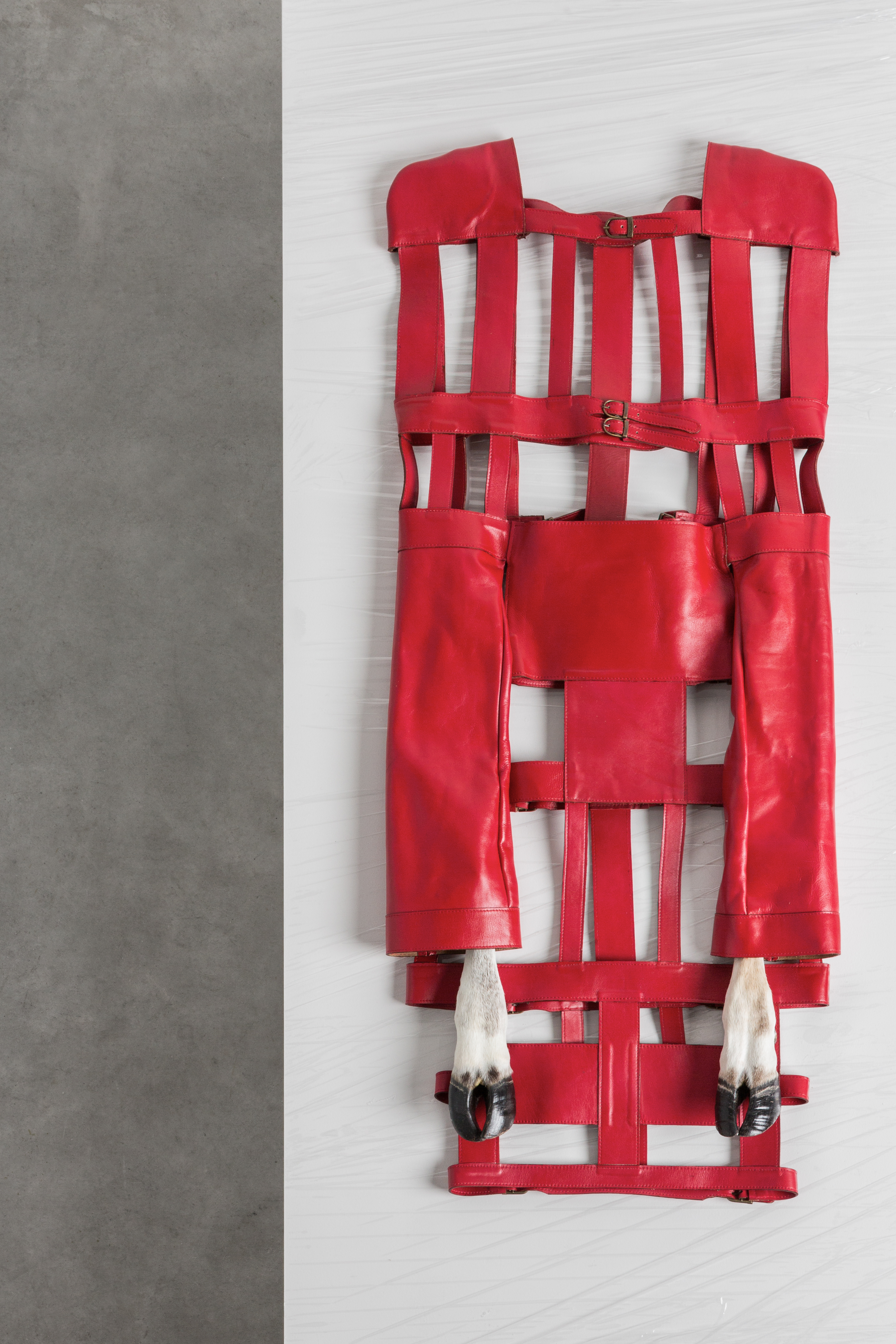 Mella Jaarsma's The Senses Cheat You is on view in the exhibition Workwear/Abiti da Lavoro at Parsons School of Design.
NEW YORK, February 2, 2016—The Sheila C. Johnson Design Center (SJDC) at The
New School's Parsons School of Design presents Workwear/Abiti da Lavoro, an exhibition of experimental garments—"work clothes" made for imaginary professions—dedicated to revolutionary Italian fashion designer Elio Fiorucci (1935-2015).
Produced by Fondazione La Triennale di Milano in collaboration with Parsons School of Design, the exhibition features garments by 39 international designers, including revolutionary Italian fashion designer Elio Fiorucci, who imagine "workwear" for hypothetical professions—a whimsical critique on the fashionization of work clothes.
"Today's designers, including the 39 in this exhibition, work amid epochal changes—the decline of the great masters and of the small factories of fine Italian design and the rise of giant global entities and the fragmentation of traditional centers of industry," said Italian designer Alessandro Guerriero, curator of Workwear/Abiti da Lavoro. "Though many jobs have disappeared, the garments associated with them have not. What we are experiencing now is the elevation of workwear to high fashion. This irony is explored by designers through new visions of workwear: clothes that aren't for bakers, carpenters and tailors, but for professions such as email eraser, a butterfly engineer, or the one who looks for a needle in a haystack."
Workwear/Abiti da Lavoro is the brainchild of Guerriero, who originally created the exhibition to support Arkadia Onlus, an educational organization that works with young people with disabilities. Twelve designers in the exhibition provided sketches of imaginary work clothes, which were then sewed by the young people of Arkadia Onlus.
"This sly and playful exhibition takes labor as its laboratory, proposing new jobs and new garments to inhabit," said Radhika Subramaniam, Director/Chief Curator of the SJDC.  "The critique it wears so lightly has much to say to our work as educators of future designers."
The designers in the exhibition include Nathalie Du Pasquier, Elio Fiorucci, Mella Jaarsma, Guda Koster, Toshiyuki Kita, Coop Himmelb(l)au, Issey Miyake, Angela Missoni, Faye Toogood, Vivienne Westwood, Erwin Wurm, and Parsons faculty members, Otto von Busch and Allan Wexler, among others.
The New York edition of Workwear/Abiti da Lavoro was designed by Manuel Miranda Practice and created with the support of the Italian Ministry of Foreign Affairs and The Italian Cultural Institute in New York. Curatorial support was provided by Associazione Tam Tam.