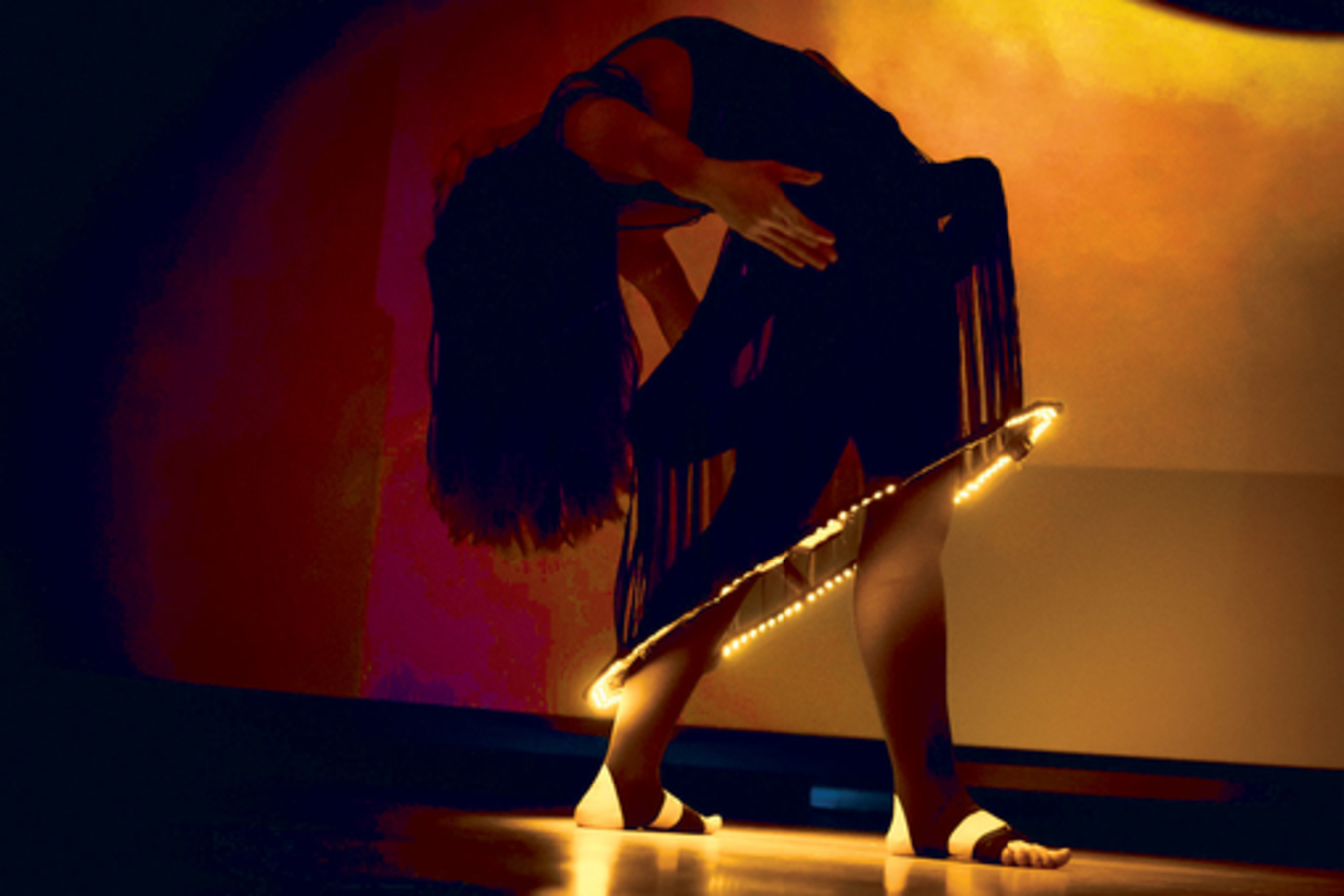 New School alumna Ezgi Ucar's "Elipcse" is an interactive dance costume that creates a visual and sonic environment based on the wearer's movements. 
NEW YORK, March 7, 2016—​The New School​—the only comprehensive university with an integrated, world-class design school—heads to​ ​SXSW Interactive​ March 11­-15, sharing innovative projects that embody ​the university's human­-centered approach to technology and commitment to confronting real­-world problems.
The New School, a university comprised of five schools including Parsons School of Design, joins the growing conversation around the use of technology to further positive social change. Student­-created wearable technology and virtual reality projects, and specialized talks featuring university faculty members and alumni, will highlight the university's focus on design-­led solutions to pressing social issues.
The New School, ​GOOD ​magazine, and SXeco are co-­sponsoring ​100 Good Reasons to Party​—a ​celebration of people using creativity, technology, and entrepreneurship to positively impact the world​—​on Tuesday, March 15, 7-10 p.m. at the SXgood Hub, Palm Door on Sixth, 508 E. 6th St.
Projects presented by New School faculty and students, as well as specialized talks in which university faculty and alumni are participating, include:
Virtual Reality.​ On view at 100 Good Reasons to Party, Tuesday, March 15, 7-10­ p.m., SXgood Hub, Palm Door on Sixth, 508 E. 6th St.
Kyle Li's International Virtual Reality Workshop (Google Cardboard)—​Experimental virtual reality experiences by artists and designers around the world that push the boundaries of what is possible in the realm of immersive multimedia.
Lucy Bonner's Compliment​ (Oculus Rift)​—Exposes users to the​ designer's experience of being confronted with an overwhelming number of daily catcalls.
Julie Huynh's Anamorphic Agency​ (Oculus Rift)​—Allows users to experience ​the designer's experience and resolution with sleep paralysis.
Chia­ Hsuan, Chia Wei, and Jung­ An's WATCHOUT​ (Oculus Rift)​—​Simulates hostile traffic conditions through a classic arcade game with a fun and aesthetic twist.
Wearable Technology. ​On view Friday through Sunday, March 11­-13, ​SXstyle​, Westin Downtown Hotel​, 310 E. 5th St.
Birce Ozkan's Augmented Jacket​—​A smart and fashionable garment featuring the technology of a navigational instrument.
Birce Ozkan's Fall: Interactive Garment​—​A wearable technology piece and interactive garment that mimics nature's responsive systems through a hidden electronic mechanism.
Nitcha Tothong's Keybod​—​A computer keyboard worn on the upper body that forces wearers to be mindful of their typing practice and posture.
Nitcha Tothong's Click­kick​—​Shoe covers that work as a computer mouse with existing energetic movements controlling the cursor.
Grace Jun's Access & Closure​—​Collection of four jackets designed for women with breast cancer.
Yuchen Zhang​'s​ Bury: Adaptive Fashion​—​A vision for intelligent and adaptive clothing that combines protection from pollution with style.
Specialized Talks. ​Faculty members and alumni will lead or participate in conversations around designing for social good.
Deepthi Welaratna​, New School Alumna and Founder and Principal of Thicket Labs
Speaking at​ ​"Hustler to Entrepreneur: Tech and Disconnected Youth", Friday, March 11, 3:30­-4:30 p.m​. ​JW Marriott, Salon C, 110 E 2nd St.
Jeff Smith​, New School politics professor, political analyst, and ​former Missouri state senator
Speaking at​ ​"​SXgood Lab: Ending Gun Violence", Monday, March 14, 3:45-­4:45 p.m. Palm Door on Sixth, 508 E. 6th St.
Ezgi Ucar​, New School alumna and creative technologist at Ezgi Ucar Design
Speaking at​ ​"Wearing Sound", Tuesday, March 15, 11 a.m.-noon, Westin Austin Downtown, ​310 E. 5th St.
Sophia Chang​, New School alumna, artist, and graphic designer
Speaking at​ ​"Shut Up and Make: Turning Passion into Profession", Saturday, March 12, 5-­6 p.m. Palmer Events Center, 900 Barton Springs Road, Room 4­-5
Patrick Van Hoof​, New School ​faculty member and director of product strategy and innovation at Huge
Speaking at​ ​"Beyond Form: Designing with Fluid Objects", Sunday, March 13, 12:30-­1:30 p.m. Austin Convention Center, 531 E. 4th St.
Tom Akel​, New School ​alum and​ ​head of content at Line Webtoon
Speaking at​ ​"LINE Webtoon: Women in Digital Comics", Friday, March 18, 12:30­-1:15 p.m. Austin Convention Center, 531 E 4th St., Ballroom C
Tyler ​Haney​, New School alumna ​and ​f​ounder and CEO of Outdoor Voices
Speaking at​ ​"Mutually Inclusive: Building a Brand's Community", Sunday, March 13, 5-­6 p.m. Westin Austin Downtown, Continental 3, 301 E. 5th St.