the new school announces acclaimed violinist ralph evans as new violin professor at mannes school of music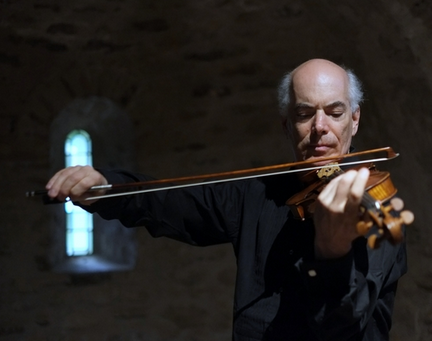 Ralph Evans
March 2, 2017 – New York, NY – The New School announced today that violinist Ralph Evans will join the Greenwich Village-based University as a Professor of Violin at Mannes School of Music.

"We are thrilled to welcome Ralph Evans to Mannes," said Richard Kessler, Dean of Mannes and Executive Dean for the College of Performing Arts. "Ralph's artistry and creative practice is something that all young artists and students in the performing arts should be looking at very carefully. He is equally at home on stage as a soloist or as a member of the Fine Arts Quartet, in the recording studio, and also as a composer. His versatility and love of music is something of a model for us at Mannes. We are excited for him to bring his unique perspective, experience, and enthusiasm to Mannes."

Ralph Evans, prizewinner in the 1982 International Tchaikovsky Competition in Moscow, has been touring worldwide as leader of the Fine Arts Quartet for the past 35 years. He has recorded over 100 solo and chamber works to date and in 2017, will be recording his 15th CD on the Naxos label. Many of these recordings have been selected for Grammy® Awards entry lists in the "Best Classical Album" and/or "Best Chamber Music Performance" categories, and have received a variety of distinctions (e.g. "Recording of legendary status" (Gramophone) , "Recording of the Year" (3 times in MusicWeb International); "Editor's Choice" (Gramophone); BBC Music Magazine "Choice", "Gramophone award-winner", "Critic's Choice" (American Record Guide). The Quartet also received a CMA/ASCAP Award for Adventurous Programming given jointly by Chamber Music America and the American Society of Composers, Authors, and Publishers.

Evans received a doctorate from Yale University, where he was also graduated cum laude with multiple honors. While a Fulbright scholar in London, he studied with Szymon Goldberg and Nathan Milstein, and subsequently won the top prize in a number of major American competitions, including the Concert Artists Guild Competition in New York, and the National Federation of Music National Young Artist Competition. Films of his prize winning performances of the Tchaikovsky Concerto and Bartok Concerto No.2 in the 1982 International Tchaikovsky Competition are viewable on YouTube.

Evans has also received recognition for his work as a composer. His award winning composition "Nocturne" has been performed on American Public Television and his String Quartet No 1, released on Naxos 8.559354, has been warmly greeted in the press ("rich and inventive" – Toronto Star; "whimsical and clever, engaging and amusing" – All Music Guide; "vigorous and tuneful" – Montreal Gazette; "seductive, modern sonorities" – France Ouest; "a small masterpiece" – Gli Amici della Musica).

Since 1982, Evans has been Professor of Violin and Chamber Music at the University of Wisconsin-Milwaukee, where the Fine Arts Quartet has been in residence. He has also been guest professor at the Paris Conservatory, Lyon Conservatory, Peabody Institute, Yale University, Indiana University, London Royal Academy of Music and Royal College of Music, and has been a jury member of the Bordeaux and Evian Competitions, among many others.

In addition to maintaining a teaching studio at Mannes, Evans will play a major role in the chamber music program at Mannes.
Founded in 1916, Mannes School of Music at The New School seeks to develop citizen artists who engage with the world around them in and through music, in traditional, new, and emergent forms of practice. Our eminent faculty of artists, scholars, and educators of international stature, including active professionals from all areas of the music world foster close, constructive relationships with students and are committed to advancing the creative role of music throughout all aspects of our rapidly changing society. Notable faculty include Jeremy Denk, multi-award winning and MacArthur Fellow pianist; Dave Douglas, multi-award winning and MacArthur Fellow trumpeter; Cynthia Phelps, principal violist of The New York Philharmonic; David Chan, Concertmaster of The Metropolitian Opera; Joan La Barbara, vocalist and pioneer in contemporary vocal music; William Burden, renowned operatic tenor; David T Little, composer; Missy Mazzoli, composer; Paul Moravec, composer; and many more.
Founded in 1919, The New School was born out of principles of academic freedom, tolerance, and experimentation. Committed to social engagement, The New School today remains in the vanguard of innovation in higher education, with more than 10,000 undergraduate and graduate students challenging the status quo in design and the social sciences, liberal arts, management, the arts, and media. The New School welcomes thousands of adult learners annually for continuing education courses and calendar of lectures, screenings, readings, and concerts. Through its online learning portals, research institutes, and international partnerships, The New School maintains a global presence. Learn more at newschool.edu.