Parsons students design book carts for
new york city correctional facilities
The New School's Parsons School of Design, in partnership with New York Public Library, designs book carts for Rikers Island and the Manhattan Detention Complex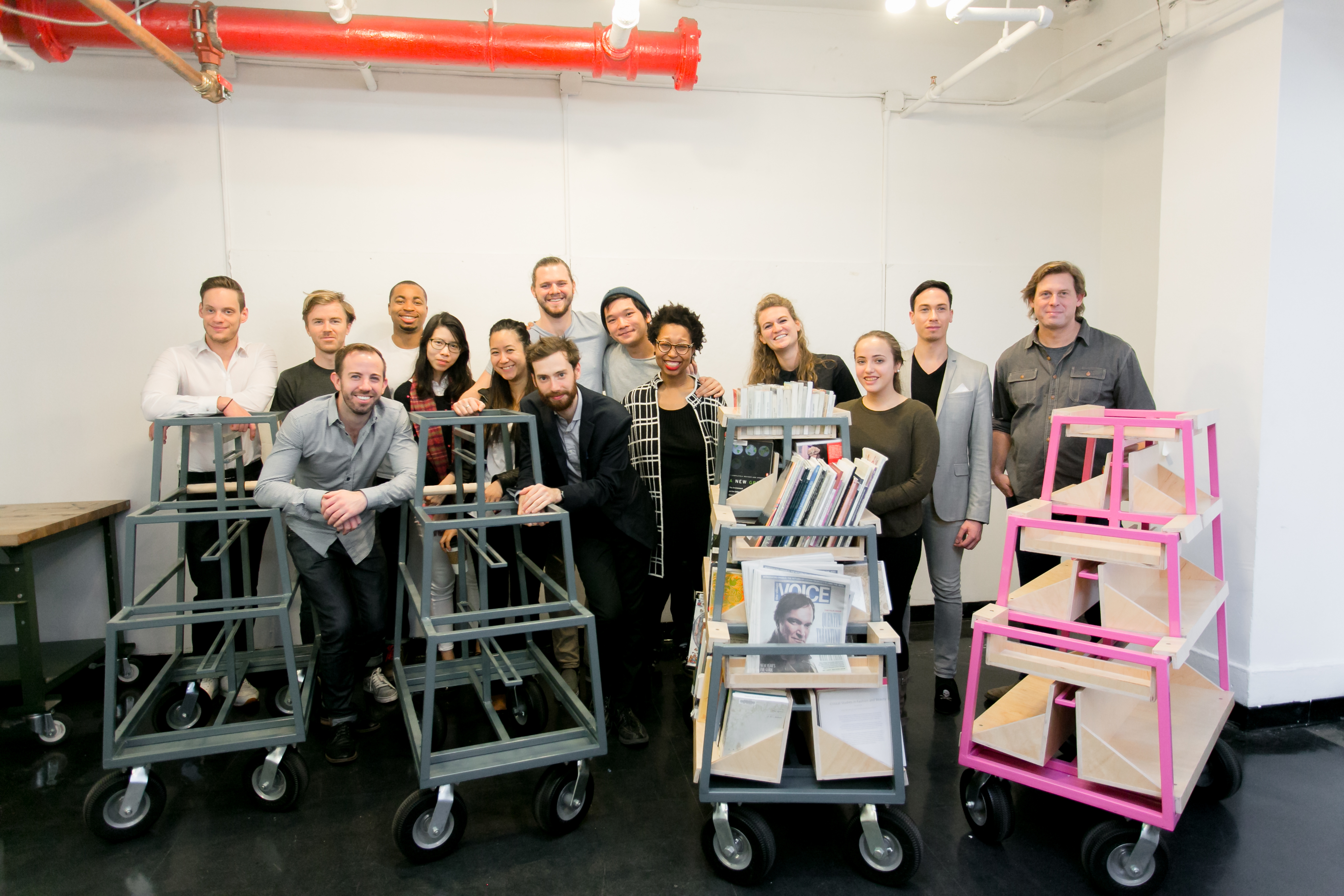 Students at Parsons School of Design in collaboration with New York Public Library designed book carts for NYPL's Correctional Services Program. (Photo/Phillip Van Nostrand)
NEW YORK, February 9, 2016—Students at Parsons School of Design, in partnership with the New York Public Library's (NYPL) Correctional Services Program, have designed and fabricated four book carts to be used by incarcerated individuals at New York City correctional facilities, including Rikers Island and the Manhattan Detention Complex.
Led by Joel Stoehr, assistant professor of modeling technology at Parsons, 13 architecture, product design, interior design, and lighting design students spent the fall 2015 semester working collaboratively with NYPL to develop, test and revise original designs for the organization's Correctional Services Program. The carts, which were delivered to the detention complexes last week, embody Parsons' dedication to design thinking and designing for social good.
"Through this collaborative project with NYPL, our students are using design thinking to address a social need," Stoehr said. "A book cart doesn't just hold books: it provides an entry point to a piece of literature—a means through which incarcerated individuals can travel, if only in the mind's eye, beyond their present situation."
"This project was embraced with enthusiasm from The New School team, and delivered with more skill, dedication and love than we could have possibly imagined," said Sarah Ball, supervising librarian at NYPL."We're excited to introduce these much needed, much improved book carts to our Correctional Services Program."
Responding to design needs expressed by NYPL, students designed a cart comprised of a powder-coated and tapered steel frame, which supports a cascading system of maple plywood shelves. Large 8-inch casters allow the assembly to roll with little effort and to overcome thresholds easily.
"In thinking about this object, we tried to strike a balance between utility and aesthetics," Parsons student Misha Volf said. "On the one hand, it's a highly functional rolling case for books; on the other, it's an approachable and aesthetically pleasing piece of furniture that fits seamlessly in its environment."
The New School's Parsons School of Design is a global leader in design education, with programs that span the disciplines of design and the fine arts. With the launch of its fashion design program in 1906, Parsons is credited with the rise of Seventh Avenue, the epicenter of American fashion. Parsons offers a Bachelor of Fine Arts degree in Fashion Design, Associate degrees in Fashion Design and Fashion Marketing, and a Master of Fine Arts Program in Fashion Design and Society initiated through the support of Parsons alumna Donna Karan. Parsons has educated generations of leading American fashion designers, including Tom Ford, Marc Jacobs, Donna Karan, Isaac Mizrahi, Tracy Reese, Narciso Rodriguez, Anna Sui, Prabal Gurung, Derek Lam, Proenza Schouler, Vena Cava, Alexander Wang, and Jason Wu. For more information, visit the Parsons School of Design website.
The New York Public Library has been an essential provider of free books, information, ideas, and education for all New Yorkers for more than 100 years. Founded in 1895, NYPL is the nation's largest public library system, featuring a unique combination of 88 neighborhood branches and four scholarly research centers, bringing together an extraordinary richness of resources and opportunities available to all. For more information, visit The New York Public Library's website.

MARKETING AND COMMUNICATION
79 Fifth Avenue
New York, NY 10003
www.newschool.edu
PRESS RELEASE
Media Contacts:
Scott Gargan,
The New School
212-229-5667 x 3794
[email protected]